Cambodia to Receive $483M from EU to Address COVID-19 Socio-economic Fallout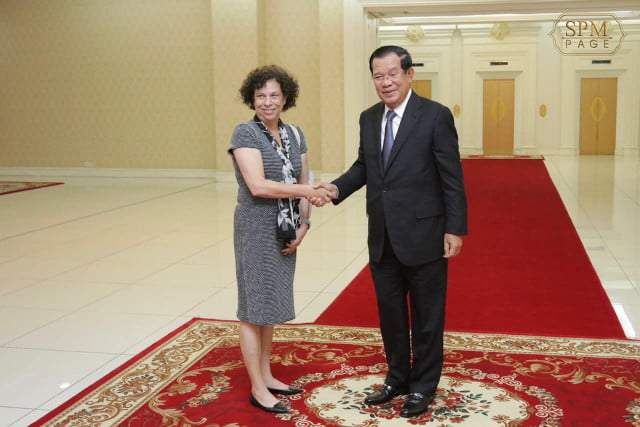 Sao Phal Niseiy
June 11, 2020 1:50 PM
Despite ongoing tensions between the EU and Cambodia, the largest trading bloc in the world has agreed to provide $483 million in grants and loans to help Cambodia's recovery from the COVID-19 pandemic.

PHNOM PENH--The European Union (EU) on June 11 announced it has mobilized €443 million (roughly $483 million) in grants and loans to support Cambodia's effort in dealing with the economic and social fallout of the Coronavirus Disease 2019 (COVID-19) pandemic.

Team Europe, which is the EU's global response package to support partner countries in the fight against COVID-19, is mobilizing around $483 million to support Cambodia's fights against the pandemic and recovery, according to a statement released on Thursday.

"This EURO 443 million support (equivalent to USD 483 million and KHR 1,990 billion) combining new allocations, funds already programmed and redirected funds, is channelled through the Royal Government institutions and partner organisations, including civil society organisations," it read, adding that, in Cambodia, Team Europe is joined by Switzerland.

The EU Ambassador to Cambodia, Carmen Moreno emphasized the need of closer cooperation and solidarity between countries to cope with the pandemic, adding that the EU is ready to work with and support Cambodia during these difficult times.

"Team Europe stands together with Cambodia in these challenging times. We have to work together to ensure a sustainable and strong economic recovery, and to help mitigate the impact of this pandemic on human lives, jobs and livelihoods," Moreno said in the statement.

She continued, "To this purpose, we combine our resources and join efforts with the Government, the people of Cambodia and civil society, in response to this global challenge."

The statement also noted that Team Europe, which is the combined effort of the EU's member states and their financial institutions and implementing agencies, would "provide significant financial and technical support to help Cambodia address immediate needs, protect the most vulnerable, mitigate the socio-economic impact of the coronavirus crisis and prepare for recovery."

The financial package will be focusing on three important priorities; supporting health, supporting people, livelihoods and employment and supporting economic recovery and job creation.

With respect to supporting health programs, the Team Europe package will contribute to research and testing capacity expansion in Cambodia as well as development of Cambodia's healthcare system.

On people and livelihood supports, this program aims to ensure that Cambodia's most vulnerable population receive support through various approaches such as social protection programs, scholarships, improved access to education, assistance to workers and returned migrants, according to the statement.

Last but not least, the economic recovery and job creation support will, the statement reads, underwrite the key sectors which are the backbone of the country's economy, adding that the fund also includes "public investments for economic development, energy efficiency and green recovery."

This will be critical in assisting Cambodia to build private business resiliency, realizing a speedy recovery as well as sustainable development, which are in line with the United Nations' Agenda 2030 as well as 2015 Paris Climate Accord, it added.


Related Articles