Cambodia urges regional lawmakers to address climate change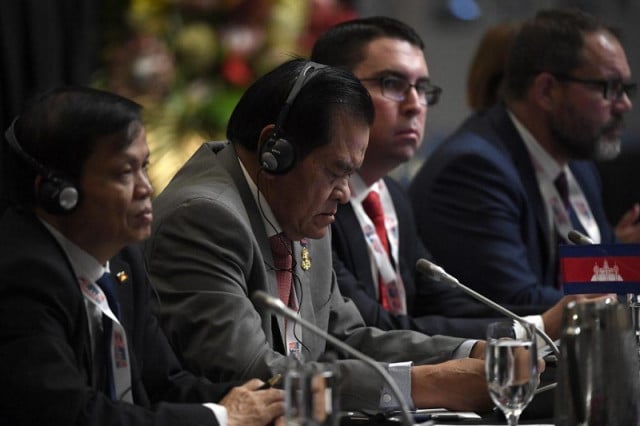 Senator Muth Khieu stresses 'urgent' need for parliaments to take a more proactive role with greater budget allocations for adaptation and mitigation

PHNOM PENH - Cambodia appealed to members of the Asia-Pacific Parliamentary Forum Wednesday to do more to address climate change.
Speaking at a meeting of the forum in Canberra, he also said that climate change would be on the agenda of the Asia-Europe Parliamentary Partnership meeting that Cambodia is hosting in October.
The senator said the Cambodian parliament promoted "open and inclusive regionalism" as a common value for economic development, peace, security and cultural identity.
'Cambodia is highly vulnerable'
Parliaments play a "crucial role in promoting regional cooperation and joint actions on emerging regional issues such as climate change," he said.
"Cambodia is highly vulnerable to climate-related flooding, drought and irregular weather patterns that result in increasing vector-borne diseases and shortages of water in the agricultural sector.
"It is urgent for the parliaments to play a more proactive role in addressing climate change by allocating more financial resources for adaptation and mitigation policies.
"Building a climate change resilient society is our goal which requires long-term commitments and efforts."
Public awareness and education
Senator Muth Khieu noted that Cambodia had introduced public-awareness campaigns and education programs in recent years. These are aimed at "coping with extreme weather events and threats to rural livelihoods, especially rural-urban migrations," he said.
The meeting of Asia and European lawmakers in Phnom Penh in October is aimed at "further enhancing parliamentary cooperation for peace and shared prosperity through proactive parliaments that promote the multilateral trading system and address the energy-water-food security nexus under a changing climate," he said.
Climate emergency requires enforcing global agreements
"The bottom line is that active participation by all of us — governments, businesses, investors, regions and more— is needed if we are to overcome the climate emergency."
The senator added that all stakeholders needed to "urgently step up the pace of action if the world is to achieve the Paris targets and avoid the worst effects of climate change."
At the same time, he said, parliaments need to make sure that governments and the private sector enforce global climate change agreements.
According to the Australian organizers, 20 of the forum's 27 member countries are taking part in the three-day Canberra meeting that opened Monday — Australia, Cambodia, Canada, Chile, China, Fiji, Indonesia, Japan, the Republic of Korea, Laos, Malaysia, the Marshall Islands, Mexico, New Zealand, Papua New Guinea, the Philippines, Russia, Singapore, Thailand and Vietnam.
Nine observer countries are also taking part — Brunei, Kiribati, Nauru, Samoa, Solomon Islands, Tonga, Niue, Palau and Tuvalu.
Related Articles