Cambodian Football Needs More Funding: Siek Sovann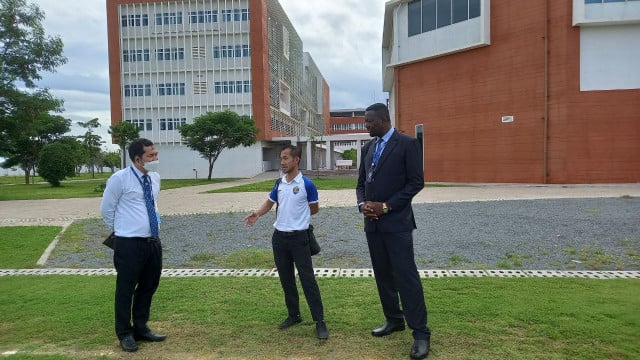 PHNOM PENH – ISI Dangkor Senchey has announced a partnership with AIA Cambodia which will see the insurance brokers as the official main sponsor with stadium naming rights. Siek Sovann, manager of the League 2 side revealed this in an exclusive interview with Cambodianess. Sovann talked about the need to raise more funds for the club, the league and the possibility of using naturalised players in the national team.
Ken Gadaffi: How do you see Cambodian football now compared to the past?
Siek Sovann: Cambodian football is much better than before. The league has grown to become more professional than it used to be. With the AFC club licencing, the quality of the game has improved because more quality players are involved and has definitely more funding than there used to be.
Ken Gadaffi: Your team can be regarded as growing from grassroots to top-flight professional. Can you tell us how you made this happen?
Siek Sovann: Yes, this is not an easy task. We fought so hard both on and off the field. We started from zero but are not yet heroes and we just want to be one of the most competitive and highly respected football clubs in Asia in the long term.
It is our vision and the mission has started with the building of our stadium and hopefully we can make it to League 2 at the end of the season. Our director, Kang Sen, is a visionary leader and helped nurture the club from the grassroots until it became professional. He believed in steady growth and so when we started in 2014, we were patient and that was the key to our success. We are not there yet, but we hope to rise to the top.
Ken Gadaffi: ISI can be regarded as a community-based club, what is the vision of the club and how have you been working towards achieving it?

Siek Sovann: ISI has its own local community with a good area within the KMH Industrial Park which has many people, There are about 3000 workers and their families just in that zone, not counting KMH 2 which is about 20km from the stadium. This provides a good chance for us to promote the club. So far we have provided them with happiness and joy with many activities yearly such as the KMH Champions League, KMH Cup. On a monthly basis, we have events for the community. This year we have activities with the ISI community every Saturday evening.
Ken Gadaffi: You did a soft opening last month and then the grand opening. Can you give us some highlights of how both events were received by the people?
Siek Sovann: Yes, we had a good start during the soft opening.
The number of attendees was 1,110 with more than 55%, mainly kids, who took part in the ISI Community Cup from U6 to U14. We received more people than expected at the grand opening.
More than 3,000 fans came. We didn't have enough space to accommodate them as our stadium capacity is about 3,200. We believe through our data analysis and our current good infrastructure and good environment the stadium will continue to attract more audiences and hopefully when we get promoted to League 1, we will consistently host many fans.
Ken Gadaffi: The Cambodian national team has not been doing so well recently. What can you say is the problem, despite the growth of the Local League?
Siek Sovann: I know that about the national team but they have tried already but it seems to be not yet enough. What I can say is that they don't yet have long future plan for the national team. Let's say they need to develop more like a 10-20 years plan with some detail of style of play and technicality.
Sometimes players recruitment is done in a short period of time, but that's ok. They tried so hard already. I believe one day it's going to be better and what I want to say the most and that is what all the club want to say too is that club funding support from the league is too low compared with other countries around us because our league has a low income, has no TV rights and no big main sponsor.
The FFC ought to have attracted a big sponsor over the last five years. But by the way, Kudos to Satoshi Saito, the CEO of the league management company, I believe can generate income from that. I have met and talked to him a few times about this and hopefully they can develop in the future leagues 3 and 4 as that will bring about quick change with his hard work. I saw that he is an active CEO.
I understand that the league income requires the support from all Cambodian people by watching online and watching live at the stadium as this will help to attract a lot of sponsors and followers and that the league will reach the income target to support the league and clubs that are suffering.
Ken Gadaffi: Most fans see the Cambodian league getting better due to the influx of foreign players and coaches while the national team has foreign coaches. Do you think it's now time for Cambodia to consider naturalisation of foreign players to help strengthen the national team?
Siek Sovann: That's a good question I want to say also some good, let's say best, players like Privat Mbarga in Cambodia play here so long we should give him chance to have Cambodian citizenship.
I've seen some foreigners get it while they are not yet good enough while some are not players. That means the government might have given citizenship not to the right person while the person who should have it, they did not consider or maybe FFC did not request. I am not sure. I am so sorry to say it. It might not be true. What I mention is just my personal opinion. What I want and our Cambodians want to see is a good squad of national teams that can win against Thailand and Vietnam with the stadium always full of crowds.
Ken Gadaffi: Thank Siek Sovann for your time and good luck in the league, hope you get promoted.
Siek Sovann: Thanks Ken for the interview. I repeat this is personal opinion only and I just want to show love to Cambodian football through CPL, FFC, authority, government and private sector who support Cambodian football.
Related Articles