Tourism Ministry Encourages Safe Travel during Pchum Ben Holidays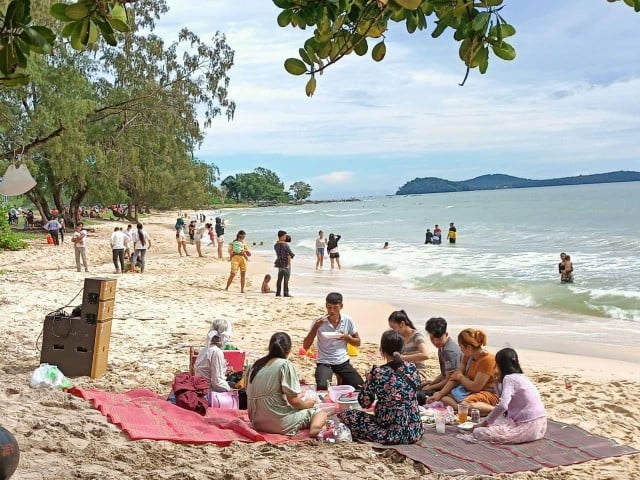 Outdoors destinations such as beaches and eco-resorts are recommended by the Ministry of Tourism for the coming Pchum Ben holidays
PHNOM PENH--The Ministry of Tourism called on people to follow health and safety guidelines during the Pchum Ben holidays to stop the spread of COVID-19 after a number of monks at pagodas across the country have tested positive for the virus in recent days.
Tourism Ministry spokesperson Top Sopheak said that domestic tourists can travel during the holidays, even though the Pchum Ben celebrations were officially suspended on Sept. 24.
Sopheak called on all Cambodians and the estimated 200,000 foreigners living in Cambodia to behave responsibly while traveling for this year's holidays, adding that travelers need to follow guidelines set out by both the Ministry of Health and the Ministry of Tourism.
He recommended people seek out less crowded tourism sites of natural beauty, ecotourism resorts and visit places where the "3 Don'ts and 3 Do's" can be followed.
"The Ministry of Tourism has launched guidelines for local businesses to follow based on sanitary measures as well as standard operating procedures (SOP) for all accommodation businesses and resorts. We have already introduced the guidelines to business owners," Sopheak said.
Municipal and provincial tourism departments have worked directly with the business communities, focusing on tourism sites and the hospitality industry to ensure that these guidelines are understood, he added.
Despite Prime Minister Hun Sen's announcement on Sept. 24 that the Pchum Ben celebrations would be canceled due to safety concerns, the 3-day holiday from Oct. 5 to Oct. 7 remains a national holiday.
"We allow all government officials as well as all workers and staff of all companies to have the 3-day holiday without salary cut," Hun Sen said. "All citizens can travel to any tourism destination and must follow sanitary measures from Ministry of Health everywhere they go."
President of the Cambodia Association of Travel Agents, Chhay Sivlin, appreciated Hun Sen's decision, encouraging all citizens to travel during Pchum Ben, which is also a driving force for national tourism growth to help all businesses make more income, as well as improve the productivity of Cambodian tourism services.
Allowing Cambodian citizens to travel during Pchum Ben can be an opportunity in attracting international tourists to come to Cambodia.
Sivlin added that more international tourists are expected in Cambodia by the end of the year, but did not say whether or not the mandatory 14-day quarantine would be scrapped.
According to Tourism Minister Thong Khon, the number of visitors heading to Cambodia's tourism sites—especially beaches—rose in September 2021, with 193,478 domestic tourists counted in the first three weeks. Already, Khon said, in the fourth week of September 2021, more than 100,000 domestic tourists have been recorded visiting various sites across the country.
Related Articles