Cambodian Para Athletics Lead Medal Tally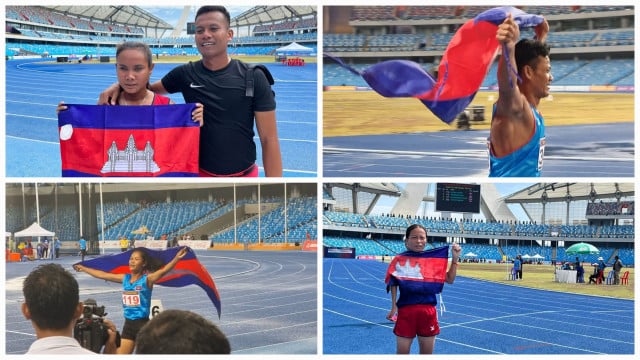 PHNOM PENH – Cambodian athletes collected nine medals in athletics, three in judo, one in swimming, and one in table tennis on June 5.
Cambodian para athlete Vet Chantha won the gold medal in the women's 400-meter T44, gathering her second gold medal in the 12th ASEAN Para Games that kicked off on June 3.
In the 100-meter T53 race, Cambodia's Hea Hok came in second place and Chhun Phun won the bronze.
In the men's 100-meter T54 category, Cambodian athlete Van Vun won the silver medal while in the men's T64, Cambodia's Chim Phan won the silver medal in the men's 800-meter race and his fellow Cambodian athlete Nhork Kimhour won the bronze.
In the women's 400-meter T11, Cambodia's Yin Sot won the bronze medal.
In the men's javelin throw F11, Rouen Rin won the silver medal, while Lach Ryna won the bronze.
Cambodia para judo athletes also gathered their share of medals.
Hoeurng Heng Heng won the silver medal, in men's Judo J2 (over 90 kilograms) while Leng Tithvibol and Chey Virak both took the bronze in respectively Judo J2 and J1 under 60 kilograms categories.
Cambodia also won the bronze medal in the Table Tennis Men's TT1-3 after defeating the Philippines team on June 5 at the Morodok Techo Badminton Hall.
Khouy Koy of Cambodia won the silver medal for his performance in the men's 50 breaststroke (SB7) competition.
Related Articles