Cambodian Trafficked Antiquities Return Home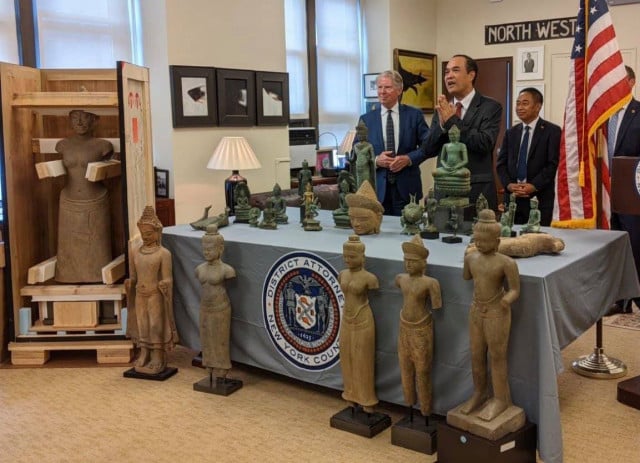 Angkorian Buddhist statues among artifacts recovered in US

PHNOM PENH--The United States is to return 27 trafficked antiquity items to Cambodia. An agreement was signed in New York on June 9 by Cambodian Ambassador to the US Chum Sounry and New York District Attorney Cyrus Vance.
Phoeurng Sackona, Minister of Culture and Fine Arts, virtually witnessed the signing from Phnom Penh while Ambassador Ke Sovann, Permanent Representative of Cambodia to the United Nations, was also present.
The District Attorney's office and the US Department of Homeland Security recovered the 27 artifacts, which include Angkorian Buddhist statues and Hindu statues such as a bronze meditating Buddha on a Naga, a statue of Shiva and a Buddhist sandstone sculpture of Prajnaparamita.
The minister expressed her gratitude and praise for the cooperation and help of the District Attorney's office, Homeland Security Investigations and other authorities such as the Ministry of Foreign Affairs and International Cooperation, the US Embassy in Cambodia, the Cambodian Embassy in Washington and the working group of the Ministry of Culture and Fine Arts in retrieving cultural objects to Cambodia.
She said the Ministry of Culture and Fine Arts and the Royal Government of Cambodia had a pivotal role in preserving the national heritage as well as reaching this agreement with the US.
"The win-win policy of the Royal Government that has brought peace to Cambodia is a strong foundation for the preservation of the nation's culture," Sackona said.
"The repatriation provides evidence that even during the difficult circumstance of the Covid-19 pandemic, Cambodia remains committed to finding and bringing back our ancestors' souls that departed their motherland over a number of years during a period of war."
Ambassador Sounry said the repatriation of these cultural objects was evidence of effective results from the Memorandum of Understanding between the Royal Government of Cambodia and the Government of the United States of America.
The Ambassador said their return proved again that the MOU had marked a new page in cooperation on cultural preservation between both nations.
He hoped the US would maintain the partnership to settle the issue of illicit trafficking of Khmer cultural property.
Ambassador Sounry called on the collectors of Khmer cultural objects to inspect the origin of their pieces before trading and be aware that most of the Khmer cultural objects outside Cambodia were illegally exported.
Related Articles