Cambodia's Urbanization Poses a Grave Threat to the Mekong River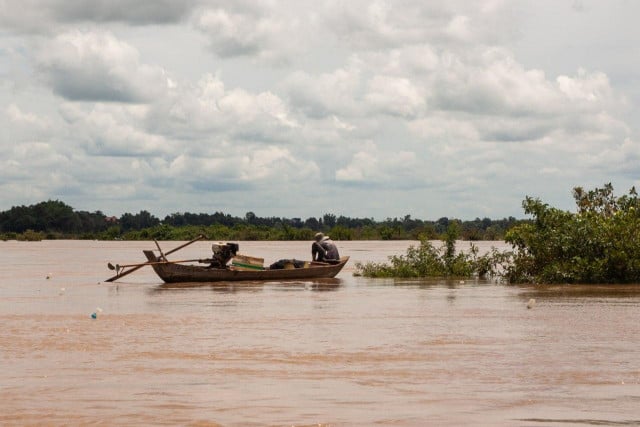 Gerald Flynn and Phoung Vantha
October 21, 2020 2:36 AM
In the second part of our series on sustainable development, experts warn that Cambodia's rapid urbanization is tied to food and water security, and may end up threatening the lives and livelihoods of millions of Cambodians.
PHNOM PENH--The Mekong River is under assault. Its life-preserving flow has been strangled by dams, the sand it flows atop has been dredged up and the relentless march of climate change threatens all who depend upon the river. And yet, it seems as though, despite analysts, scientists and conservationists sounding the alarm repeatedly for years, few positive developments have transpired. The grave concerns of those who understand the scope and scale of the peril Southeast Asia faces are yet to translate into meaningful action.
Staring down the prospect of losing the most bountiful natural resource in the country, Cambodia has taken some steps to distance itself from its more extractive neighbors in terms of dams. While China currently operates 11 hydropower dams in the upstream Mekong and Lao PDR pursues its ambition of becoming "the battery of Asia," Cambodia has made a significant contribution to the preservation of its riparian communities.
In March 2020, the Cambodian government issued a freeze on the construction of all hydropower dam projects along the Mekong. But the world's most productive river is threatened by more than just dams. While climate change is often cited as a key threat to the Mekong, it acts as a threat multiplier to other man-made threats, exacerbating the damage done by deforestation, the destruction of ecosystems, over-fishing, sand mining, wildlife poaching and unsustainable development.
These problems in turn have a cumulative impact on the productivity of the Mekong and collectively they place more communities in danger from water scarcity, food insecurity, environmental disasters and the loss of livelihoods.
Noting that urban development and the associated economic growth have, in the last few decades, lifted millions out of poverty within the region, the Mekong River Commission (MRC) Secretariat explained that these benefits come at a cost.
"The growth process has also brought about certain negative impacts on the environment, including the Mekong River's ecology and communities, particularly those that are directly dependent on the river water resources," the MRC Secretariat said. "The negative impacts have also been linked to issues such as climate change."
The MRC Secretariat went on to explain that, through the MRC's Social Impact Monitoring and Vulnerability surveys conducted in 2014 and 2018, the MRC found that more than 80 percent of households in the 15-kilometer corridor of the Mekong mainstream, the Tonle Sap and the Mekong Delta rely on crop farming and fisheries for their livelihoods.
Compounding the importance of the river, the United Nations Food and Agriculture Organization established that fish makes up 68.6 percent of Cambodia's total animal protein intake, meaning that strain on the Mekong will affect both lives and livelihoods.
Untreated Wastewater Headed for Fisheries
Reiterating that the importance of wetlands has only recently become better understood despite being among nature's most productive ecosystems, Sopheak warned that replacing the Cheung Ek wetlands in Phnom Penh with luxury property developments could prove disastrous for Cambodia's fish.
"During the wet season, waste and wastewater continue to enter the wetlands from the three sewer channels, but high flows on the Mekong and Bassac rivers force flow into the wetlands via the same outlet channel," he explained. "In essence, this wetland acts as a mini-Tonle Sap pulsing system."
Sopheak cited a 2015 research paper conducted by academics from Royal Phnom Penh University and Thammasat University in which the inlets and outlets of the Cheung Ek wetlands were studied to assess the wastewater treatment functionality of the site. The study highlighted the value of Cheung Ek, showing that the difference in mean concentration between inlet and outlet reflected reductions in the range of 44 percent for nitrates and up to 99.97 percent for E. coli bacteria.
"The importance of the Cheung Ek wetlands, if lost, could threaten the water quality of the Mekong River and, as a result, the fish and riparian communities in the area," Sopheak warned, adding that the damage is already visible.
"According to our 2018 water quality class for the protection of human health from six of the MRC's Routine Water Quality Monitoring stations located on the Mekong River in the territory of Cambodia, [we] confirmed the deterioration of water quality from 'Excellent' (A Grade) in 2017 to 'Good' (B Grade) in 2018 for five stations," Sopheak said.
This risk posed to Cambodia's fish stocks by the filling-in of wetlands was highlighted as early as 2004. In a study conducted by the Swedish development agency SIDA and the World Fish Center, researchers warned that the destruction of ecosystems supported by wetlands would impact food security by polluting the habitats of fish throughout the Mekong, Bassac and the Tonle Sap rivers. But since then, the problem has been relatively unaddressed and data remains scarce, so mismanagement of Cambodia's most productive natural resources seems almost inevitable.
"There needs to be a balance between development projects and conservation projects," said Srabani Roy in a telephone interview. Roy, who serves as regional director for Conservation International's Greater Mekong programs, praised the Cambodian government's robust laws on fisheries and forests, but warned that the much-needed balance between development and conservation had not been found yet.
"There are good intentions and good laws, but development becomes the overarching impetus, so the costs and benefits are not looked at in terms of benefits and value in nature," she said, adding that development projects should factor in the cost of disaster management if they leave an environmental impact.
Roy went on to say that recent years have seen a drastic decrease in larger species of fish, particularly migratory species, and that this can be attributed in part to the degradation of the ecosystems that support fisheries as in the case in the Tonle Sap.
Development Disrupting Ecosystems
2020 has been a dire year for fishing communities who rely on the Tonle Sap for both their food and their livelihoods. Data from the MRC shows that this year's water levels have been the lowest since 1997, leading to significantly reduced fish catches at a time when many of Cambodia's most vulnerable are feeling the economic strain of the COVID-19 pandemic.
One of the most productive water resources in the world and famed for its unique flow reversal, the Tonle Sap has for the second year running shown grim signs of deterioration. This year, the natural reversal of the Tonle Sap did not occur until late August, that is, more than one month later than usual, with unsustainable practices in development contributing to climate change.
"This development model will affect fishing communities whose livelihood is dependent on that," explained Horn Chanvoitey, a junior researcher with the Cambodian think-tank Future Form who focuses on policy related to water security.
"Of course, it is going to have a negative impact as it will disrupt the ecosystem, but to what extent is another question that requires scientific-based studies—estimating the possible amounts of these losses is not trivial," she stressed.
Chanvoitey went on to note that neighboring countries throughout the region provide ample example of why land reclamation should not be the only model for urban development.
"Take the sponge cities in China," she said. "This requires a lot of planning, financing, institutional coordination, and innovation. [So] although it is possible, [it's] not currently economical [for Cambodia]."
Years before becoming famous as the epicenter of the COVID-19 pandemic, the Chinese city of Wuhan had garnered international acclaim for its rapid transformation into what is known as a "sponge city." Between 1986 and 2016, Wuhan went from having 127 lakes down to just 30, a transformation that would later be blamed for severe flooding in 2016 that killed 14 people and left thousands of urban households cut off from the city.
China's response was to introduce a number of ecologically sustainable alternatives to traditional flood defenses such as permeable pavements, rain gardens as well as artificial ponds and wetlands. Trialing this in just two districts of Wuhan had, by 2019, cost China 11 billion yuan—roughly $1.6 billion—to return the benefits of the natural resources it had previously destroyed in the process of urbanization.
Chanvoitey believes that the cost of such a retroactive approach to development would be too costly for Cambodia. However, she noted that the impact of COVID-19 on Cambodia's economy would further hinder environmentally progressive—and typically more expensive—infrastructure developments.
"Imperatives towards immediate economic development carry obvious repercussions," said Chanvoitey when asked if the damage being done to the wetlands and the Mekong River are reparable. "In the longer term, we are not doing enough to ensure water security. We will never sufficiently compensate for wetlands loss. Given the technological innovation, while it is technically possible to further reduce the costs generated by the loss of wetlands, it is not economical. The natural wetlands and artificial ones never equal."
A Chain Sequence of Consequences
As mentioned in the first part of this series, Cheung Ek wetlands plays a vital role in wastewater treatment, but the development of a satellite city atop Cheung Ek and Boeung Tompoun threaten the functionality of this natural wastewater treatment facility. This, experts warn, will have multiple knock-on effects that will be felt throughout Cambodia—particularly by farmers and fishers.
"With poor planning, which is an unfortunate likely reality, that level of urban pollution could push its way back into the Tonle Sap Lake," said Brian Eyler, of the Stimson Center. "[This] will impact the breeding grounds of the fish, the water quality and likely the fish population. This is something that's under study and needs more study."
As director of the Stimson Center's Southeast Asia program, Eyler has voiced concerns about the transboundary management of the Mekong and other water resources. He noted that further urbanization throughout Cambodia will likely cause more damage to fish stocks and to farmland.
"In those smaller cities, they could be investing in smart-city solutions to reduce the level of wastewater that is being delivered into the lake system and the tributaries around it…but—on a larger scale—there are fewer floods that deposit natural sediments across floodplains," Eyler explained.
With fewer floods, more dams and more construction, the Mekong is less able to distribute nutrients to nearby floodplains that are used for farming. This in turn forces farmers to more intensively farm their land, as the crop yields dwindle due to a lack of nutrition in the soil.
"The intensification of agriculture is robbing the soil of more nutrients—farmers are then forced to use more pesticides, more antibiotics, etc., to keep agricultural yields up, which then all dumps itself into the river system when the next flood comes through," said Eyler.
"It's a vicious cycle that hasn't really appeared yet, but is probably right around the corner and there will be major water pollution issues on the horizon for Cambodia," he added.
Neither Mao Hak nor Chan Youtha of the Ministry of Water Resources and Meteorology wanted to comment, with both officials saying that the management of water resources such as the wetlands or the Mekong was not their concern. Seng Lot, spokesperson for the Ministry of Land Management, declined to comment on multiple occasions, saying he was busy.
No officials from the Ministry of Agriculture, Forestry and Fisheries could be reached for comment and Neth Pheaktra—spokesperson for the Ministry of Environment—did not respond to questions sent by several reporters.
It is unclear whether the unwillingness to discuss the issue signals a tacit understanding on the government's behalf or a lack of interest in the matter, but the loss of Phnom Penh's wetlands and lakes does not happen in a vacuum, nor is it any one ministry's responsibility. The infilling of urban water resources will have an impact on national ecosystems, just as Chinese dams affect Cambodian fishers and farmers.






A Cambodian man (R) walks on a ship as he controls a sand pump in the Mekong river in Phnom Penh on August 2, 2010. Cambodia exports sand to fuel Singapore's rapid expansion despite a supposed government ban on the destructive practice, an environmental watchdog said on May 11. AFP PHOTO/TANG CHHIN SOTHY

Urbanization is Fueled by Sand Mining

The inextricable nature of such ecosystems mean that pollution flowing freely into Cambodia's water resources is not the only connection between urbanization and declining fish stocks. In order to fill in the thousands of hectares that once made up lakes and wetlands in Phnom Penh, incalculable volumes of sand is required—and not just any sand will do.
Sand mining in Cambodia has been a longstanding issue that has come under scrutiny both at home and abroad. In September 2019, the US-based Public Broadcasting Service (PBS) television network published a short video examining the growth of what had become a $70 billion industry that Cambodia was eager to cash in on. All along the Mekong River, sand dredging boats can be seen, laden with precisely the right kind of sand needed to make concrete, and it is Cambodia's booming construction industry that has helped fuel the deracination of the Mekong's riverbeds.
PBS was not the first to highlight this problem. Environmental activist group Mother Nature has long decried the practice, and it was actually Hun Vannak—an activist formerly associated with the environmental group—who spoke on the record to PBS in 2019. Less than a year after the PBS documentary aired, Vannak was arrested in August 2020 in the wake of the authorities clamping down on protests related to the arrest of veteran unionist Rong Chhun.
Then, speaking out against the authorities' decision to allow Boeng Tamok to be filled in, other Mother Nature activists were arrested. Long Kunthea, along with fellow environmentalists Thun Ratha and Phuong Keorasmey, was arrested on Sept. 3 as they were planning a three-person march from Wat Phnom in Phnom Penh to Prime Minister Hun Sen's house, hoping to raise the issue of environmental threats posed by filling in lakes. They were later charged with incitement to commit a felony.
Prior to her arrest, Kunthea spoke to Cambodianess about sand dredging in Cambodia.
"Flooding in Phnom Penh has become more serious since the lakes have been filled in," she said. "Even a light rainfall means some roads are flooded and it is sand being taken directly from the Mekong that's being used to fill lakes like Boeung Tamok and Boeung Tompoun."
Boeung Tompoun and Cheung Ek are reportedly being filled with a mix of sand and soil, according to a July 2020 report by numerous civil society organizations, who estimate that some 77.6 million cubic meters of sand will be needed for the proposed satellite city and property developments taking place across the wetlands in southern Phnom Penh.
"There is no transparency in sand mining," Kunthea continued. "But it affects the riverside communities throughout Cambodia, riverbanks collapse, homes are lost and biodiversity is threatened. So it's important that we know which companies are licensed to mine sand [from the Mekong] and it's important for the relevant ministries to study the impact of sand mining."
Towards the end of the interview, Kunthea had recounted the harassment and intimidation she and other environmentalists faced while trying to raise this issue.
"The Ministry of Environment doesn't appreciate youth groups or people who try to protect the country's natural resources: The authorities just see youth groups like us as an opposition party group," she said before she was jailed.
Kunthea who was arrested while attempting to raise awareness of the flood risks that come with filling in lakes, was sent to Correctional Center 2 in Phnom Penh, which—as of Oct. 15—flooded during heavy rainfall.
The Shady World of Sand Miners and their Impact
The World Wide Fund for Nature (WWF) in 2011 estimated that approximately 35 million cubic meters (55.2 million tons) of sand were extracted from the Mekong mainstream that year. And despite the 2009 ban on exporting sand mined from the Mekong in Cambodia, WWF reported in 2018 that 15,000 to 20,000 cubic meters of sand were still being mined daily to serve the Phnom Penh construction boom.
In a 2018 report, the Mekong River Commission documented the impact sand mining was having on water resources throughout Southeast Asia. While recognizing that much of the sand mining taking place on the Mekong was fueled by a rapid growth of Cambodia's construction sector, the MRC pointed to the demand in Malaysia and Singapore, where the sand dredged out of the Mekong goes to make cement to develop critical infrastructure.
"Firstly, miners have an incentive to underreport the amount of sediment extracted to avoid royalties and taxes charged by amount," explained Meas Sopheak, the Mekong River Commission's spokesperson. "Given relatively limited government monitoring capabilities in the region, the figures are likely to be higher. Secondly, this survey only covered the mainstream and did not cover extraction on Mekong tributaries. As such the figure is illustrative of the likely scale of sand mining activities in the Lower Mekong Basin [LMB] but falls short of a realistic estimation of extraction in the LMB as a whole."



Two companies have been tied to sand mining for the purpose of filling in the Cheung Ek wetlands, namely Global Green Cambodia Energy Development and Hero King. While neither could be reached for comment, Hero King is owned by real estate mogul Kim Heang who is linked to the ING City project set to be built atop the wetlands through his company Khmer Real Estate.



Meanwhile, Global Green Cambodia is operated by Try Dalin—child of Oknha Try Pheap, who in December 2019 was sanctioned by the US Treasury Department for human rights abuses committed while building his illegal logging empire. Pheap's entire family has been blacklisted from dealing with US banks, companies and entities after being slapped with Magnitsky sanctions on 2019's International Anti-Corruption Day.
A third company—CES—is known to also have worked with both Global Green Cambodia and Hero King. Neam Kopy, the director of CES, was initially keen to discuss the company's role in conducting environmental impact assessments, but stopped responding when asked about sand mining's impact on the environment.
"Sand extraction has profound transboundary impacts and when you take sand out of a river upstream, the river tries to compensate by finding new sediment or dirt from its banks downstream to balance out the amount of soil and sediment that it normally carries," explained Brian Eyler of the Stimson Center. "So when that happens, the river's natural process is to scrape the banks, which causes homes and roads and whole sections of land to sink into the river. And this causes a lot of destruction."
Researchers have estimated that the rate at which sand is being removed from the Mekong exceeds the rate at which the river can naturally replenish by up to nine times.
Eyler called for greater regulation in Cambodia's domestic sand-mining industry. While he saw Chinese investment projects as leading the demand for sand, he added that China cannot be blamed for all that goes wrong in Cambodia.
For example, he said, while both Cambodia and Vietnam have officially banned the export of sand mined from the Mekong, it still happens on the black market, making it even harder to track the damage being done to riverbeds.
"I've not seen any official pronouncement on the relationship between sand mining and the management of natural resources from the Cambodian or Vietnamese governments," Eyler said. "I don't know if they're aware of the hydrological and geological impacts that sand mining provides, I can't say what the level of awareness is other than the sense of needing that sand for their own purposes."
Cambodia's construction sector, while providing thousands of jobs and contributing to national economic development, poses an actual threat to the Mekong and all who depend on it. Simon Vandcliff, vice-chairman of the European Chamber of Commerce in Cambodia's Real Estate and Construction Committee who has previously served as investment and development director for the ING City project—which is set to be built atop the Cheung Ek wetlands once they're filled—declined to comment on the sustainability of the project or its environmental impact, citing confidentiality agreements.
"Phnom Penh is unique, I can't think of another city in the world that has four rivers coming together that floods on a regular basis, that also has a major capital beside it," Eyler said. "So all these things need to come into consideration. Unfortunately, there's very little evidence to suggest that the city's planning is moving along in a sustainable way."






An Irrawaddy dolphin dives back into the depths of the Mekong River in Kratie Province. (Gerald Flynn)
Related Articles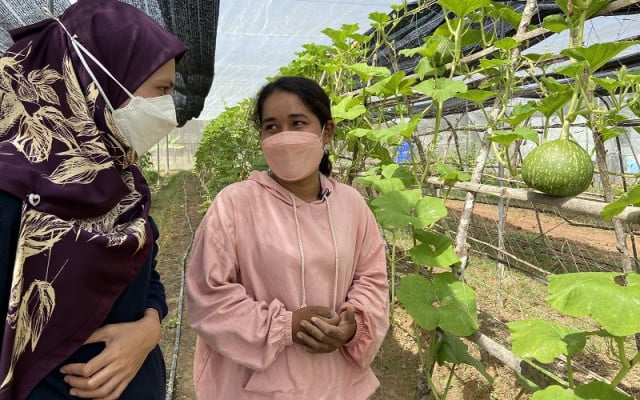 December 12, 2021 6:27 PM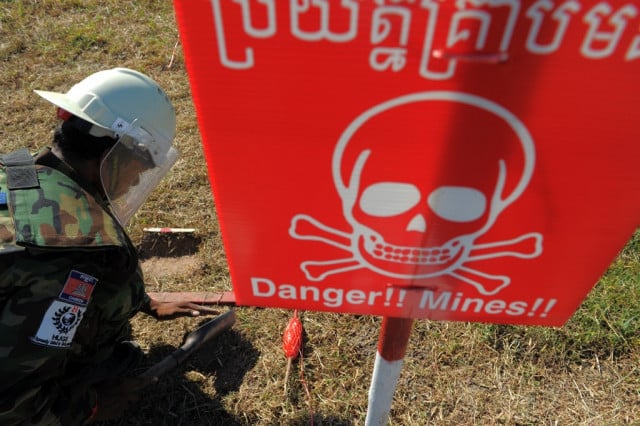 December 18, 2020 5:23 AM