Cashew Nuts Exports to Vietnam on Pause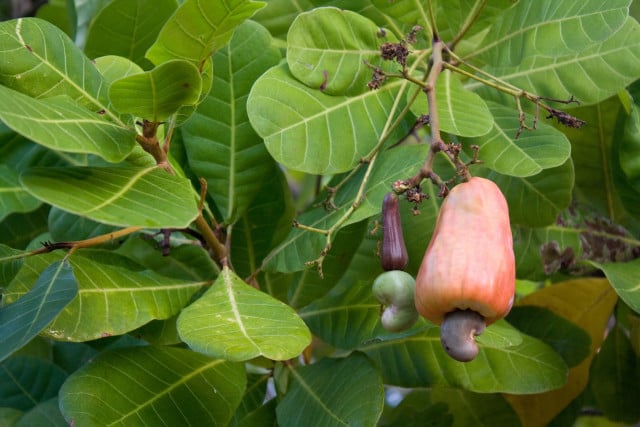 PHNOM PENH – The Cashew Nuts Association of Cambodia (CAC) recommended its members halt their exports to Vietnam due to unfavorable weather conditions that pushed prices to plummet in recent weeks.
According to CAC President Uon Silot, farmers were selling their cashews between 5,200 riel to 6,200 riel (about $1.25 to $1.6) per kilogram from late January to mid-March.
But market prices have fallen with heavy rains and strong winds occurring across Cambodia over the past two weeks, causing some nearly-ready cashew nuts to fall down from trees prematurely.
Since then, Vietnamese buyers only take fresh Cambodian cashews at a price between 4,000 to 5,000 riel, below the break-even point for Cambodian farmers.
"If farmers are in a rush to sell their cashew nuts, they will not make any profit," Silot said, suggesting farmers suspend the sale of fresh cashew nuts while waiting for the price to rise again in a few months.
"The association has announced to the members to sun-dry their cashew nuts in the meantime because we can't sell out the nuts for 4,000 riel. The price is only enough for surviving. We are expecting that the price will increase later," he added.
Traditionally, the value of dry cashews is higher than that of fresh ones.
Silot said the weather is one of the main factors affecting the price and the volume of cashew exports. Although the association had projected such heavy rains to occur, nature can't be controlled.
"We are worried for the farmers who did not harvest their cashew nuts before April. They might lose their profit," he pointed out.
Chhoeum Vantha, a farmer of a 10-hectare cashew nuts farm in Kampong Thom province, said the price started to decrease in mid-March when it stood at only 4,800 riel per kilogram.
"To sell the nuts at a more interesting price, we have to sun-dry and store them until the next price increase, probably in July or August. If the price is around 4,500 riel per kg, we can at least make a little profit; if it's only 3,800 riel, we can't earn anything," Vantha said.
Unfortunately, such an option is only suitable for farmers with enough space and money at their disposal to afford to wait a few months.
"Some farmers who cannot wait will need to sell their [cashew nuts] with this low price to survive," Vantha added.
He expects the price to reach 6,000 riel in the coming months. However, he knows it will mostly depend on the quality of the sun-dried cashew nuts.
According to a CAC report, Cambodia produced 260,000 metric tons of fresh cashew nuts from January to March 2023, of which, 233,050 were exported to Vietnam.
Even though it is 12 percent lower compared to the same period last year, it generated $320 million in income.
The Cashew Nuts Association estimates there are between 500,000 to 700,000 hectares of cashew nuts plantations across the country, some of them being unofficial.
Cambodia generated $1 billion in revenue with cashew nuts sales in 2022, by exporting 670,000 metric tons to international markets – a 34.65 percent decline compared to 2021.
Vietnam is Cambodia's largest market for cashews: 640,000 metric tons were exported there in 2022.
Related Articles