Changes Made to Cambodia's Entry Policies for Foreigners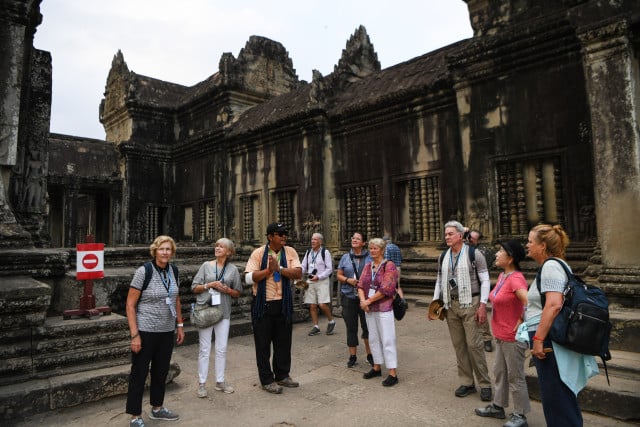 Phoung Vantha
August 4, 2020 10:47 AM
The Ministry of Health has adjusted the requirements for foreigners entering Cambodia based on the purpose of visit, allowing greater freedoms to foreigners sponsored by companies or organizations.

PHNOM PENH--The Cambodian government on Tuesday (Aug. 4) announced changes to the restrictions placed on foreigners planning to visit Cambodia. Due to the Coronavirus Disease 2019 (COVID-19) pandemic, numerous restrictions and requirements have been introduced by the government, but today's announcement shows a softening of measures.
The Ministry of Health released a statement that suggests requirements will be different depending on the purpose and nature of foreigners' visits to Cambodia, dividing new arrivals into three groups; those sponsored to work in Cambodia, those invited but not sponsored and those with neither an invitation nor company sponsorship.
On June 11, the Cambodian authorities imposed the requirement that foreigners arriving in the country must make a deposit in cash of at least $3,000 to cover the cost of expenses, but this has now changed as of Aug. 4 with the deposit now standing at $2,000.
Another change is the lack of deposit required from those who have been sponsored by a company to come and work in Cambodia.
All travelers, irrespective of classification, require valid visas, negative COVID-19 test results from their home country taken up to 72 hours prior to departure, a Validation Certificate of Payment Guarantee issued by the Cambodian government and documentation showing their reservations at hotels that must be booked three days prior to departure.
The ministry also requires travelers to purchase a health insurance package for COVID-19 treatment, which costs $90 and is valid for 20 days.
However, for those arriving with corporate sponsorship, there is no need for pay the $2,000 deposit designed to cover quarantine costs, nor will those with sponsorship be asked to purchase—responsibility for sponsored foreigners will rest with the companies or organizations that sponsored them. They will also be permitted to use the special priority lane when arriving.
This means that if a sponsored foreigner has to undergo a 14-day quarantine period, the sponsors will be liable for paying this.
For foreign travelers with an invitation to work in Cambodia, but without sponsorship, all of the standard requirements apply and they will have to purchase the $90 insurance package, as well as deposit $2,000 to cover the potential cost of a 14-day quarantine period if necessary. However, foreigners with an invitation to work in Cambodia will be able to use the special priority lane when arriving at the airport.
Lastly, those foreigners seeking work or simply hoping to visit Cambodia have to deposit $2,000 upon arrival at international airports in Cambodia, which will be used to cover hotel accommodation cost while waiting for COVID-19 test results, medical examination fees, local transportation costs from the international airport to the reserved hotel and expenses during the quarantine period, in the case any fellow travelers test positive for COVID-19 the Health Ministry stated.
Related Articles