Chhim Sothy's City Landscapes: Where Past and Future Neighborhoods Merge in the Present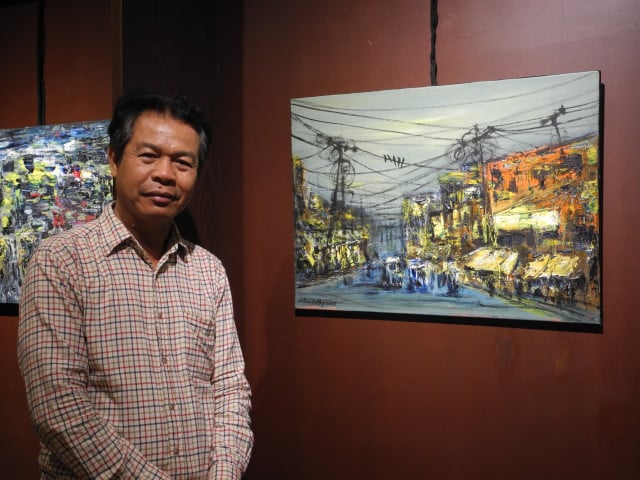 PHNOM PENH — Chhim Sothy is part of the generation of artists who were born as the country was about to fall into civil war in the early 1970s. He would be in his early 20s by the time peace returned to Cambodia, ready to contribute energy and color to bring back normalcy.
Over the years, he would go through different phases with his work, nearly following the course of the country's history. First, he would explore the centuries-old Khmer styles and reinterpret them for today, then turn to 21st century abstract art and experiment with movements and forms.
Eventually, as can be seen in his latest exhibition focused on Cambodia's cities and especially Phnom Penh, his journey has led him to develop a nearly classic style to express today and reflect a world in which people now live in peace. Entitled "Urban Vision" while held at the hotel Sofitel Phnom Penh Phokeethra, the exhibition is now taking place at Sofitel Angkor Phokeethra Golf & Spa Resort in Siem Reap City under the title "New Time."
"It's the city of before and of today, the city that flourishes," Sothy explained during a recent interview. "Today it's very modern, highrises, huge.
"And then you also have tuk-tuks in the streets, people walking, street vendors, the city buzzing, commerce thriving," he said.
This, Sothy has rendered by using both oil and acrylic paint, which is fairly unusual, either mixing them or using acrylic first and then oil paint on canvas.
In a painting entitled "Peaceful," electric cables set against a grey sky are spread over a street lined with three-to-four-story buildings with stores at street level, their awnings spread over the sidewalk and tuk-tuks parked in front of them. Pigeons on an electric cable in the middle of the street watch the scene.
The painting depicts a part of Phnom Penh fairly unchanged over the decades.
In another painting that Sothy named "Growing Up," vehicles ride along corridors of low-and-high-rise buildings that spread toward the horizon, the landscape turning into patches of muted red and pink, grassy green and dark yellow as the high-rises reach the grey-blue sky.
"This is today's Cambodia…the city that thrives," he said.


In this painting entitled "Growing Up," highrises line streets and boulevards, stretching toward the horizon as far as one can see. Photo provided.
Sothy was born in January 1969 in Kandal province. As the civil war engulfed the country in the 1970s, he and his family moved to Phnom Penh. A few months following the Khmer Rouge victory of April 1975, his father who had been a public servant was executed. Since they were city people and considered reactionaries, Sothy and his family were sent to Pursat province. Many massacres took place in that region, he said. While his mother and one of his brothers would survive the regime, his sister and other brother would not.
When the Khmer Rouge were ousted from power by the Vietnamese army and a Cambodian military contingent, Sothy went to live with his grandmother in Takhmao city where he attended high school. He especially loved to draw, which he did whenever he could, whether in the sand or on the walls of pagodas, he said.
In 1985, Sothy went to the Royal University of Fine Arts—called at the time the fine arts school—in Phnom Penh. From 1990 through 1995, he would take the option modern painting.
By then, the Paris Peace Agreement signed in October 1991 had put an end to war in the country. "We had many French professors from Paris who were giving courses on contemporary painting, on the history of painting," Sothy said. "This was great for us. Courses on painting, sculpture, photography. Then a Cuban professor, a Spanish professor, a French professor, and so on after 1990. The atmosphere was great." At university, he would serve as interpreter during art history and graphic art classes to help foreign teachers.
After graduating in 1995, Sothy became artistic director of the education project Chantiers-Ecoles de Formation Professionnelle, a NGO meant to provide physically-challenged people with artistic skills to create crafts for the tourism market.
Sothy held this position as part of the Ministry of Culture and Fine Arts. In 1997, he became director of the Fine Arts and Handicraft Department at the ministry.


This painting featuring traditional homes built on stilts is entitled "Memory." Photo provided.
In addition to Cambodia, Sothy's work has been exhibited in China, Indonesia, France, Laos, the Philippines, Singapore, Thailand, the United States and Vietnam, to name a few countries.
In his work, he has never stopped searching and coming up with visions that mix, reinvent and at times are quite different from his previous approaches. He never just sits down and says "this is it."
Now, he plans to use the same approach in his own life.
When he officially retires in five years or so, Sothy hopes to return to Siem Reap city and relaunch the project Chantiers-Ecoles to set up training in arts and crafts design for physically-challenged people so they can support themselves and their families and have good lives. He is already discussing this with the Ministry of Fine Arts, hoping to obtain the ministry's support for the project, he said.
Related Articles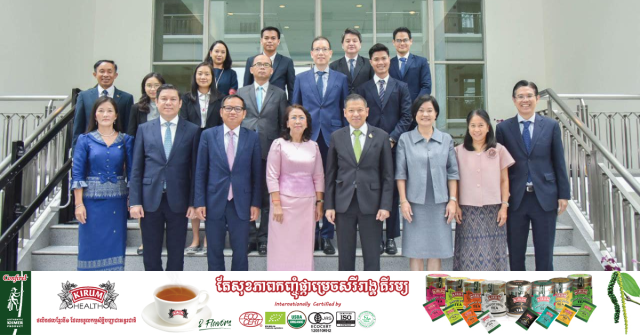 September 18, 2023 3:06 PM