Citizen Journalism or Voyeur Journalism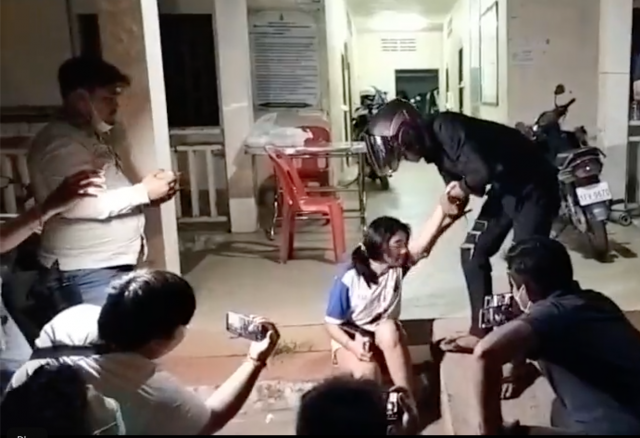 Surrounded by a horde of so-called "citizen journalists" who were filming her with their smartphones to post on their blogs or live on their Facebook pages, a young woman was crouching, curled up, hiding her face.

This was taking place on Chroy Changvar Bridge in Phnom Penh. The young woman had come there to kill herself.
So, for these smartphone and internet livestream addicts, broadcasting such images would be "citizen journalism."
First, what is this journalism that emerged in the wake of the internet and, especially, social media? This is information often produced by non-professionals and broadcast not through traditional media usually belonging to large media groups, but on blogs or personal Facebook pages.
With a commonplace smartphone and a few free applications, anyone and everyone can film videos and broadcast them, live or later, on his personal page. That's for the technical aspect.
From a political point of view, "citizen journalists" are theoretically internet users who have taken advantage of this technical ease to produce information independently from the mass media they judge under the control of political or economic powers, partial and biased. It is as citizens that they take action, that is, by taking part in the public debate. With the information they produce—information therefore presumed to be ignored, if not hidden, by the major media—they want to enlighten their fellow countrymen and act as whistleblowers if need be.
Of course, their information must be handled professionally—checked, corroborated, and so on—otherwise their work is of no interest with regard to their ambition. And what they put on social media must contribute to the civic debate, to the public debate.
Going back to the horde that was filming at point-blank range this desperate woman who had come there to attempt the worst. Are they "citizen journalists?" What is the interest for the public debate to post live such images if not to fuel morbid voyeurism? What about the respect of one's right of personal portrayal, which is a basic right of every individual?
Every night, therefore, like bats, the horde goes hunting. Suicides, fires, accidents. Drama. Blood.
Citizen journalism? I leave it to you to be the judge.
Related Articles