CMAC Takes Away a Bomb Casing Used as a Bell at a School in Prey Veng Province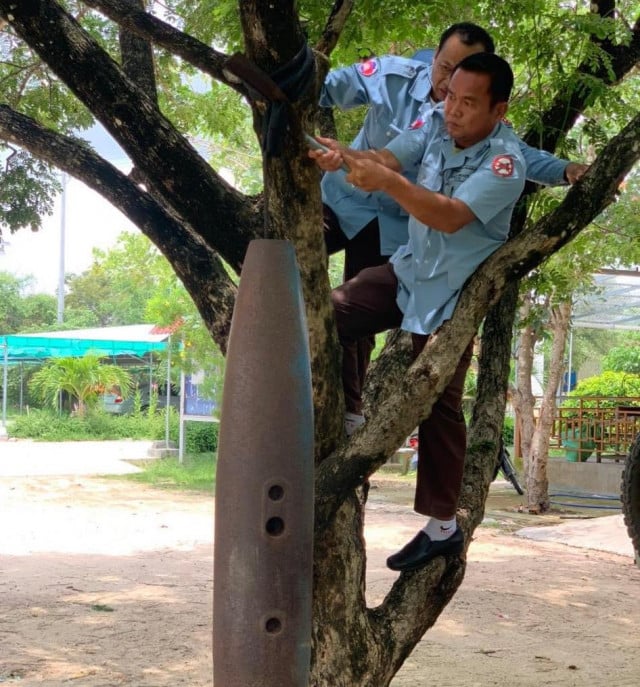 Phoung Vantha
July 16, 2020 11:15 AM
It posed no danger but people must be aware that other war leftovers could, CMAC says
PHNOM PENH--A giant bomb casing, which has been used as a bell at the Chea Sim Reak Chey High School in Prey Veng Province, was removed by the Cambodian Mine Action Center (CMAC).
Located in Reakchey village in Ba Phnom district's Reakchey commune, the school had been using the bomb to ring the start and end of class.
CMAC Director-General Heng Ratana said that, on 15 July, CMAC's staff removed the bomb casing from school. "Free of sound from this bomb-bell," he said. "Thanks to the school principal and the local police for their kind cooperation."
A legacy of the wars and conflicts in the 1970s and 1980s, bomb casings have been found in pagodas and schools, Ratana said, adding that they pose no danger since they contain no powder and their heads cannot explode.
However, he said, in order to better inform people and make them aware of the dangers these bombs and explosives from the war years may represent, the CMAC authorities confiscate all explosives found throughout the country. But the challenge is to make people aware the authorities should be notified when they find those items, he added.
The Reakchey village's bomb casing was removed after a Facebook account owner going by the name of Angkor Thom reported it on Heng Ratana's Facebook page.
Under the National Mine Action Strategy 2018-2025, the Cambodian government is seeking $400 million to achieve a mine-free Cambodia, minimize the threat of unexploded ordnance, and guarantee safe socio-economic development by 2025.
Related Articles