Color Silk Cambodia: Encouraging Women to Set Up Shop in their Own Neighborhoods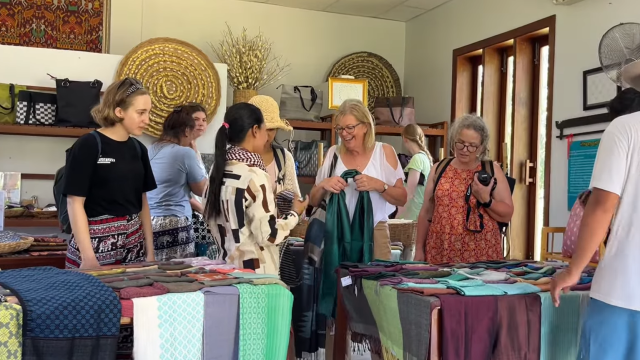 SIEM REAP — For more than three years, Color Silk Cambodia has been training women and girls in the art of weaving in Siem Reap province, providing them with the skills to earn a living through this craft and helping them expand their communities' economy.
As explained Ngorn Vanntha, the founder of Color Silk Community whose production house is based in Banteay Srei district, the program encourages and teaches people to plant mulberry trees whose leaves silkworms eat so as not to have to import this from overseas or at least to import less.
Zul Rorvy: What is the fundamental goal for this weaving community?
Ngorn Vanntha: Funded by Maybank, Color Silk Cambodia's goal is to help provide with weaving skills women in the community, especially those who don't know how to properly manage these skills or those who wish to develop them after they finish school. Following recruitment, we will offer them 5-month training after which they then can use what they have learned to improve their families' income through this traditional craftsmanship. Weaving skills are important since this is a legacy left to us by our ancestors. It is a cultural work. After the training, the program also involves providing our trainees with the necessary equipment so they can do what they have learned.
Zul Rorvy: As I walked around this lively neighborhood, I couldn't help but notice the presence of silkworms being raised. Does your center also raise your own silkworms for silk production?
Ngorn Vanntha: In addition to teaching women how to weave, we also encourage having other related processes such as raising silkworms and planting mulberry trees, which produce the food for the worms themselves. By expanding our production in multiple areas, we offer farmers the opportunity to generate more income, reduce depending on imports from overseas, improve the local economy and local product quality.
Zul Rorvy: So, how do you manage to provide incentives for farmers to plant mulberry trees?
Ngorn Vanntha: We provide farmers with free seeds and training with the assistance of specialists when it comes to planting mulberry trees. When harvesting, the center will manage to buy their products at around 1,000 riels ($0.25) per kilogram of mulberry leaves. At that price, they can get around $30 per month. Although it does not sound much, this kind of mulberry tree does not need lots of effort to grow. They can produce an even better harvest during the rainy season. Some families can get up to 60 kilograms of mulberry leaves per month. It depends on how much they are willing to farm. The tree does not require a lot of space to grow. They can just do it in their spare spot of land. Our program began in mid-2019, and we now have more than 300 families who are planting mulberry trees with us. We also use our own dyes that are made from local organic materials: They produce no harmful chemicals for both the producers and the users.
Zul Rorvy: Regarding the final products, where on the market do you sell?
Ngorn Vanntha: Currently, about 90 percent of our products are exported to markets in Europe, Japan, Singapore as well as Australia. However, since Siem Reap is also a touristic province, we have come up with our own gallery where we sell goods retail. In addition to coming to buy, customers can also observe the production line in the context of the natural environment that we have. After this center here in Siem Reap province as well as another one in Takeo province set up in 2009, we are looking forward to expanding our operations to other provinces where women are in need of these weaving skills and trade.
Just a few steps away from the production house, a showroom full of silk and fabric products offers customers a wide range of options to choose from, as explained Sales Director Chea Sa Em. "In this showroom, we have kramas [scarfs] made of silk and fabric of different sizes," he said. "We also have pillowcases and purses. In addition, customers can buy silk and fabric to make clothes."
The showroom currently welcomes 150 to 200 foreign customers and 50 to 100 Cambodian customers per month, the sales director added.
Interviewed in Khmer for ThmeyThmey News, this story was translated by Ky Chamna for Cambodianess
Watch the videos in Khmer language on: The General description on the centre / The production line & showroom
Related Articles