Community Groups Call for More Government Support during COVID-19 Pandemic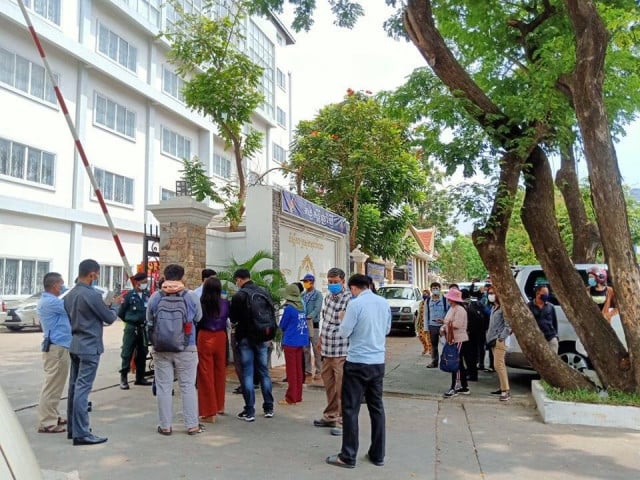 Gerald Flynn and Phoung Vantha
April 28, 2020 11:54 AM
Measures to contain the virus have disproportionately affected Cambodia's poorest, whose advocates now ask the government for greater support as the pandemic goes on.

PHNOM PENH--Representatives of 141 Cambodian communities on Tuesday (April 28) delivered a letter calling on the government to address issues affecting Cambodia's poorest as a result of the Coronavirus Disease 2019 (COVID-19). Community leaders delivered the letter to government offices on Tuesday morning in the hope of securing greater financial support for low-income urban and rural communities.

The letter, said to represent the concerns of 141 communities throughout the country, presented a list of requests for the government to address—ranging from the distribution of face masks and hand sanitizers, and the suspension of debt and rental payments, to ending evictions for those who cannot afford rent due to loss of income.

The letter also suggested the introduction of a stay-at-home payment as has been seen in other countries tackling the COVID-19 pandemic.

"Currently, our communities face many issues which are being worsened by the threat of COVID-19," the letter read. "Although only a couple of communities have reported cases of COVID-19, many of our communities have been affected by the virus already through loss of income, loss of jobs, and exacerbation of currently existing issues."

Despite the Ministry of Health announcing that Tuesday marked the 16th consecutive day of no new COVID-19 cases being identified in Cambodia, the community representatives who authored the letter stress that the economic impact of the pandemic remains a threat.

"Our communities are often cramped with many people living in small houses," they say in the letter. "We are poor, with few savings, and many of our young children and elderly people have pre-existing health concerns as a result of our living conditions. In addition, our relationship with the healthcare service in Cambodia is not well established."

The letter goes on to say that the communities have received instructions on hygiene and social distancing from both the government and non-governmental organizations (NGOs), but they lack the means to act on the measures recommended.

Similarly, they feel excluded by ID Poor—the identification of poor households program—which was introduced in 2007 by the Ministry of Planning and GIZ, the German development agency, as an initiative to identify households affected by multidimensional poverty and ensure they received the support they needed, particularly with regards to healthcare.
Multidimensional Poverty in the Time of COVID-19

Multidimensional poverty analyzes not just income, but years of schooling received, access to healthcare, as well as standard of living, which takes into account access to cooking fuel, sanitation, electricity, drinking water and other factors.

In 2018, the United Nations Development Programme (UNDP) produced a report whose findings indicated that some 35 percent of Cambodians lived in multidimensional poverty.

However, the government's own statistics were showing that just 13.5 percent of Cambodians were living in poverty, which they calculated by measuring the number of people living on less than $1.90 a day. The purpose of the UNDP's multidimensional poverty index was to highlight those who might be earning slightly more than $1.90 per day but are still afflicted by all the trappings of poverty.

This led to a fallout that saw Minister for Planning Chhay Than write to the United Nations whose officials, in response, released a joint statement with Than to the effect that all future references to poverty by UN agencies would use official government data.

But the government's rejection of the UNDP's 2018 data does little to help those Cambodians who are living in multidimensional poverty, especially now that COVID-19 threatens to seriously damage the country's economy.

With the World Bank and the International Monetary Fund predicting negative growth for Cambodia in 2020, some 100,000 garment workers suspended and nearly 90,000 migrant workers having returned to Cambodia jobless, the economic impact of COVID-19 grows by the week.

In Sickness and In Debt

One unifying issue that has arisen from the COVID-19 crisis has been Cambodia's growing level of household debt. Microfinance institutions in Cambodia are estimated to have $10 billion in outstanding loans. The Cambodian Microfinance Association says there are some 2.24 million borrowers on their books, but this figure fails to account for Cambodians who have taken loans from informal lenders.

Khiev Saron, a representative from Svay Rieng Province, said that the community representatives' letter was to be submitted, she said, "to five relevant institutions such as the Ministry of Economy and Finance; the Ministry of Health; the Ministry of Agriculture, Forestry and Fisheries; the Ministry of Land Management, Urban Planning and Construction as well as the Council of Ministers.

"We want to request that microfinance institutions delay their repayment collection or reduce the interest rates during the COVID-19 pandemic since we cannot farm as before and we have to pay the loans on time," Saron said.

The community letter called on the government to order microfinance institutions and informal lenders to temporarily cease debt collection as many have lost income over the pandemic, particularly those in tourism, garment manufacturing, construction and transportation.

"All communities fear that they will not be able to repay their loans on time, or at all. The fear is compounded by the prospect of further job loss, in the event of a lock-down, and by reduced income through greater spending on preventative medical supplies," the letter reads, adding that government action is needed for peaceful resolution between lenders and borrowers.

The letter also calls for a complete ban on evictions during the pandemic, citing public health risks as the key risk that would be associated with forcing families onto the streets at this time.

Soeung Saran, who is executive director of Sahmakum Teang Tnaut (STT)—a Cambodian urban land and housing rights NGO—pointed out that land disputes are continuing despite the COVID-19 crisis.

"During this pandemic, it is important that everyone works together, and we support the requests of the urban poor communities to resolve any land conflict peacefully and safely during this time," he said.

"Many of the poor households we work with are just trying to work out how they will survive the pandemic," Saran said. "Many families have lost their jobs and income as a result of COVID-19. And evictions, or the threat of them, at this time is only making a bad situation worse."

While the National Bank of Cambodia, on March 27, released a circular on the restructuring of debts for Cambodians who have lost their jobs or income as a result of the COVID-19 pandemic, this remains a guideline and it is unclear whether or not microfinance institutions (MFIs) will abide by them.

If they choose not to, they will be able to collect the land titles and deeds that have been offered as collateral by Cambodia's poorest in their attempt to access finance.

Milford Bateman—a professor specializing in the study of microfinance and its impact—argues that MFIs need to put the future ahead of the immediate present and find a way to suspend debt collection throughout this crisis.

Bateman goes on to say that Cambodia is one of the only places where land titles of the working poor are taken as collateral by MFIs. An August 2019 study by human rights group LICADHO found that MFIs have habitually taken land titles as collateral and then forced borrowers to sell their land in order to keep up with repayments.

As evidence that this may happen during the COVID-19 pandemic, Bateman points back to floods in 2000 and 2001, during which MFIs still collected debts and coerced land sales of those who could not afford to pay, even as floodwaters ripped through six provinces, affecting 3.5 million people, killing 347 and causing an estimated $157 million in damages.

Just Monday (April 27), the Cambodian Center for Human Rights (CCHR) along with 134 civil society organizations and communities also called for the government to immediately suspend all microfinance debts and return the millions of land titles currently held as collateral to their owners.

"We recognize the steps already taken by the National Bank of Cambodia to encourage MFIs to offer re-scheduling and loan deferment on a case-by-case process will not work fast enough for the 2.6 million borrowers who need immediate relief. A more systematic approach is urgently needed," the statement from CCHR read.

Cash Payments and Rent Freezes

In their letter, the representatives of the 141 Cambodian communities said that it should be to those most vulnerable that the government provides financial aid. They call for rent freezes as well as requesting a freeze on business taxes related to the trades of the poor and informal workers, rather than a universal suspension of rent and tax collection.

The letter also calls for a stay-at-home payment to be made to Cambodians who have lost their jobs since the pandemic began. This, the community representatives argue, would prevent Cambodians from taking out more loans, getting further into debt or risking their health by trying to work instead of social distancing.

This is a concept that was backed by the World Economic Forum which, on April 17, published a statement from Balazs Horvath, the UNDP's chief economist for Asia and the Pacific, and UN Assistant Secretary-General Kanni Wignaraja.

"The pandemic that began in China has raged across Asia and beyond, exposing inequalities and vulnerabilities of huge populations in the region. This includes informal workers—estimated at 1.3 billion people or two-thirds of the Asia-Pacific workforce—as well as migrants," read the statement, which added that many in Asia lack a social safety net in the event of a crisis.

Horvath and Wignaraja noted that Canada, the United States and a number of other countries have implemented forms of universal basic income, which effectively guarantees a level of financial stability to the growing number of unemployed.

"During these times, when we need to kick-start sputtering economies, the payoff of social stability would be tremendous, making an even more powerful argument for [Universal Basic Income]," Horvath and Wignaraja wrote.

Questions regarding the communities representatives' letter put to Ek Tha, spokesman for the Council of Ministers and standing vice-chairman of the Royal Government Spokesperson Unit, were deferred to government spokesman Phay Siphan who, as of 5 pm on Tuesday (April 28), had not responded.
Related Articles