COVID-19 Cases Rise by 24 as Outbreak Spreads Through Sihanoukville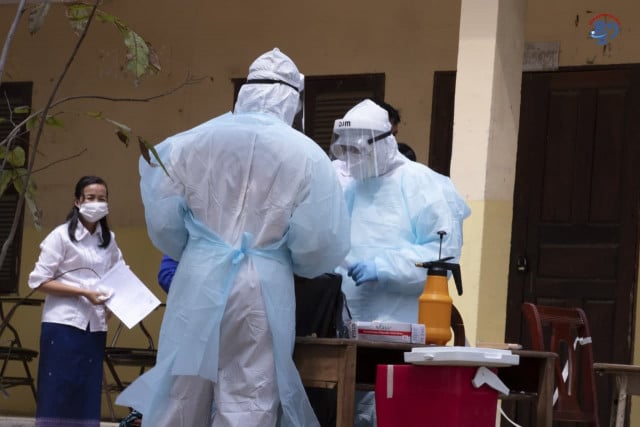 Phoung Vantha
March 2, 2021 3:02 AM
Of the 24 new cases found, 17 were based in Sihanoukville while the rest were discovered in Phnom Penh, the Health Ministry said.
PHNOM PENH--The latest COVID-19 outbreak in Cambodia continues to grow with 24 new cases announced on March 2 by the Ministry of Health. All 24 are linked to the recent community outbreak, bringing the total number of cases connected to Feb. 20 up to 340.
According to the Ministry of Health, 17 of the 24 are Chinese nationals while four are Vietnamese and three are Cambodian.
While seven cases were identified in Phnom Penh—largely believed to be the epicenter of the latest outbreak—the remaining 17 were discovered in Sihanoukville, where 52 cases have been found in two weeks and predominantly involve Chinese nationals.
The newly-identified patients in Phnom Penh have been sent to various quarantine sites around the city, while one Chinese woman has been sent to Chey Chumneas Referral Hospital in Kandal Province and all 17 of the patients living in Sihanoukville are now being treated at Preah Sihanouk Provincial Referra Hospital.
Since the pandemic began, Cambodia has identified jut 844 cases total, but 366 of which remain active cases. A total of 478 people have recovered since contracting the virus, including one Cambodian man who was today discharged from Banteay Meanchey Provincial Referral Hospital.
The Cambodian Center for Disease Control and Prevention (CDC) said that, since COVID-19 was first detected in Cambodia, some 499,716 tests have been carried out—although it is unclear how many people have been tested.
According to the CDC, Cambodia has conducted 29,745 COVID-19 tests per 1 million people.
Related Articles