COVID-19 pandemic drives sharp growth in mobile payments in Cambodia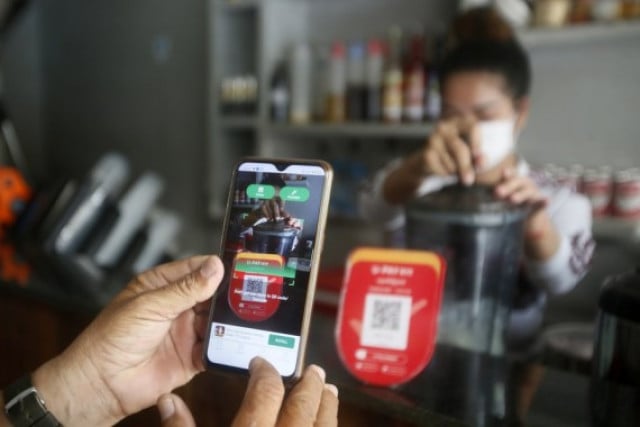 The COVID-19 pandemic, together with a rise in FinTechs and Internet usage, has driven sharp growth in mobile payments in Cambodia.
PHNOM PENH-- COVID-19 pandemic, together with a rise in FinTechs and Internet usage, has driven sharp growth in mobile payments in Cambodia, a central bank's senior official and company representatives said here on Friday.
Chea Serey, director-general of the National Bank of Cambodia, said the country recorded a total of 707.57 million online payment transactions worth 113.67 billion U.S. dollars in 2021, up 46.7 percent and 19 percent, respectively, from 482.14 million transactions worth 95.31 billion dollars in 2020.
Of the last year's transactions, 157.63 million transactions were made in national currency riel worth 34.3 billion U.S. dollars, up 25 percent and 54 percent, respectively, from 126.13 million transactions worth 22.25 billion dollars in the year before, she said.
"COVID-19 situation has encouraged more people to use mobile and electronic payments rather than cash," Serey told Xinhua. "Younger generations tend to use more modern methods such as online payments rather than paying by cash."
Currently, there are 69 financial institutions providing mobile payment services in the Southeast Asian nation, she said, adding that there was a total of 13.6 million mobile payment users in 2021, up 42 percent from 9.56 million in 2020.
The kingdom has approximately 17.7 million Internet subscribers, according to the Telecommunication Regulator of Cambodia.
Speaking of cooperation between Cambodia and China in the mobile payment industry, Serey said currently, Alipay and WeChat Pay are accepted in Cambodia.
"In the future, Cambodia will seek the possibility of cross-border payment via Bakong between Cambodia and China," she said.
Bakong is the kingdom's only all-in-one mobile payment and banking app.
Paul Kim, managing director of Mayura, an online marketplace platform for beauty and health products, agreed that the pandemic proved to be a blessing in disguise for the development of mobile payment sector.
He said when his company first launched in early 2020, more than 95 percent of the customers chose the "cash on delivery" payment method when they checked out.
"But, today, roughly 30 percent of our customers use one of the various cashless payment methods available on our platform when they check out," he told Xinhua. "We are observing this change in consumer behavior very closely and are excited to see how it continues to evolve in the years to come."
Paul said due to the pandemic, the e-commerce industry has gained tremendous traction, which, in turn, has a ripple effect on the FinTech industry.
"As professionals in science and medicine tell us that we will be living with COVID-19 for the foreseeable future, these changes in consumer behavior are with us to stay," he said. "In the next year or two, we are expecting an even greater growth for the e-commerce industry in Cambodia and, in turn, wider adoption of digital payment methods."
Mak Chamroeun, chairman of AgriBee (Cambodia) Plc., a value chain management platform that facilitates all stakeholders in the agriculture sector, said digital payments are convenient, fast and safe, particularly during the pandemic.
"For our company, 100 percent of all key stakeholders are using digital payment through BeeApp," he said.
Related Articles