Death Toll Climbs by 10 As COVID-19 Cases Continue to Surge in the Country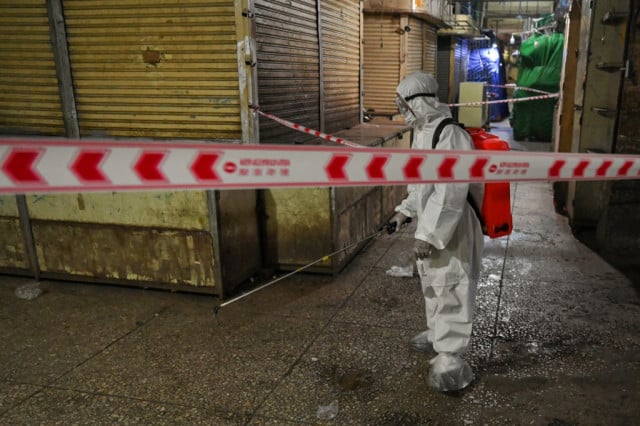 Medical staff from the provinces come to help health facilities in the capital as Phnom Penh orders mass testing in the city's coronavirus red zones
PHNOM PENH--The Cambodian authorities on Saturday (April 24) announced that COVID-19 had claimed the lives of 10 more patients as 511 new cases were registered.
According to the Ministry of Health's press statement, 509 of these cases have been linked to the Feb. 20 community event. Among them, 318 cases were detected in Phnom Penh, 126 in Preah Sihanouk Province, 44 in Kandal Province, five in Kampong Cham Province, four in Banteay Meanchey Province, four in Kampong Chhnang Province, two in Kampong Thom Province, two in Takeo Province, two in Tboung Khmum Province and one in Svay Rieng Province.
The two other COVID-19 cases involve a 41-year-old Indonesian man who arrived from Indonesia via Singapore and a 32-year-old Cambodian man who returned to the country from South Korea.
In its press statement, the Ministry of Health said that the disease had claimed the lives of 10 patients. Among them were four women respectively 71, 67, 63 and 32 years old; and five men respectively 77, 64, 57, 42, 34 and 24 years old. Some of these patients passed away before being admitted to hospital and tested positive for the coronavirus after their deaths.
The Ministry of Health also indicated that 62 coronavirus patients had made a full recovery and been discharged from hospital.
Since the pandemic began in early 2020, a total of 9,359 people have contracted the coronavirus in the country. Among them, 6,072 cases remain active while 3,210 people have recovered. The COVID-19 has so far officially caused the death of 71 patients in Cambodia.
More volunteers arrive in Phnom Penh as medical treatment centers expand
While several hundred cases have recently been detected daily, the medical treatment centers have been overwhelmed in the capital, forcing the health authorities to seek additional facilities for the new coronavirus patients.
On April 24, the authorities decided to transform the Olympic Stadium, a wedding reception building in Sen Sok District and the National Polytechnic Institute of Cambodia into medical facilities for patients with mild symptom in Phnom Penh.
Not only new facilities for patients have been prepared, but the Ministry of Health has also requested more medical staff to assist frontline medical workers in the capital. As many as 80 medical volunteers from Kampong Speu and Kampong Cham provinces have so far responded to the request and joined the medical staff in the capital to help in the fight against COVID-19.
Or Vanthen, who heads the Kampong Speu provincial health department, said that the 40 people from his province are all specialists who volunteered to give a hand to the medical staff in the capital. "Our 40 officials traveled to Phnom Penh at the request of the Ministry of Health," he said. "We already have almost 1,000 medical staff here in our province, which is enough."
Kim Sourphearun who heads the Kampong Cham Province's health department also confirmed that 40 of his health officials were already in Phnom Penh and that many more had volunteered to take part in this operation. But, he added, the ministry has only requested 40 people at this point.
Mass testing for people in red zones
As the number of COVID-19 cases has shown no sign of decreasing in Phnom Penh despite the lockdown measures put in place, the medical authorities have prioritized mass testing at coronavirus hotspots in the hope of cutting the chain of transmission and bring the situation under control.
Phnom Penh Governor Khung Sreng issued an instruction letter on the evening of April 23 to the effect that all people living in the red zones designated by the health authorities are required to undergo testing.
The red zones include the communes Stung Meanchey 1, Stung Meanchey 2 and Stung Meanchey 3 in Meanchey District; Chaom Chao 1 Commune in Por Senchey District; and Village 14, Village 16 and Village 17 in Boeng Salang Commune in Tuol Kork District.
"In the case of any resident who does not cooperate or avoids getting tested for the virus as stated in the instructions, [he/she will] be legally punished as stipulated in the Law on Measures to Prevent the Spread of COVID-19 and other related regulations," Sreng said in the letter.
At the request of people from these red zone areas in order to ensure their safety and prevent possible coronavirus transmission, Phnom Penh City Hall on April 24 said that more testing sites will be set up to facilitate the testing operation since many people will come to get tested.
Related Articles