Eating Local Products – at Your Own Risk and Peril!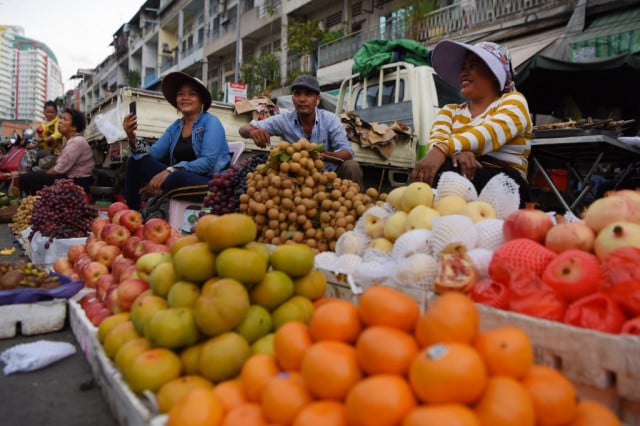 Lim Tola
March 16, 2020 10:34 AM
Eating produce—fruits and vegetables—that are grown locally: nothing better.

PHNOM PENH--The authorities, farmers, environmentalists, consumers: Everyone agrees. This, however, is far from the reality of everyday life in the country.

Insufficient domestic production with weak productivity affecting competitiveness: In the end, imported fruit and vegetables dominate the national market.

And worst of all, in order to keep afloat, local producers massively resort to a whole array of chemical fertilizers and pesticides.

Earlier this month, Minister of Agriculture, Forestry and Fisheries Veng Sakhon again expressed concern regarding the dangers of misusing those products and—which is as harmful to consumers' health—the recurring use of products that are prohibited for import.

"We must continue inspections, step up the implementation of the law, and especially prevent the flow of prohibited pesticides and fertilizers as well as counterfeit and low-quality products," he said during a visit to Siem Reap City.

Here is a call to lifesaving order.

But that sends shivers down your spine.

Any astute consumer will deduce that a number of farmers play apprentice chemists soaking their crops in toxic substances, having no idea of their composition or conditions of use.

That local fruit and vegetables are produced in the fields of people turned poisoners due to ignorance.

What should be done?

Teaching them to dose out? To sort out the "good" and the "bad" chemical products.

Will this be enough to reassure consumers?

We're allowed to be doubtful.

So, what to do? Prompting them to switch to organic?

But who will take that risk in an unfavorable competitive environment.

Let's go to the state of Sikkim in India where, in 2003, the import and use of all pesticides, herbicides, synthetic fertilizers and genetically modified organisms (GMOs) were prohibited, becoming the first state in the world to be entirely certified bio in 2016.

Although the costs of this conversion were heavy for farmers and the local government had to compensate for some of their losses, the results today seem positive according to official data. For instance, the yield for most produce is higher than in the years of conventional agriculture according to a report of the Centre for Research on Globalization. Fruit production has increased by 5 percent, and cardamom—the state's cash crop—has substantially increased by 23 percent in large part due to the return of pollinating insects. Because since pesticides have disappeared, all sorts of natural fauna and flora seem to have reappeared.

Moreover, tourism has increased, jumping by 70 percent since the state has switched to organic.

In other words, the "all organic" has worked well for this small Indian state and the Indian government in New Delhi may be considering using this same approach in other parts of the Indian subcontinent.

Of course, Cambodia differs in many aspects from the state of Sikkim, which is one of India's least populated state and with low density.

But instead to teaching farmers to use chemicals, which are in any case damaging, wouldn't it be better to teach them to totally get rid of them, helping them financially if need be to switch to bio.

With this, eating local produce could truly become a national aim that would not only benefit the economy in agriculture but also public health and the country's prestige.
Related Articles