Enforcement of COVID-19 Restrictions Quickly Descends into Violence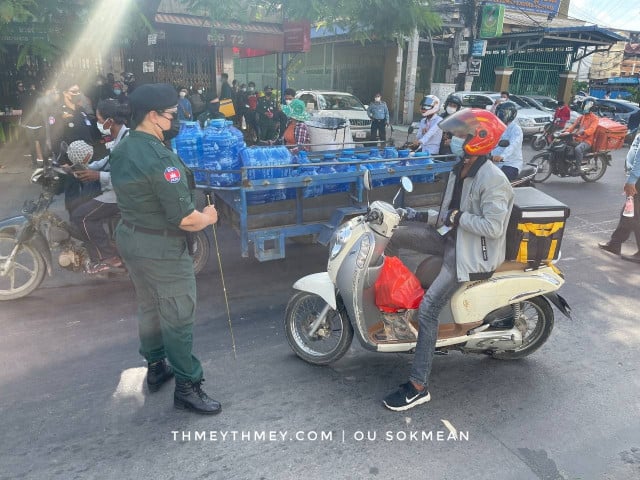 Phoung Vantha and Lay Sopheavotey
April 21, 2021 1:30 PM
Images and videos of police and security forces toting rifles, pistols and beating unarmed civilians with sticks have circulated rapidly online prompting outrage among Cambodians.
PHNOM PENH--Footage has emerged showing residents in parts of Phnom Penh that have been declared red zones being beaten by authorities after reportedly leaving their homes without permission. Authorities have maintained that beating rule-breakers with sticks is to prevent the spread of COVID-19.
Cambodian netizens, however, do not see it this way and some have expressed their regrets and concerns that the measures in place are inappropriate. While the government considers these restrictions—including the violent enforcement—as necessary, many social media users felt the whole situation reflected badly on Cambodian society.
The employment of violent measures is neither good nor effective, said Sen Karuna of ADHOC—one of Cambodia's oldest human rights organizations. He pointed to India, where similar stick-beatings have been used against those defying COVID-19 restrictions, and said that the violence remains ineffective because people are desperate.
"The beatings don't have any written support from the government," he said, adding that there is no legal requirement for the authorities to use violence against citizens who do not comply with the authorities' measures.
Instead, he argued, it's quite the opposite and the videos circulating are evidence of rights violations.
"The use of violence is illegal, it violates the rights of individuals and using of violence is cultivating a culture of violence that we have always tried to eradicate because it causes [negative] effects for the future," said Karuna.
He urged the government to end the violence and educate lower-level authorities who are carrying out the beatings and added that clearly more outreach is needed to address the difficulties people in the red zones face.
Meanwhile government spokesperson Phay Siphan appeared to see the use of violence against unarmed citizens in a different light.
Siphan said the three solutions include threatening people with sticks if they leave the house, the second is to follow the administrative measures laid out in recent COVID-19 related legislation and the third is to have people arrested.
"Beating with a whip is a favor, as it prevents people being sent to jail," he said, "We continue to advise [citizens] along with Khuong Sreng, Phnom Penh's governor, and security forces are still setting up microphones to explain the rules, but if they do not listen they are villains and need to be beaten, I support this."
But for others, the videos and images online represented a lack of progress in Cambodia's long struggle to eradicate violence from culture. President of the Cambodian Institute for Democracy Pa Chamroeun said that the authorities' actions showed Cambodia has not yet escaped the cycle of violence, despite the absence of war.
He said he had searched and could find no law that allows authorities to beat rule-breakers with sticks and the videos reflect the authorities' inability to implement non-violent measures.
"The state should use non-violent means to the best of its ability and fulfill its obligations. In fact, resolving the issue of entry and exit cards for these people in a timely and easy manner would be a good start," he said.
He said that the state put in place such a vast series of measures that even some authorities have not yet caught up with them, so for normal people it's even more difficult.
Chin Malin, spokesperson for the Ministry of Justice, suggested that arresting offenders is better than beating them.
"Perhaps the authorities have education, but these people will not listen which led to such coercive measures," he said in an apparent reference to authorities hitting people with sticks. "However, it is a necessary measure and it would be better to take them to prison."
Malin did say that there was no good way to implement the measures, but the severity of the COVID-19 outbreak called for people to work together.
Further up the ranks of government, Deputy Prime Minister and Interior Minister Sar Kheng weighed in, saying that he understood the challenges that law enforcement faced, but urged them to remain patient when dealing with civilians.
"Please continue to perform your duties patiently, adhere to discipline, dignified behavior, and strictly adhere to the principles of the professional code of conduct of the armed forces, especially to avoid the use of violence in solving problems when implementing all regulations or measures of the government," he said.
He urged all citizens to participate in the implementation of the government's measures, as well as to cooperate in following the instructions of the authorities and the competent forces to end the spread of COVID-19 in the community.
Related Articles