Environment Ministry Unveils Mobile Air Quality Monitoring Vehicle to Deal with Air Pollution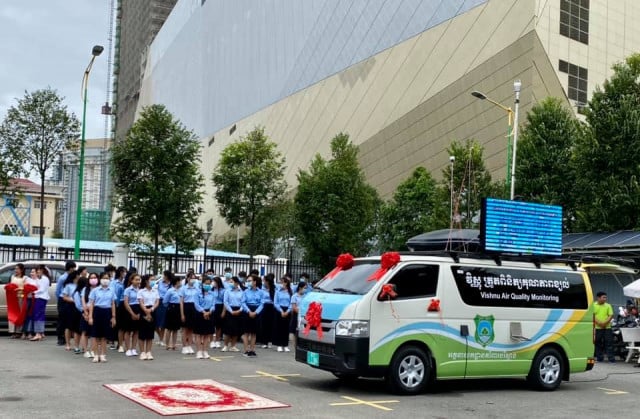 Sao Phal Niseiy
October 13, 2020 11:53 AM
Hailed as a step in the right direction, the vehicle will travel the country measuring air quality in real-time, but environmentalists warn that this alone is not enough to combat the growing threat of air pollution.
PHNOM PENH--The Ministry of Environment on Tuesday (Oct. 13) unveiled a real-time air quality monitoring vehicle to keep track air pollution. This comes amid growing concerns over air quality not just in Cambodia, but within the region.
Minister of Environment Say Samal, who presided over today's launching ceremony, said that the mobile air quality monitoring vehicle is named "Vishnu" and will assist authorities in tracking air quality across the country.
He added this particularly helps ensure timely gathering of more accurate data and information which can keep the public informed.
Chea Sina, director-general of the General Directorate of Environmental Protection—the ministerial body in charge of pollution control—said that the mobile air quality monitoring vehicle will have two important roles.
"First, this vehicle can travel anywhere across the country to detect air pollution, especially where there is suspicion of deteriorating air quality," Sina said in a phone interview.
Secondly, he continued, the air quality monitoring vehicle will be beneficial for the general public as the result of air quality measurement will be available on the screen installed on the vehicle.
"Our people can get accurate data concerning air quality levels in a timely manner and I hope there will be no controversies when it comes to our air quality index," he stressed, without explaining what controversies he expected.
According to Sina, in addition to the mobile vehicle, the ministry has installed 39 air monitoring systems across the country—11 of which are in Phnom Penh and 28 others in 24 provinces.
Research and Advocacy Program Manager of Cambodian Youth Network, Sar Mory, said he hoped that the air quality monitoring vehicle would end the controversies and provide more accurate date on air quality levels, allowing both environmental groups and the authorities to agree on the data.
More importantly, he said, this also can support the Environment Ministry's work in addressing the growing problem of air pollution.
"The unveiling of this air quality monitoring vehicle is a new development, and I hope that this initiative will pay an important role in regularly tracking air quality," Mory said, pointing out that Phnom Penh in particular has seen a deterioration of air quality, especially at the beginning of the rainy seasons in recent years.
"As well [as this, it] will improve the authorities' ability to regularly provide information to the general public to help them get prepared, which ultimately fosters public health and environmental well-being," he added.
Air pollution has emerged as a serious environmental concern for Cambodia, where rapid development and urbanization has been fueled by polluting energy sources, manufacturing and construction. This has in turn driven up the country's consumption of energy and the number of vehicles on the road has risen dramatically.
Earlier this year Phnom Penh's air quality was deemed hazardous, notably with the increased fine particulate matter (PM 2.5) pollution that poses serious health risks. This sparked debates between environmental groups and the authorities over safe levels of air quality.
This prompted the Cambodian government to issue a directive on "measures to prevent and reduce air pollution" in January 2020—a move deemed necessary by the Ministry of Environment if the government is to take steps to prevent and reduce air pollution.
When asked whether the introduction of this air quality monitoring vehicle will address the air pollution, Sina, acknowledged that this mechanism alone won't be sufficient.
"I can say this system is just a part of the solution—the tracking and monitoring mechanism," he stressed. "It helps us figure out when and where to take action in order to prevent the issue from getting worse."
He went on to suggest that air pollution mainly is driven by practices related to deforestation and waste management.
"In order to address it, this requires robust participation from our people. Therefore, the relevant authorities must continue to encourage more people to actively take part in addressing air pollution," he said.
Related Articles