Evidence Requested by Kem Sokha's Lawyer Shown at the Trial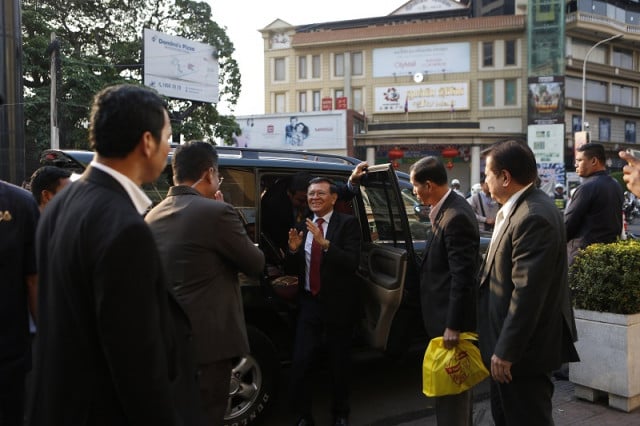 Phoung Vantha
January 22, 2020 11:52 AM
PHNOM PENH--Chan Chen, the attorney of former opposition leader Kem Sokha, said Wednesday that the Council of Judges presiding over Sokha's trial had agreed to play the one-hour video of Sokha speaking in Australia, which he had requested.

Since one clip from the video was used as evidence by the Cambodian authorities to charge him of "conspiring with foreign powers," Chen had asked the judges last week to show the whole video in court so the clip could be put into context.
" I hear from the leader of the tribunal judges said that [Wednesday] afternoon, he will play the full video, which we requested," Chen said after the morning session in court. So I could say 'real gold or fake:' We will see.
"This video is very important evidence," he said.
Government lawyer Ky Tech said Wednesday that the Council of Judges was biased toward the defendant's lawyer team. "The Council of Judges put restrictions on our team," he said. "When I raised my hand, they refused. I just talk for a short time, they stop me.
"They should give equal right: We don't want to give more right to the defendant's lawyer team," Tech said.
Sokha's trial, which began last week, takes place on Wednesday and Thursday each week at the Phnom Penh Municipal Court.
On the first days of the trial, the press, rights organizations and other associations were not allowed inside the courtroom.
However Wednesday, local and international media as well as NGO and association representatives were allowed at the trial.
Sokha, who was the leader of the now-dissolved opposition Cambodia National Rescue Party (CNRP), has denied all charges of "conspiracy with foreign powers" brought against him by the Cambodian authorities. If the court finds him guilty, he faces up to 30 years imprisonment.
Tang Sunlay president of the Phnom Penh Municipal Court recently said that the trial is expected to last three months.
Related Articles