Farmers Ask for a Hotline to Report Officials who Enable Illegal Produce in the Country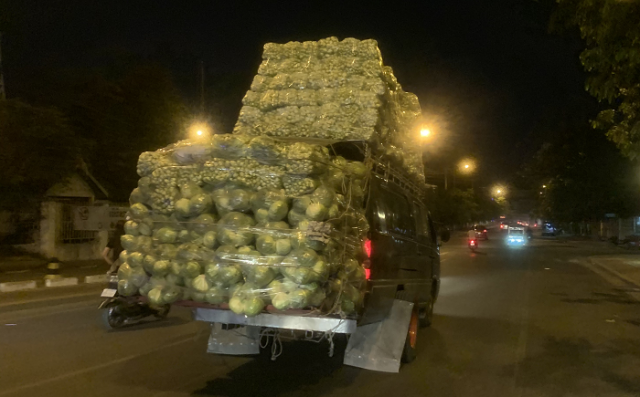 Products grown with chemicals hazardous to health should not sold in Cambodia, they say

PHNOM PENH--Cambodian farmers are requesting that the authorities set up a hotline to help address the issue of officials or public servants involved in the illegal import of fruit and vegetables contaminated by pesticides.

In a joint declaration issued on June 11, the Coalition of Cambodian Farmer Community (CCFC) called on the government to enforce strict measures to stop imports of agricultural produce contaminated by toxic chemicals from neighboring counties in order to ensure public health and help boost domestic production.

"To guarantee domestic supply of [agricultural goods], we recommend that the Interior Ministry and the government establish a hotline, which would allow people to report any official or authorities who are bribed to permit the import of those produce from neighboring countries," the statement read.

The farmers' association also called on consumers to stop buying and eating imported fruit or vegetables that are hazardous to health, urging them to choose Cambodia's agricultural products, which are grown and handled in accordance with organic standard and safety regulations.

This appeal to the government was carried out following the Ministry of Interior issuing a letter ordering provincial administrations along the country's borders to tighten measures regarding contaminated fruit and vegetables as well as goods past their sell-by date.

Chan Sophal, director of the Center for Policy Study, noted that, despite the fact that Cambodia has significantly expanded its agricultural production over the past years, the country still brings in between 200 and 400 tons of fruit and vegetables every day, with 60 percent of the imports coming from Vietnam.

"Fifty percent of the…vegetables Cambodia imports from Vietnam are also produce that Cambodian farmers do not commonly grow," Sophal told Cambodianess in a phone interview on June 12. "Those include carrots, potatoes, cabbage, Chinese cabbage and capsicum."

Sophal added that, by importing most of the fruit and vegetables sold in the country, the Cambodian market loses $150 to $200 million each year.


Related Articles