Fish Farmer Suspends Operation as Imports Dominate Market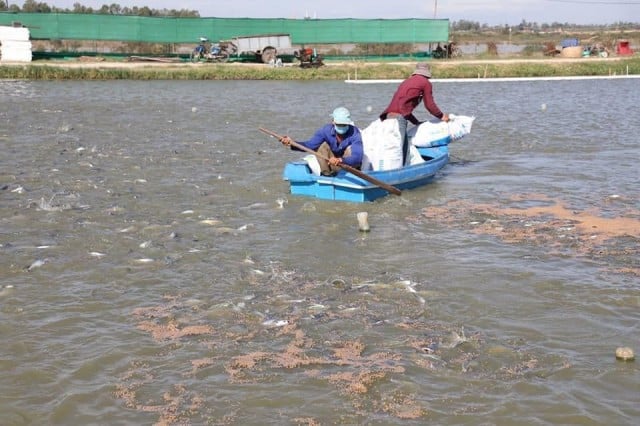 Khorn Nary & Phoung Vantha
May 13, 2021 8:58 AM
Local farmers can't compete with Vietnamese produce
PHNOM PENH--The Covid-19 crisis and an influx of fish imports have pushed a local fish farmer to suspend his business and to lose hope that conditions will improve.
Vann Sokheng, 37, from Kandal province has halted fish farming after losing $250,000 in two years after traders bought less of his product.
Raising fish takes months, he said. He has to take care of them and spend a lot of money on feed.
He said he spends about $50,000 a month buying feed from the market and processing it at home. He hires four workers with a salary of $300 each, which does not include three meals a day.
"I decided to stop fish farming for a while and to wait to see if the situation in the sector recovers. If the Ministry of Agriculture, Forestry, and Fisheries does not come up with a solution, I will continue to pause the business," he said.
But suspending his operation could not be done immediately and would depend on the sale of the remaining fish.
"I have fish in seven ponds left, 200 tonnes of spot pangasius and 30 tonnes of goldfin tinfoil barb," he said.
He started fish farming in 2016 with a small farm. After that business was successful, he decided to expand the business in the last two years.
Other fish farmers also lost their capital, he said. He had attended a meeting with the ministry to find a solution but nothing had come of it.
He has urged the relevant ministries to monitor and restrict the import of fish from abroad and study how much fish farmers can produce and how much was needed from outside so that farmers can meet the needs of the market.
The Cambodian Aquaculturist Association has expressed concern over the uncertainties in the market in Cambodia, where more than 5,000 tonnes of fish remain in the ponds of its members.
Association president Sok Raden said many fish farmers are reluctant to keep going because the price they get for the fish is less than the cost of production, along with the loss of the market.
The association has called on the ministry to monitor fish imports from Vietnam, which are undercutting local fish farmers. It says the imported fish should be checked for chemicals used in Vietnamese fish farming and which may harm the health of consumers.
The association continued also to call on ministries and institutions to strengthen law enforcement in the importation of fish.
Director of fisheries Prum Sitha said the price of local fish seems to be higher than imported fish, so traders had cut the amount of local fish they bought and depressed the local market.
He said farmers should raise fish in high demand and reduce the types in lower demand so that the yield does not stagnate.
"We can not completely ban imports, but we can restrict imports. Cambodia is a member of ASEAN and is in a free market," he said.
Related Articles