Food Delivery App "Muuve" Begins Operations in Siem Reap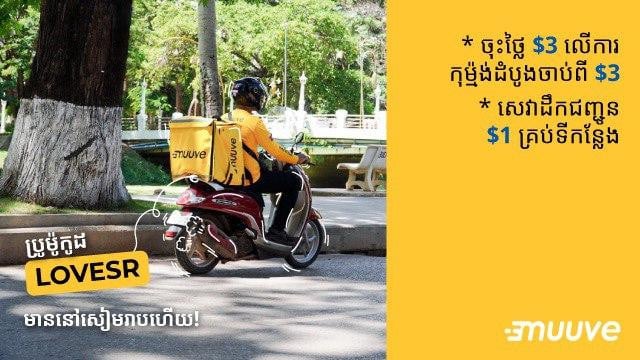 Cambodianess
August 4, 2020 8:39 AM
Within just a short period of time, Coronavirus Disease 2019 (COVID-19) has become a pandemic, spreading all over the world at an extremely fast pace. People were so afraid to go out that they had to opt for all meals at home.

Thanks to food delivery services such as Muuve, people can have their favorite meals delivered anytime while keeping a safe distance from other people.

In addition to customers' safety, Muuve is also an important asset to the tourism sector which has been badly affected by the virus. Business owners whose businesses have been impacted have been able to deliver food to make ends meet. Local employees, who had been laid off due to the pandemic, have found their new income by becoming a part of Muuve and offering delivery services from partnered stores.

Muuve has been in such high demand due to its advantages, it has since spread beyond the Phnom Penh. Muuve now operates in Siem Reap and has partnered with more than 100 shops since its launch on July 7.

Seng Piseth, co-owner of Dialogue—a popular café in Siem Reap—observed that food delivery services benefited a large number of people, including those who prefer to stay in and the food business itself.

"We didn't have a second thought or doubt on partnering with Muuve. We just went ahead [with the partnership]," said Piseth.

To offer the people of Siem Reap their first experience, Muuve is giving out amazing offers. Customers can enjoy $3 off their entire bill on their first purchase over $3. Just type in promo code "LOVESR" to get your first special offer.

Similarly, Muuve has launched a promotion on delivery charges, so customers can get their food and groceries delivered anywhere in Siem Reap city for just $1.
Related Articles
February 17, 2022 2:02 PM