From Grandpa to Grandson: The Footsteps of Temple Restorers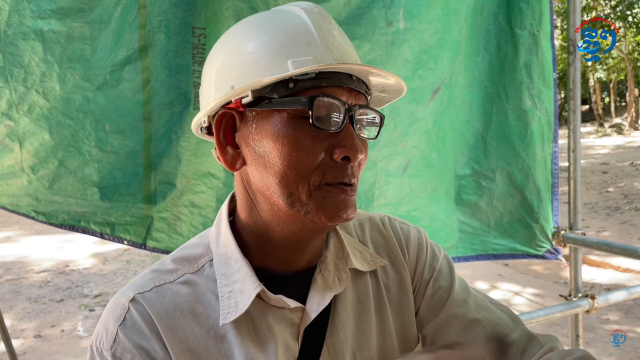 Siem Reap – On a restoration site near the eastern gate of the Ta Nei temple, a team of 10 or so senior and younger workers were doing their part to preserve this late 12th century monument in the Angkor Archaeological Park.
Every member of the team had his respective role to play. While some workers were repairing the lower part of the temple, others had stepped on the scaffolding to work on the upper section. Meanwhile, some workers were busy taking measures to help the flow of water at the temple gates.
The older member of the team was Eik Eam who, at 62 years old, continues to work on shaping stones, which is a specialized task in restoration work. Dressed in a navy-blue long-sleeve shirt, grey trousers and wearing a safety helmet and a small pack in which he kept his tools, Eam, who was wearing glasses with thick lenses, was entirely focused on the section of the temple on which he had to work.
For more than 23 years, Eam has been involved in the restoration and maintenance of monuments and structures. Having started as a construction worker in 1999, he initially worked at dismantling stones and reassembling them as they were meant to be. Today, he specialises in reshaping stones as needed.
"When I first worked here, my job was to gather stones," Eam said. "Later on, I assembled them and now I shape stones" he said, so that they will fit as they should.
Having been trained by a restoration specialist, Eam has worked on many of the most famous monuments and features at Angkor. This has included the Baphuon, Ta Prohm, Preah Rup, the East Mebon, the Ta Nei, the Srah Srang, which is a large water tank. He has also worked on the water reservoir of Banteay Chhmar, an Angkorian temple in Banteay Meanchey province.
Whether they are architects, archaeologists or workers, all people working on monuments and other historical features in Cambodia tend to be passionate about preserving them for posterity as part of the country's cultural heritage.
"I really love this job", Eam said. "I gave up my previous job as a construction worker although it offered more in terms of wages."
Angkorian and pre-Angkorian structures left by his Khmer ancestors truly amaze him and render him the more passionate about making sure they will remain standing for centuries to come, he said.
As Eam pointed out, his skills may not be to the level of those who built those temples, but he takes pride in helping to preserve what they built centuries ago. And he wants elements of the Angkor Archaeological Park kept on being restored so they can remain for a long time to come.
Will the restoration work ever end, leaving specialized workers like himself with nothing left to do? "We can never finish restoring these temples as there are so many temples here," Eam said. "Going back three generations of my family, restoring the temples has still not been completed. My grandfather was restoring temples. Then came my father. And now, I am also restoring temples.
"I was inspired by my father," Eam recalled. "When I was a child…and my father was restoring a temple, he always brought me to see this work. I have seen sculptures and I have loved them since I was a child."
Eam regrets that he could not learn restoration work directly from his father. But, he explained, he was too young at the time and when he became old enough to learn from him, war and conflicts had engulfed Cambodia.
The temple of Ta Nei where Eam was working when he was interviewed is a late 12th century monument built during the reign of King Jayavarman VII and dedicated to Buddhism. It is located about 14 kilometres from Siem Reap city.
Written in Khmer for ThmeyThmey News, this article was translated by Cheng Ousa for Cambodianess.
Related Articles