"Give Cambodia a Chance," PM Hun Sen Says Ahead of Visit to Myanmar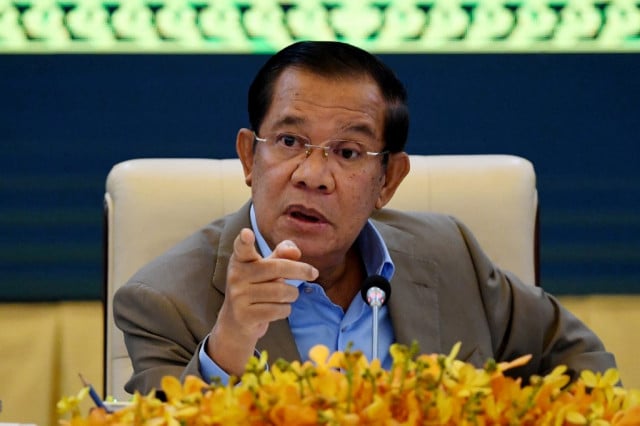 December 15, 2021 11:04 AM
Prime Minister Hun Sen has hit back at critics of his plan to meet with the Myanmar military junta, but said he can't be blamed if his gambit fails
PHNOM PENH--Prime Minister Hun Sen on Dec. 15 defended his plan to meet with Myanmar's military junta after receiving a backlash of criticism from both the people of Myanmar and international observers.
Hun Sen asked his critics to give him a chance to solve the crisis, but also asked not to be blamed if his attempts fail.
From Jan. 7 to Jan. 8, Hun Sen will be in Naypyidaw at the invitation of Myanmar junta chief senior general Min Aung Hlaing, who seized power in February 2021 and has since waged a bloody campaign against protesters, jailing activists, journalists and other critics, while military forces continue to kill unarmed civilians across the country.
Against this backdrop, Hun Sen will be the first foreign leader to visit Myanmar since the coup that has left more than 1,000 people dead and many more in prison.
The visit is expected to help boost junta's image after having been pushed out of several regional talks. In an unprecedented move, ASEAN decided to exclude the Myanmar junta regime from its summit in November 2021 after the junta failed to respond to ASEAN's five-point recommendations.
Instead, the other ASEAN members agreed to invite a non-political representative.
However, addressing the inauguration of a hotel on Dec. 15, Hun Sen said that the crisis couldn't be solved by his one-off visit and time is needed to solve such an issue.
"Give me a chance to solve [the issue]. ASEAN can't be called ASEAN if there're only nine Members. ASEAN must save itself from the ASEAN 9 situation," he said, adding that while on one hand the Myanmar crisis is a problem, on the other hand ASEAN must be a real ASEAN.
"Please do not bother me, give me time [to meet the leader of Myanmar]. I am not your teacher and you are not my teacher," he stated in response to critics of his visit.
Reiterating the need to work with Myanmar junta leadership, the prime minister declared that the solution to Myanmar's crisis does not depend solely on Cambodia or ASEAN, so he would not be accepting blame if his visits don't work out.
Myanmar, he said, must solve its own internal problems, with ASEAN playing a coordinating role to push for a solution. Hun Sen then went on to suggest that the five-point consensus should be at the core of the solution.
During the ceremony, Hun Sen announced that Deputy Prime Minister and Minister of Foreign Affairs Prak Sokhonn will be new ASEAN Chair Envoy to Myanmar.
Related Articles