High-School Diploma 2020: A Worthless Document?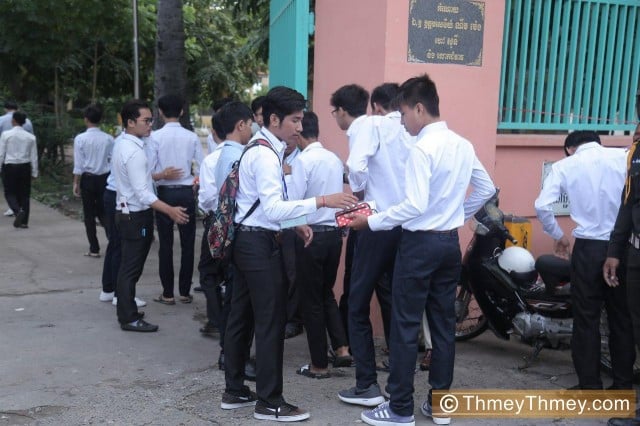 Cambodianess
December 20, 2020 6:56 AM
The 120,000 or so high school students who, on Jan. 11, were to take the high school exams to obtain the diploma that is a prerequisite to higher education are now relieved of their worries.
In view of the pandemic, Prime Minister Hun Sen has announced that they did not have to show up in the examination room and that the diploma would be automatically granted.
The Ministry of Education, Youth and Sport indicated that no ranking of students would be done based on their scores.
In other words, these high-school students will have a diploma without much value. They have nothing to do with this and the decision by the authorities is totally understandable in view to the public health context.
We can imagine that all students are relieved not to have to run the risk of being infected during the exams and, therefore, not to contribute to a feared recurrence of the epidemic.
In any case, even if the exams had been held, they would not have had the same importance as in previous years—speaking here of the years that followed the implementation of anti-cheating measures—the school year having been heavily disrupted by school closure.
Granted, high school students have been able to take advantage of distance learning. But access to these distance classes was not even-handed, plus all students don't have the same level of maturity. While some of them know how to discipline themselves without teacher supervision, this is not the case for all students. And at the end of the day, the 2020 diploma would have been marked by a strong disparity of opportunities in front of the blank sheet of paper.
Now that they all have obtained their diploma, the class of 2020 will remain, no matter what, affected by blatant inequality since the good and bad students will have the same one.
While this diploma comes at a key moment of students' school years and that it is very much a source of pride for those who obtain it and for their families, the 2020 diploma, affected by the coronavirus, will not be displayed by those who received it like a trophy as is usually done.
This said, the diploma will enable all students to pursue higher education if they wish to do so. It is in a way a second chance that is given by the pandemic to those who were concerned about getting this prized sesame. Let's hope they will know how to seize that opportunity.
Related Articles