HIV Discrimination Must End: UNAIDS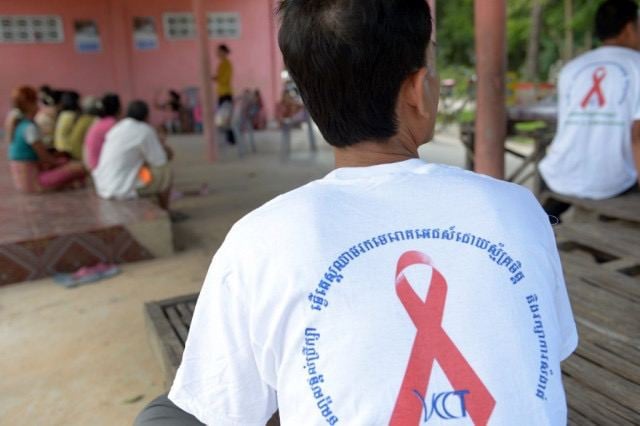 BANGKOK – Stigma and discrimination remain a challenge for people living with HIV, experts say.

Attitudes and prejudice are still obstacles despite access to treatment and services.

But people can be more open-minded when they are aware of specific ways of getting infected and know that interacting with people with HIV is not being exposed to the virus.

When this happens, they can be more open-minded and discrimination may be reduced, experts working with UNAIDS said at a Southeast Asia Regional Workshop on HIV-related stigma and discrimination.

Seum Sophal, program manager at the Cambodian People living with HIV Network, said discrimination happens because most people are still not aware enough of HIV conditions and are scared of it.

"At first, AIDs used to be a serious virus and deadly to us. We just knew that, if that person was getting skinner and looked sick, they would be killed by the virus," Sophal said.

He said there were two types of discrimination. External discrimination was when the people living with HIV were treated differently after disclosing they are positive.

Internal discrimination starts from within. The public perception of living with HIV bothers them and leads to self-isolation. There is the urge to stay away from people because they think people might be scared of interacting with them.

The experience of external discrimination is a major reason for internal discrimination, Sophal said.

Han Sienghorn, director of the ARV Users Association which is an association of Cambodian people who live with HIV/AIDS, said she has seen many cases of discrimination in all forms: family, community, indirect discrimination against family members, and internal discrimination.

"Children of people living with HIV will also be the target of discrimination or bullying by other kids at schools once their parents are exposed," Sienghorn said.


The journalists, UNAIDS representatives, and UNAIDS partners attending the workshop on HIV-related stigma and discrimination in Bangkok, Thailand. Photo: UNAIDS Asia-Pacific
Employment challenges

Direct discrimination has decreased but there are still many forms of indirect discrimination and self-discrimination as well by healthcare providers.

"In some other places, they do not directly say that they prohibit people with HIV from working in their places, but they would talk about it at work. It has pressured people into resigning afterwards.

"This also makes another problem because they can be the breadwinner of the family."

Sophal says this is a serious consideration for employing people living with HIV, who still need to support themselves.

"In some places, there is a statement that says 'People living with HIV are encouraged to apply' and it is advantageous for them even though they have not yet disclosed their condition to the public.

"However, if there's no such statement, they are likely to abandon the opportunity because they know they will be asked to do a test before employment."

Sophal said some dropped out of school because they felt ashamed or were annoyed at having to take medicines from a young age.

Going to the hospital every week or month and taking the medicines had an extreme effect on their mental health.

Sophal urged employers to consider employing people living with HIV or AIDS so that they can escape poverty.

"Once they are accepted in the workplace, discrimination among the public will decrease," he said.

"People living with HIV are as normal as people without HIV. They can do the job, they can work, and they can earn.

"Thus far, the government has been doing very well to protect and support people living with HIV, and I hope that the government will continue supporting them."

HIV transmission

Cedriann Martin, UNAIDS communications and advocacy adviser, said there were three main ways the virus can be transmitted: through sex; from a mother to her baby; and through exposure to blood, which can happen through transfusion or drug use.

However, pregnant women are encouraged to go to care centers to get medicine to stop the transmission as early as possible, and to avoid breastfeeding.

People who inject drugs can be given clean needles and syringes to reduce the chance of infection, she added.

Another way to prevent infection is using the Pre-Exposure Prophylaxis, known as PrEP, which is an antiretroviral medication used by HIV-negative people when they are at risk through sex or drugs.

Additionally, there is also PEP (Post-Exposure Prophylaxis) which is a short-course of medicine used to prevent HIV infection after a possible exposure.

"We have so much access to HIV treatment," she said.

"Once you are aware of the information and then translate it into behavior, then we can protect ourselves from HIV. But in doing so, there's no need to be scared of people with HIV."

Sienghorn said the virus can not be transmitted by holding hands, hugging, kissing or eating from the same plate as people living with HIV. The virus is not infectious when they use the same bathroom either.

Some people are not aware of these factors, and the myth of interacting with the people living with HIV will also infect them has continued, Sienghorn added.

According to the UNAIDS advisor, around 96% of new infections were among the key population community and their sexual partners.

She said this was a problem because the organization had to make sure that those people access services or treatment.

Sophal said treatment for AIDS and HIV is available now and the virus has become less deadly if the patients are determined to take the medicines regularly and properly.

"When they get better, there's a phrase we've always been saying: U=U (Undetectable = Untransmittable)," he said.

"It means, if the virus isn't detected in their blood, then the virus cannot be transmitted to their partner."
Related Articles