Hong Kong scraps one of world's last Covid mask mandates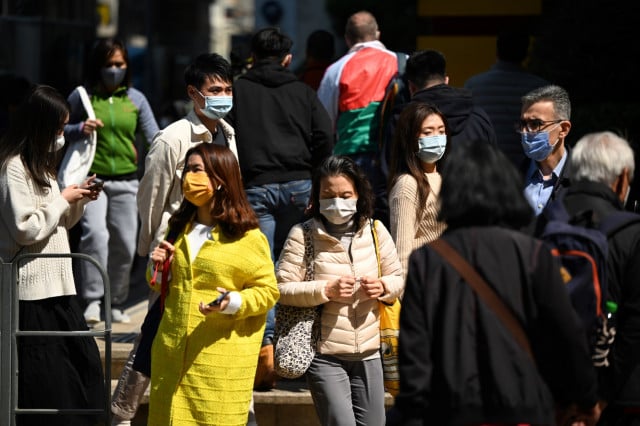 February 28, 2023 3:21 PM
Hong Kong, China -- Hongkongers will finally be able to leave home without a face mask from Wednesday, nearly 1,000 days after the pandemic mandate was imposed.
Face coverings will no longer be required indoors, outdoors or on public transportation, the government announced, ending a measure that has become a relic globally as the world adjusts to living alongside the coronavirus.
Hong Kong was one of the last places on Earth to enforce mask-wearing outside, with violators facing hefty fines.
"I'm ready to get rid of this," Tiffany, a finance industry employee in her 20s, told AFP. "It costs money to buy masks, and I have had Covid myself."
The mask move comes as the government tries to woo tourists and overseas talent back to revive the recession-hit economy.
"With the masking requirement removed, we are starting (to resume) normalcy comprehensively. And that will be very beneficial to economic development," Chief Executive John Lee said at Tuesday morning press conference.
He added that hospitals and homes for the elderly can impose their own requirements if they decide masks are needed.
Public health experts had increasingly questioned the need for a mask mandate in a city where several waves of Covid infections have likely conferred a high level of immunity.
Lawmakers called it harmful to schoolchildren. And tourism experts and business groups warned it was undercutting the city's global image.
"Making it illegal not to wear one is frankly anachronistic by now," University of Hong Kong virologist Siddharth Sridhar tweeted on Sunday.
The masking policy also appeared to clash with the government's eagerness to demonstrate the city was back to business as usual, with Lee promising to welcome visitors with "no isolation, no quarantine and no restrictions" during the "Hello, Hong Kong" campaign launch earlier this month.
The maskless dancers in the campaign's promotional video attracted criticism online for distorting the reality of a city where face coverings were ubiquitous and enforced with fines of up to HK$10,000 ($1,275).
Official data shows that by the end of 2022, Hong Kong had issued more than 22,000 tickets for mask violations and collected HK$111.56 million ($14.22 million).
- Holdout -
Hong Kong was one of the world's last masking holdouts.
By last year, most European countries that had imposed mask rules had scaled them back everywhere except on planes and some metros.
Hong Kong's Asian rival Singapore scrapped indoor face coverings in August, while South Korea did the same in January this year.
In Taiwan, people could breathe unfiltered air again in most areas as of February 20, and Macau became the most recent addition after dropping its mandate on Monday.
Until the end of last year, Hong Kong had one of the world's strictest pandemic approaches.
It hewed to a version of China's zero-Covid model until Beijing's abrupt pivot from its hallmark containment policy in December.
The nearly three-year pandemic isolation and virus restrictions further dented an economy already reeling from massive democracy protests in 2019 followed by a crackdown on the opposition.
Still, not everyone in the city is ready to rip off their masks just yet.
"Despite the mask mandate being lifted, I'll continue wearing it in the short term," said Chan, a retiree.
He said he would wait to make sure there was no rebound of infections after Hong Kong restored travel across its border with mainland China this month.
"The mask is like a part of my body," he said. "If I stop wearing it, it'll take a bit of getting used to."
© Agence France-Presse
Related Articles