Householders Complain as Water Dries Up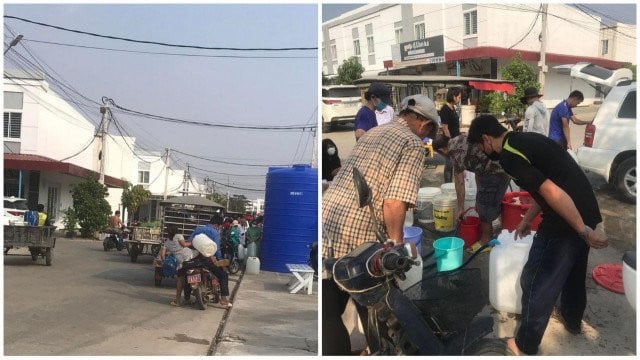 Development outstripping infrastructure: Governor
PHNOM PENH--Residents of Phnom Penh suburbs, especially boreys, are complaining about the lack of clean water for daily use especially in the dry season.
Social observers blame lack of accountability and clear planning by private developers and the state.
Chhi Mey, 30, who lives in Borey Pip Pop Thmey Kur Srov II in southern Phnom Penh, said the water pressure was low upstairs and sometimes there was no water, while the water pressure was weak on the ground floor.
"Every morning, it's difficult to take a shower and some days the water is not clean and makes us itchy," she said. "Some days it is clear but on other days it is rusty and black."
The water was supplied by the borey, not by Phnom Penh Water Supply Authority (PPWSA), she added.
Oun Thean, who lives in Borey Piphub Thmey Chhouk Va, said that since December, people in her area have been short of water. Recently, the borey provided additional water but there was not enough.
"My house had some but sometimes it was cut," she said. "But some houses had only a little to wash their faces and but not to take a shower. When the truck brings water, people run to get water for their houses."
City Governor Khuong Sreng said the water shortage was due to the speed of development and population growth.
The real estate sector was developing rapidly and water supply projects had not caught up, he said.
Authorities were working to resolve the issue by building more water plants. He said he had asked the Water Supply Authority about the lack of clean water.
There was a master plan but some new developments were not included. "Our real estate sector is developing so fast that we cannot plan," he said. "Water and electricity plans are not meeting private sector growth."
Social observers say water shortages have been going on for years. They blame the government for allowing private companies to develop without paying attention to the people.
Social development analyst Meas Ny said the state has an obligation on the issue. The administration of Phnom Penh and the PPWSA especially have a duty to provide water to people in its area.
They must evaluate data more accurately on population growth and the progress of other sectors in society.
"There is a lack of clear plans," he said. "For population growth, the government needs to estimate the increasing demand for water and electricity. It has to be prepared to take responsibility."
Some private companies do not cooperate with the state. Authorities must be prepared and responsible for citizens' issues. he added.
PPWSA and Ministry of Health officials are responsible for inspecting water quality and taking action. They should not let people use water which has rust, a stench, lime or causes problems for people's health, he said.
San Chey, executive director of the Cambodian Social Accountability Alliance, said the lack of cooperation between developers and state agencies led to all these problems.
"In the past, some companies have started construction and have not yet applied for a permit," he said. "There is lack of forethought in all areas, including the irresponsibility of the authorities."
As a citizen, he wants to see the state have a clear plan and implement it effectively so as not to cause problems for citizens or consumers.
Every day, 700,000 cubic meters of water are needed to supply Phnom Penh and nearby Takhmao city but the supply capacity is only about 600,000 cubic meters.
The authority plans to extend the water distribution system and pipelines in line with the policy of clean water and sanitation for everyone in the city by 2025.

Additional reporting by Phoung Vantha
Related Articles