Hun Sen and Pompeo Express Gratitude for Cooperation in Face of COVID-19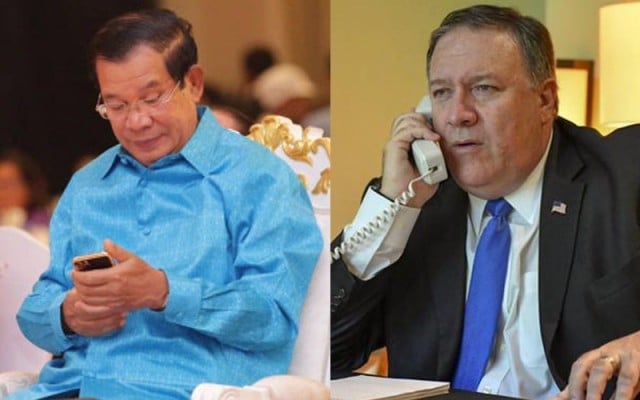 The Cambodian prime minister spoke with the US Secretary of State Mike Pompeo over the phone where the two discussed cooperation in the time of the COVID-19 pandemic.
PHNOM PENH--Cambodian Prime Minister Hun Sen Wednesday spoke by phone with United States Secretary of State Mike Pompeo, where both expressed satisfaction on the level of mutual assistance provided during the spread of Coronavirus Disease 2019 (COVID-19), according to the Ministry of Foreign Affairs and International Cooperation.
The phone talk was held at 8 a.m. in the morning of April 8, the ministry said in statement.
According to the release, Pompeo thanked Cambodia for saving passengers aboard the stranded Westerdam cruise ship which had been denied entry by several countries, including the US territory of Guam. Cambodia allowed the ship to dock on humanitarian grounds while the ship's operator said that the ship was virus free.
Hun Sen expressed his gratitude to the US for American assistance and cooperation including experts of Centers for Disease Control and Prevention (CDC) as well as a $2 million donation to fight against the pandemic, according to the Ministry of Foreign Affairs and International Cooperation.
Pompeo reaffirmed the continued support of the US for Cambodia regarding efforts to improve the health and safety of the Cambodian people and security in ASEAN, it said.
"Pompeo welcomed the Royal Government of Cambodia's statement on national sovereignty, supported all forms of security cooperation in ASEAN and affirmed the importance of freedom of speech despite a difference in ideas," the ministry's statement said.
During the phone call, the ministry noted that Hun Sen emphasized the important role of the United States in the ASEAN-US framework, including its contribution to reducing the gap between countries in the Lower Mekong and other ASEAN members. He thanked US Peace Corps volunteers who have contributed to Cambodian society that foster people-to-people relations.
Meanwhile, Hun Sen and Pompeo also shared their heartfelt condolences to the families of COVID-19 victims in both the US and Asia. According to the statement, Hun Sen asked Pompeo to convey his message of support to US President Donald Trump in his efforts against the pandemic.
Related Articles