Hun Sen Says "Vaccine Security" Issue Soon to Dominate International Stages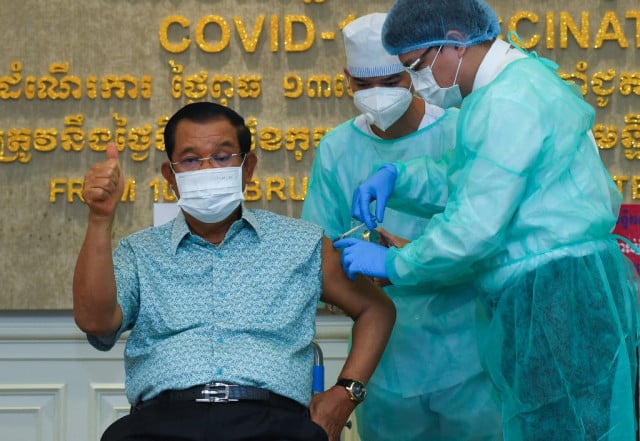 Sao Phal Niseiy
March 4, 2021 8:09 AM
Uninterrupted supply of good quality affordable vaccines is a challenge for countries globally
PHNOM PENH --Vaccine security is set to dominate discussions in international forums alongside food and energy security, Prime Minister Hun Sen says.
"From now onward, we must work on how we can address this pandemic," Hun Sen said after he received a first dose of India-produced AstraZeneca vaccine. "Vaccine is key but not everything."
UNICEF and the World Health Organization say vaccine security is "the timely, sustained, uninterrupted supply of affordable vaccines of assured quality."
Hun Sen said there is no clear answer to how long available COVID-19 vaccines can protect people from infection or at least prevent a severe infection.
"We don't know how long it will last, be it six months, a year or a whole life," the Prime Minister said.
"I think based on the current situation, it can be expected that at international forums, we will add vaccine security in addition to the current issues of energy and food security if the vaccine has only short-term efficacy."
With this scenario, Hun Sen voiced concern that many countries will face grim conditions which undermine their financial capacity to develop fast responses to the needs of their people.
"All over the world, we try hard to earn the money to buy vaccines while reducing our expenditure which had previously been allocated to building roads, bridges, schools and hospitals," Hun Sen said.
"However, I strongly hope and pray that this pandemic will just become a common disease like flu."
The Prime Minister said the country is expected to get more than 4.2 million vaccine doses by the first half of this year.
The government has asked to buy a million doses of China-made Sinopharm and a million doses of AstraZeneca vaccines. The country has been considering other vaccines including Russia's Sputnik vaccine and the American Johnson & Johnson vaccine.
China donated a million doses of Sinopharm vaccine to Cambodia. The first 600,000 doses arrived in February and another 400,000 are expected before Khmer New Year in mid-April.
Cambodia received the first 324,000 doses of AstraZenca vaccine via the United Nations and World Health Organisation COVAX scheme on March 2.
So far Cambodia has vaccinated more than 120,000 people, most of whom are security personnel, according to Hun Sen.
Related Articles