Hun Sen Speaks of Respect and Partnership at ASEM Summit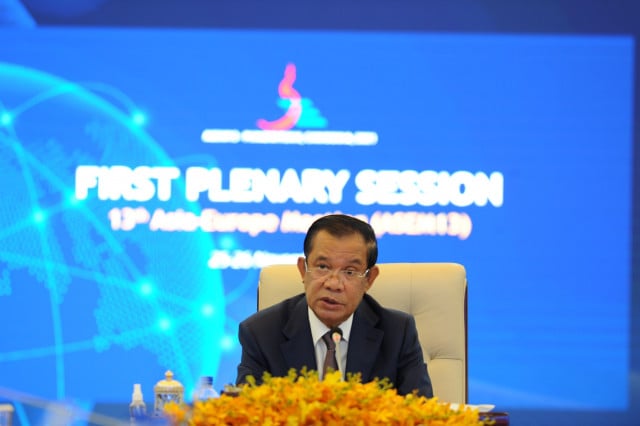 EU says rules-based order and prosperity are linked
PHNOM PENH--Prime Minister Hun Sen highlighted the importance of mutual respect and equal partnership between states as the country officially kicked off the two-day Asia-Europe Summit on November 25.
The 13th summit began with the theme of "Strengthening Multilateralism for Shared Growth."
In his opening remarks, the Prime Minister said the ASEM meetings have been a unique platform for Asian and European countries to bolster ties since their inception in 1996, adding that their strength depended on the core principles of flexibility, informality, mutual respect and equal partnership.
"I believe that, in the current situation, we need these principles more than ever as we face a myriad of challenges that require our joint effort and responses," Hun Sen said.
He said that all members have a shared responsibility to ensure that it remains an essential and robust inter-regional platform that can bring about great benefits for its people and make an even greater contribution to peace, stability, prosperity and development of the world.
Therefore, the summit, held under Cambodian leadership, had the main goals of deepening inter-regional connectivity that can enable shared growth and inclusive development as well as promote inter-regional partnerships for global governance, to enhance the effectiveness of a rules-based multilateral system as well as harness innovation and digital connectivity.
In the same event, European Council President Charles Michel pointed to working together in addressing common challenges based on transparency and trust to build back better from the Covid-19 pandemic.
"We believe in an open and rule-based international order and we are convinced that security and prosperity go hand in hand," Michel said, adding that, "Europe remains a respectful loyal and predictable partner, ready to deepen our partnership benefits of all of our citizens."
European Commission President Ursula von der Leyen began by thanking the Cambodian government for hosting and preparing the summit. She noted that ASEM has long been the most comprehensive partnership that has allowed country members to tackle big challenges of the day.
"In the years to come, this partnership will be even more important to recover from the pandemic," von der Leyen said, adding that Asia and Europe benefit enormously as they are closely connected.
She spoke of the need to strengthen the rules-based international system with ASEM as the key building block while noting that the EU has seen cooperation with Asia beyond the geopolitical divides.
"This is the baseline for our engagement with the Indo-Pacific. This is the spirit that the European Union brings to this 13th ASEM summit. I hope we can leave this gathering with a renewed commitment to our partnership," she said.
ASEM is an intergovernmental arrangement established in 1996 to foster dialogue and cooperation between Asia and Europe. It comprises 53 partners: 30 European and 21 Asian countries plus the European Union and the ASEAN Secretariat. Cambodia became a member in 2004.
Related Articles