In Stung Treng, Women Step in Fish Protection, Fearing Catch Loss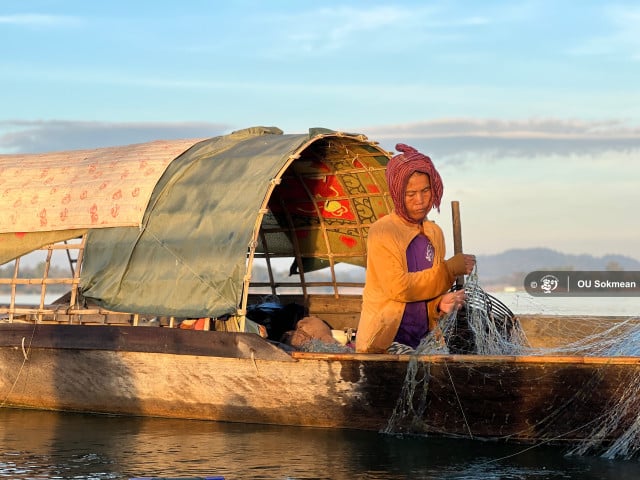 STUNG TRENG – Seeing the continuous plunge in fish stock in the Mekong River, women living in communities that heavily rely on fish catches are stepping in, fearing that no fish would be left for the next generation if no one acts. But despite their efforts, they have little hope that fish stocks will one day return to their previous levels.
Dressed in a traditional blue color costume, Kha Sros, 63, a Kuy indigenous woman in Stung Treng province, cannot say for sure whether the fish stock could be restored or could continue to feed the next generation of her community, which has been relying on fishing for ages.
She lives in Siem Bouk commune's Tonsong village, around 27 kilometers south of Stung Treng city, and has seen a severe decline in fish catches since the beginning of the century. Trying to fight back against that trend, she has been involved in fish protection and preservation since 2008.
"The fish yield started to decline in 2000. The villagers cannot catch enough anymore. Now, with one or two fishing nets left in the river from morning to evening, fishermen can barely catch a kilogram of fish," she said. "If we had not tried to protect the fish, the fish would long have been gone."


Sros's work consists in raising awareness among the community about sustainable fishing methods, insisting on not using illegal fishing techniques, such as electric fishing gear. Until recently, she was aslo used to patrolling the river, up to four times a week, to report on illegal fishing activities in the area. An activity that she's stopped doing given her age.
But Sros is not the only woman committed to protecting fish stocks in the province.
North of her village, Ma Chantha has been engaged in the same battle for ten years. The 30-year-old woman gives her time and energy advocating for fish protection in Koh Sneng commune's Koh Sneng village in Borey O'Svay Senchey district, where another community relies almost exclusively on fishing.
Even though she spends most of her working time teaching in a secondary school, Chantha still makes room in her tight schedule to engage in village development work.
Every month, she attends a village meeting led by the commune chief and several partner organizations to discuss how to better protect the fish in the area. She says that that the significance of fish for the local people prompted her to take part in the fish and river protection efforts, hoping to see fish being protected and preserved.
"The river is our cooking pot, our stomach, and the daily food that we can fish for consumption as a family. If we lose [the fish catches], we will lose everything," said Chantha, who has grown up in the village, at the end of the meeting.


Women's voice matters … but is not heard enough
Over the last three years, the total output of freshwater fisheries has significantly decreased in Cambodia, according to a report by Cambodia's Fisheries Administration. The total fish catch in 2020 was 413,200 metric tonnes, down 13.71 percent compared to 2019, and fell by another 7.3 percent in 2021, to 383,050 tonnes.
The situation seemed to have slightly improved in 2022, with 406,400 metric tonnes of fish being caught nationwide notes the same report.
But local communities in Stung Treng assure they didn't see any improvement at all, hence the need of everyone to get involved in fish protection and conservation, including women.
Chea Seila, a project manager at Wonders of the Mekong, an initiative that aims to improve the health of the Mekong River for fish, wildlife, and people, welcomes the growing commitment of women to the preservation of the river but fears their voices are not being heard enough.
After ten years of working in fish and wetland research, she noted that women are more and more involved in such a field.
"Men and women help and support each other. Not that we do repeated tasks, but we complement each other and fill the gaps for each other," she said, adding that the presence of both is indispensable.
"For example, in our research project, I would conduct the field interviews and coordinate with the fishermen while my male teammate would work on research ideas."
But the road towards gender equality is still a long way to go.
Koh Sneng Commune Chief Vann Somphorn said only two of five women in the community are willing to participate in the community work and the river biodiversity protection action.
He said women engage by mostly voicing their opinions on problems the village faces, such as the lack of fish stock or health care, to seek a suitable solution.
"They contribute by sharing their ideas during meetings. They can be taken into consideration for more than 70 percent," he said, showing hope that more women would join social work and fight the fish stock plunge.
"We encourage their participation by complimenting and always accepting their opinions although they are not so good," said Somphorn.
Nevertheless, he sees women's growing level of education in a positive light, hoping their new skills could help improve the fishery sector.
"Nowadays, it's a cliché to say that women cannot walk away from the kitchen stove," he said, encouraging people to promote women's participation by giving them an opportunity to show their potential.


Female fish conservationists face other types of challenges
In addition to facing outdated social representations, women in conservation have to deal with a lack of resources while chasing illegal fishermen involves high risks.
Kha Sros said women, unlike men, are not allowed to patrol at night due to safety concerns. But patrolling during the day also involves some risks: Illegal fishermen often carry guns to protecte themselves.
She has encountered numerous fishery crimes, yet she and her patrol team lack speedy boats to catch up with the culprits' runaway.
"I saw them [fisheries criminals], but I never confront them because they were too fast escaping us," Sros said, adding that even though they couldn't catch them, they can report that illegal fishing activities are being carried on in the area.
Ma Chantha revealed that her main challenge is the lack of support from some villagers, who think advocating for fish protection is useless as illegal fishing keeps happening, and fish stocks are already low.
She continued that some people do not trust her determination and ability to join the fish protection effort with the commune and the fisheries department as she is a woman with many household responsibilities.
"If I had not gotten organized [in my professional life], I would not have been able to work as a teacher for ten years in addition to my personal commitment [to protect fisheries]," she said. "I neglected my personal work and my chores to do social work. It happens because of love."
Chantha does not take part in patrolling, so it eases her job duty.
Chea Seila of the Wonders of the Mekong Project yet brings another challenge, which applies to both men and women: conservationists need to learn to work in the wild.
"Going to work far away from home is not easy," Seila said. "But we need to ask ourselves how much we sacrifice for the work. Going into the forest and boating on the river might seem fun, but it's not easy as there is no house, no toilets, and no electricity at all. We have to sleep with mosquito bites and urinate in the fields."
"But when we dare to do that, we dare not give up."


Fish shortage makes everyday life harder for thousands of people
The decline in fish catches also impacts women on the other side of the supply chain. With fewer fish to sell on the market stalls, women find it harder to manage the household budget and pay back debts.
Mai Chorn, 42, is a resident of Koh Sneng village who goes to remove the fishing nets she left in the river every morning. In the glimpse of gradual sunrise, she was on the boat with her 17-year-old son collecting the nets with no fish caught.
With a 2 million riel (roughly $500) debt and the fish shortage, Chorn struggles to make a living. She only earned one million riel (about $250) from fishing in 2022, and the situation remains disastrous in 2023. In the first two months of the year, she made hardly 200,000 riel (around $50) from selling fish.
"I borrowed money from my neighbor for 2 million riel with 1.9 million riel [$475] in interest for three years," said Chorn. "I pay 120,000 riel [$30] including the interest of 30,000 riel [$7.5] monthly. When I don't have enough money, I beg for postponement."
Because she is blind in one eye, Chorn was left by her husband when her son was only 12 days old. Besides fishing, she took a side job three years ago and grows rice, which is unfortunately not fruitful either.
"We are poor people, so we don't have money to buy fuel to pump water for our rice crop.​ Some years, I can harvest 20 sacks [one sack equals roughly 70 kg] while some years, I could make only one or two sacks. If not enough, I'll buy rice from others to eat," she said.
Ma Chantha of Koh Sneng village said fish catches were abundant when she was 12 years old. A severe fish decline occurred in the past five years.
"My husband leaves three or four fishing nets and can catch only two or three fish. It is not even enough for our own family," she said.
Her husband, Choeun Veasna, started to fish in 2010 and saw a massive drop in fish catches over the years. He said he could catch between 20 and 30 kilograms of fish a day until three years ago, but can barely find one kilogram of fish today.
As a result, he now has to buy fish on the market, while the selling prices have increased due to their scarcity.
"Before, I could sell one kilogram of fish for 10,000 riel [$2.5]. Now, I barely find any fish in the water and have to buy fish to eat. But the cost is now 20,000 [$5] per kilogram," Veasna said, pointing out that some villages have given up fishing and gone to work abroad, especially in Thailand.
Sorn Samon, a fish trader in the Stung Treng market who everyday waits to buy the fish catches from Koh Sneng villagers, said she can barely buy five kilograms of fish a day since early 2023, which is at least four times less than last year.
"The fish is not abundant like before. In the past, at least I could buy 20 to 30 kilos of fish in a day, but now I cannot even buy five kilos of fish," she said while waiting for the fisher boats which did not come.
Koh Sneng commune chief Vann Somphorn also voiced concern about the fish yield declines as 270 families in Koh Sneng village are all fishing.
He said some fishermen have quitted fishing and gone to find jobs, such as collecting cashew or potatoes in other provinces.


Causes of fish shortage, threatening fish species
Despite testimonies of fewer and fewer catches multiplying in the first months of 2023, this alarming situation seems not to be entirely shared by Cambodia's administration.
Ung Try, deputy director of the Fisheries Administration (FiA) under the Ministry of Agriculture, recalls that the fish catches in 2022 were abundant due to the high-water level of the Mekong River. They even increased by 6 percent compared to 2021.
He points out the growing population in the lower Mekong Bassin, which totals 65 million people, to explain the trend towards fewer fish catches for individual fishermen.
"The population that goes fishing is different from before. More and more people are dependent on fishing," he said.
But Chea Seila said that stating whether fish stocks have increased or decreased only by looking at the amount of fish being sold at the market is questionable. To come to any conclusion, all aspects should be taken into consideration, in addition to the observation of the fish trade.
"Natural resources along the Mekong have changed, but we do not know how they have changed," said Seila. "The irregular water flow makes the lifecycle of fish change."
She said a thorough study on the Mekong River in Strung Treng province is being conducted by her team to try to better understand the interconnection of factors on the fish decline. But the results won't be released any time soon.
These changes in the environment impact the variety of fish in the Mekong River, which is home to more than 1,100 species, of which about 400 are found in Cambodia.
But local people in Stung Treng province have noticed that some species are now harder to find than others.
Kha Sros at Siem Bouk commune said her community has not seen Mekongina erythrospila, commonly known as Pa Sa-ee, since 2010. That well-known seasonal fish is appreciated by locals due to its rarity and flavor, and can be sold at higher prices than other fish.
Likewise, Koh Sneng Commune Chief Vann Somphorn said Pa Sa-ee disappeared from his area about five years ago. Local fishermen have not seen the giant barb and the Mekong giant catfish for 10 to 15 years.
He believes that fish shortage and fish loss are mainly caused by illegal fishing with modern-threatening equipment, such as electric fishing gears that indiscriminately shocks and kills fish located around the device. That practice has been observed in the area for a long time.
"During the dry season, they poison the fish while in the wet season, they electrocute," said Somphorn, adding that he has cracked down on two cases in the first two months of 2023.
The perpetrators are not local, he said, but usually Cambodian nationals coming from south and going upstream until the Lao border. They possess modern equipment, fast-speed boats and air guns that the villagers do not have.
Kha Sros and Ma Chantha echoed the commune chief's statement, blaming the fish shortage on illegal fishing.
Chantha said the illegal fishers can hardly electrocute as the fish stock is declining, resulting from their action. "We see that the fish is declining and we are still trying to destroy it with preservation. The natural resources and fish are eventually destroyed," she said.
Cambodia cracked down on 2,952 fishing crime cases in 2021, a slight increase of 28 cases from the 2,923 cases in 2020, the report of Cambodia's Fisheries Administration said.
Climate change, the construction of hydropower dams, expansion of irrigated agriculture, flood control and protection infrastructure, and other water resources development projects are also putting pressure on the Mekong fisheries, said the Mekong River Commission (MRC), an intergovernmental body that aims to monitor and manage the Mekong waters.
For instance, nearly seven million people live off of fishing and aquaculture in Cambodia and the Mekong Delta in Vietnam alone, according to the MRC, suggesting that the damage to the ecosystem could result in server food shortages.
What to expect in the future?
Ung Try of the Fishery Department projected that fish catches in 2023 might increase but with uncertainty.
"If the weather is unfavorable, the catch might not increase," he said. "When the water rises, important fish species, such as the Mekong giant catfish, will come along."
Ma Chantha said she did not know what to expect for the future of the fish stocks in the Mekong River of Koh Sneng community yet she will keep being involved with fish biodiversity protection.


"In the future, I do not know what will happen if we keep losing fish yields," she said. "I will try to gather people and disseminate the information so that they know about the destruction of river resources. I want them to understand and stop the illegal fishing activities."
Ma Chantha wants to see the river guards patrol the river 24/7 while the budget for the protection work should be increased as well. "There is action, but it's just that it has not yet been effectively implemented," she said.
Kha Sros has been attempting to train Kuy people in her community to transmit her work and continue advocating for the protection of natural resources, especially fish.
She said what she has been doing is not only for herself but for the whole Kuy community, especially the young generation who might not be able to benefit from fish in the Mekong River if it keeps declining.
She could not say whether the fish still remain abundant or will be gone. She, however, only wanted to be a part of the protection team of the biodiversity in the Mekong River, despite her advanced age.
"Every day, I think that I will do this work until I am not physically capable of doing it anymore. If I'm still able to do it, I will keep doing it," Sros said.
"My heart wants me to do the job forever, and I want to see the fish stocks and species being restored. But my physical strength cannot keep doing."

This story is produced with support from Internews' Earth Journalism Network through Mekong Eye
Related Articles