Indigenous People Suffer as Forest Shrinks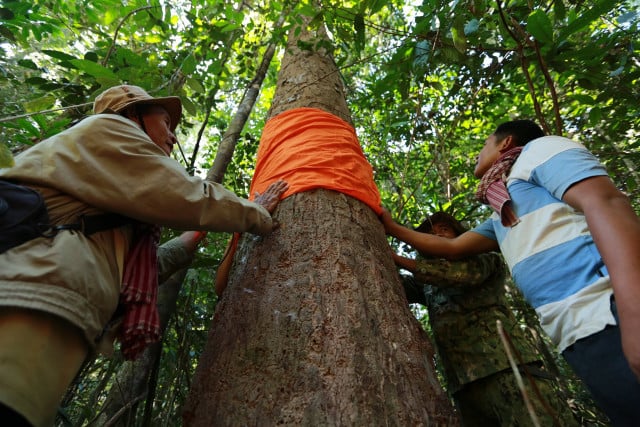 Kuy community sees Prey Lang lifestyle disappear
PHNNOM PENH–Relentless deforestation in the last 10 years has left indigenous people living around Prey Lang Forest facing the loss of income and the gradual disappearance of their traditions, customs, and beliefs. The future of the indigenous community has been left in limbo.
"In the past, we could walk freely into our forest" said So Khorn, 60, a member of the indigenous Kuy community who lives near Prey Lang Forest in Sambor district of Kratie province.
"We were happily enjoying the rich natural resources in Prey Lang Forest. Although our houses were small, we did not worry about insufficient food.
"If we did not have rice to eat, we could stuff our stomachs with fruits and meat found in the forest."
But now the indigenous people are living in fear because the forest is being destroyed and their traditional rights to enjoy it have been restricted, Khorn said.
Ten years ago, the indigenous community was living securely, extracting the fruits of nature, though there were many wild animals, which caused fear when entering the forest.
People could earn by tapping resin from their resin trees and by finding fruits, meat, fish and natural medicines.
Since then, the resin trees have been logged illegally, while some people have been tricked into selling resin trees cheaply, Khorn said.
"We have been trying to protect our trees, but now there are not many resin trees in Prey Lang anymore," he said.
Khorn said some kinds of tropical fruit, such as Willughbeia edulis, Baccaurea ramiflora, or rambutan, depend on the larger trees to grow, but many larger trees have been logged. Bees cannot find trees for shelter.
"In the past, I could find 30 to 40 beehives in one tree but now I can hardly find any bees because the larger trees have eroded and been destroyed. Animals also find it hard to survive because they have to face humans too."
Srey Thi, 54, an indigenous Kuy in Preah Vihear province, said that a decade ago, his community lived normally and enjoyed the forest freely, tapping resin and picking fruit. However, this was no longer possible due to extensive logging.
"In the past, the company logged the trees, but now unknown people from nowhere came to log," said Thi.
The gradual loss of trees contributes to climate change. He said farming has become challenging because the rain is now unpredictable. Rainwater now floods his crops and when there is no rain his farm faces drought.
"Ten years ago, the rain was good and we could keep our rice fields well," Thi said.
Heng Kimhong, Head of Research and Advocacy Program of Cambodian Youth Network (CYN), said the living conditions of the indigenous people around Prey Lang Forest have changed significantly over the last 10 years due to economic land concessions and economic factors.
Some economic land concessions in Preah Vihear, Kratie, and Kampong Thom provinces overlap with the plantations of the people there, which they have enjoyed since the days of their ancestors, he said.
"Some of them have lost their farms, their resin trees, and forests, which they used to enjoy," said Kimhong. "So, they need to find something to replace their lost sources of income, such as being a worker for a company which was granted a land concession or being forced to migrate to work abroad."
Deforestation over the last 10 years has become a source of great concern and it was not possible to restore the forest, said Kimhong who has spent a lot of time researching government policies, rules, laws and commitments on the preservation of natural resources and the environment in Cambodia.
Forest cover in the country decreased from 59.09 percent in 2006 to 57.07 percent in 2011 and fell to only 46.86 percent in 2018.
What affects indigenous people most as forest cover gradually disappears is the lack of readiness to accept and adapt to what is happening in their forest, Kimhong said. The natural resources, fruit trees and places for traditional ceremonies have been replaced by the plantations of companies that received economic land concessions.
Indigenous peoples' most valuable forest resources were beehives and honey, resin and fruits. All of these have been severely affected by deforestation and illegal logging, he said.
The decrease in beehives and honey is caused by the loss of large trees for bees to shelter, improper use of beekeeping techniques, such as the use of insecticides to kill bees, and the consumption of larvae, Kimhong said.
"The loss of large trees due to illegal logging is a very important factor that makes bees unable to find a place to lay their eggs," he said.
Resin extraction, as well, has been affected by logging. Local people who tap resin trees are worried about extensive logging, which could cause them to lose resin trees on their plots.
Some people sell their resin trees for 80,000 to 100,000 riel or roughly $20 to $25 for one tree in fear that they would lose their trees and would not gain anything back, Kimhong said.
The current price is even higher because the resin trees are declining rapidly. The owners who refuse to sell their trees have carefully protected their plots, but illegal logging is still happening, he said.
"The price of one resin tree is very cheap compared to the hundreds of years of resin that the trees can yield," said Kimhong. "Some of them have to sell their resin trees because if they refuse, one day their trees will be gone and they won't get anything."
Edible fruits and non-timber forest products have been reduced as well due to the clearing of forest land for economic land concessions and encroachment of private land on the indigenous community's forest land.
"All in all, deforestation, illegal logging, encroachment on forest land, and clearing of forest land for economic land concessions are all factors contributing to the continuous decline of non-timber forest products," he said.
Neth Pheaktra, a spokesperson of the Ministry of Environment, said Cambodia is attempting to find a solution to shift the traditional way of living of the indigenous people and provide new options to them.
"The Ministry of Environment has been working to improve the livelihoods of people living around protected areas so that they do not continue to rely entirely on natural resources," he said.
Srey Thi said he does not understand why the ministry wants the community to stop depending on the forest.
"We do not destroy the forest. We only enjoy the resources that nature offers to us," he said.
Kimhong of CYN said the ministry spokesperson has a point in that he wants to lift up the lives of the indigenous communities. But the communities cannot live without nature and sufficient natural resources.
"The government should have adequate mechanisms if it is to change the lives of rural people," he said. "Switching the way of living cannot be forced and need to be done step by step."
Restriction on traditional ceremony
In the past, the community could celebrate ceremonies with the participation of the ministry, said Khorn. But now the community is banned from entering the forest to carry out their ceremonies and worship.
"We don't know why they prohibit us. I think they fear that we will show the world the serious illegal logging in Cambodia," he said. "They are being hard on us when they hear the name of Prey Lang community."
Khorn's community has not been able to hold their annual tree ordination ceremony in the forest for two years, causing them to fear that the tradition will be lost one day.
"Losing our tradition is like losing everything," he said. "We celebrate because we want to show gratitude to the forest, land, water, and wind to which we have given our lives. Nature is our lungs."
Srey Thi said that in the past, his Kuy community could celebrate in the forest without restriction, but in 2018-2019, the government banned them from holding a ceremony due to the COVID-19 outbreak. Since then, the community has not been able to hold any traditional ceremonies in the forest.
"My community celebrates the ceremony in the forest in the hope to protect the forest as well," he said. "But no celebration means our tradition will be lost which can affect our feelings. Mother nature could be angry."
Land concessions continuously drive forest crimes
Thi said severe deforestation occurred in 2013 and has continued in recent times. In 1998 and 1999, the indigenous community extracted natural resources from the forest, but in 2000, a company that received a land concession started to enter the forest. The company could only carry out its activities for three years because the community chased them away, he said.
However, in 2011, other companies – PNT and Macle Logistics Cambodia – started to enter the forest. He said the companies did not work on the land concession but instead encroached on the community forest land, which affected the natural resources of the indigenous people.
"The government granted the land to them, but the fields were also our rice fields," Thi said. "The companies do not cultivate plantations. They only take timber. We don't see the companies grow anything. We only see some cashew trees."
In 2016, the ministry designated some parts of the forest as a protected wildlife sanctuary, he said. Since then, there had been extensive forest crimes.
"The companies destroy the forest. Does destroying the forest benefit citizens or them?" Thi said.
Khorn said there were few forest crimes when the ministry worked hand in hand with the community, but since Prey Lang Forest was designated as a protected area, illegal logging has been increasing.
"We gave them the forest but they prohibited us from entering the forest. We are not allowed to take the phone with us if we have to enter the forest to find beehives and honey," he said.
"They fear that we would record timber logging and share it with the public."
He added that in one month, 10 to 20 trucks transport the logged timber, while motorcycles deliver timber in smaller pieces every day.
Heng Kimhong of CYN said after the government designated Prey Lang as a protected Wildlife Sanctuary, tens of thousands of hectares of forest land that was not designated as protected were designated as economic concessions, while some areas continued to be encroached upon for private plantations.
"The Prey Lang Community Network continues to detect deforestation and timber transportation from this protected area daily," he said.
In April 2020, the Prey Lang Community Network found more than 100 cases of forest crime, while the community saw more than 300 cases in early 2021, according to Srey Thi, an indigenous member of the Prey Lang Community Network.
Pheaktra of the Ministry of Environment said large-scale crimes no longer exist, while small groups of park rangers have been implementing prevention and repression laws on small-scale natural resource crimes.
"The protection and conservation of the forest have improved and the level of forest degradation has declined," he said. "Cambodia has been relentlessly protecting and conserving existing natural forests."
He said that in the long-term carbon-neutral strategy by 2050, Cambodia is highly committed to the forestry and other land-use sectors, including halving the rate of deforestation by 2030 and ending deforestation and loss of forests by 2045.
"At the same time, to achieve the goal of increasing the Cambodian National Forest Project, we will promote tree planting, improve forest management and reforestation, agriculture and commercial plantations, as well as fully implement the REDD + investment plan by 2050," he said.
Uncertain future but hope remains
Srey Thi said that in the future, if forest crimes, land encroachments and restrictions still happen, his community will lose its tradition and sources of income, adding that he hopes his community would be able to stand strong despite the pressure put upon them.
"In the past, we did not have to borrow money from the banks because we could find money just only from the forest. But now some people borrow money from the banks," he said.
So Khorn from Preah Vihear province said restrictions on his community meant they were not able to fully participate in society and exercise their rights like the other Cambodians.
He hoped the indigenous community will one day be given the help it needs and will be able to enjoy the forest for years to come.
"We can live forever if the forest is also alive forever. We have been long dependent on the forest. With all of what is happening right now in Prey Lang Forest, we do not know what the future of our community will be," he said.
Related Articles