Indonesian haze spreads to Cambodia and Vietnam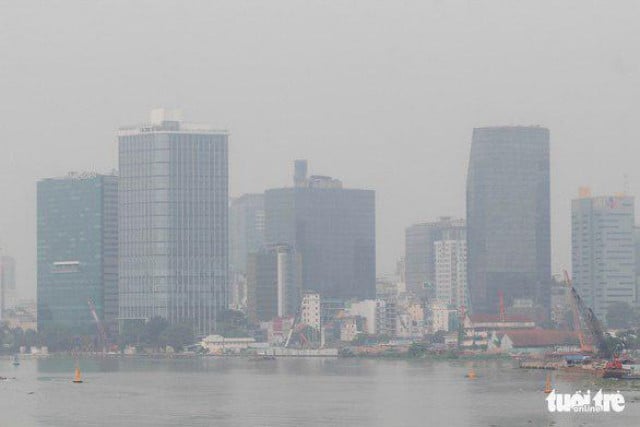 Smog already covering 'wide area' of Ho Chi Minh City, Vietnamese newspaper says

PHNOM PENH --Haze from Indonesia engulfing Singapore and Malaysia is spreading to Cambodia and Vietnam, the ASEAN Specialised Meteorological Centre says.
In an update on Saturday evening, the Singapore-based centre said "moderate to dense smoke haze continued to emanate from persistent hotspots in central and southern Sumatra."
Regional haze situation at 8:18 p.m. on Saturday (Map: ASEAN Specialised Meteorological Centre)

Persistent hotspots in Kalimantan
The centre said some smoke haze from these hotspots had "blown across the Strait of Malacca to affect Singapore and parts of Peninsular Malaysia."
In Kalimantan, "persistent hotspots continued to be detected in South, Central and West Kalimantan where moderate to dense smoke haze from the hotspot continued to shroud many areas in these provinces."
Haze spreads to South China Sea areas
"Some haze from Kalimantan has also spread to the adjacent South China Sea areas," the centre said.
Strong winds in these areas were forecast by the centre to be heading towards southeast Cambodia and southern Vietnam on Saturday evening.
"For the next few days," the centre said, "the hotspot and haze situation in the southern ASEAN region can be expected to persist."
'Blanket of smog' in Ho Chi Minh City
In Vietnam, newspaper Tuoi Tre reported from Ho Chi Minh City Saturday that a "blanket of smog" had covered a "wide area of the southern metropolis."
"Vision was significantly reduced as buildings could not be clearly seen from a 100-meter or further distance," the newspaper said.
Vietnamese women's newspaper Phu Nu reported Sunday that scientists were urging people in Ho Chi Minh City to wear masks when going outside and to limit driving.
Related Articles