Japanese Soft Loan to Boost Roads and Training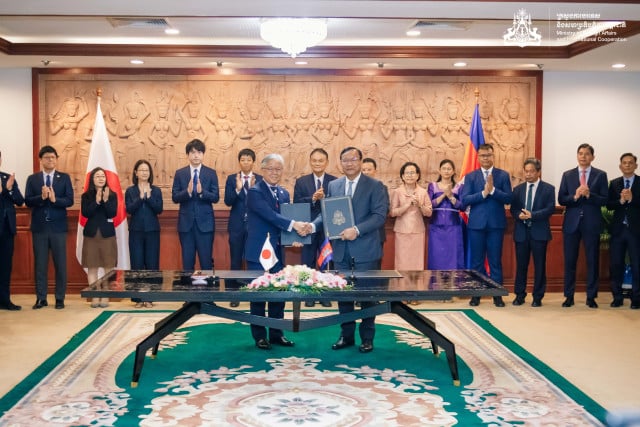 PHNOM PENH – Japan has provided a concessional loan of about $55 million for road upgrading and scholarships for government officials.
The loan document was signed by Foreign Minister Prak Sokhonn and Japanese Ambassador Ueno Atsushi on May 24.
Most of the money, $52.6 million, is to renovate 135 kilometers of National Road 5 from Prek Kdam in Kandal province to Thlea Ma'am in Pursat province.
With $317 million having been spent, this is the fourth aid package for the improvement of National Road 5 between Prek Kdam and Thlea Ma'am.
This project is one of three initiatives starting in 2018 to improve National Road 5, connecting Phnom Penh to the Poipet-Thai border.
The 366-kilometer National Road 5 Improvement Project is in three main sections; north, south and central.
It is one of the projects funded by a $500 million concessional loan from Japan to the Japan International Cooperation Agency in Cambodia.
National Road 5, also known as ASEAN Highway 1, will play a vital role to enhance economic activity, transport capacity and logistics efficiency, and regional integration as the highway connects China to Myanmar and Thailand to Cambodia and then to Vietnam via National Road 1, Transport Minister Sun Chanthol said in March.
Another $2.67 million of the latest loan is reserved for scholarships to promote human resources.
This grant will provide full scholarships to 26 government officials to study at prestigious universities in Japan, including 24 for master's degrees and two for doctoral degrees.
Being re-established in 2000, the scholarship project has provided scholarships to 548 Cambodian officials, enabling them to contribute to the long-term development of Cambodia and connect people of both countries.
"Bilateral relations between Cambodia and Japan have reached the peak as Cambodia and Japan are celebrating the 70th anniversary of the establishment of diplomatic relations between the two countries," Prak Sokhonn said.
Sokhonn, on behalf of the government, expressed gratitude to the Japanese government for continuous financial aid to help the country carry out its infrastructure and human resource development projects.
Related Articles