Jessa Khan Wins Gold in US Tournament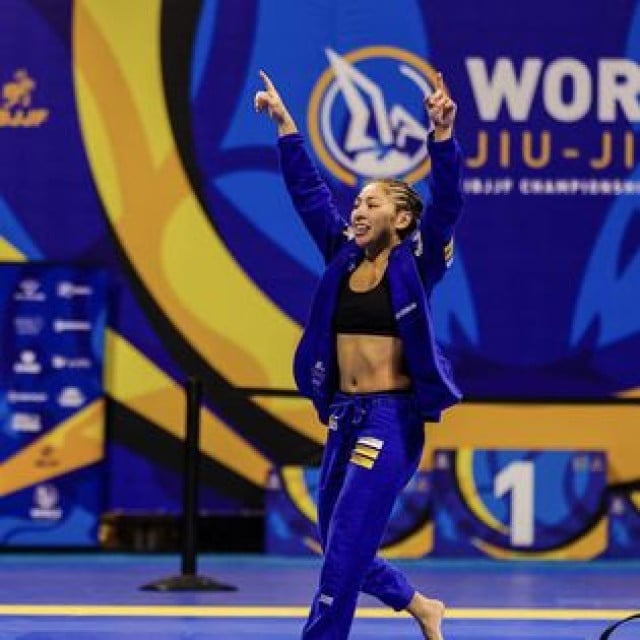 PHNOM PENH — Cambodian jiu-jitsu champion Jessa Khan has added to her SEA Games medal tally by taking a gold in the IBJJF World Championships in Long Beach, California.
She won the black belt gold medal in the light-feather class in the final match against Thamires Aquino on June 5.
She told the Flograppling sports channel after the match that she felt amazing as her dream came true.
"You know, I've been dreaming about this ever since I was a little girl and I finally was able to accomplish that goal," she said.
"And, like, so grateful to have all the support here, all my teammates, my friends, my coaches, and, you know, having that all those people support like that's, that's really like what pushes me to try my best."
She spoke tearfully about learning from losing as her career had ups and downs. "I feel bad for saying it but at a point I was almost going to stop."
Her coach Guilherme Mendes posted on Instagram, "Jessa's victory yesterday was by far one of the best moments of my career.
"I knew how much it meant to her and how much this accomplished would impact her self-esteem and confidence. I live for moments like these."
Khan is one of the most famous jiu-jitsu athletes who competed at the SEA Games in 2023 in her home country as the host nation where she won a gold and a silver medal. She won a gold medal in the Sea Games in 2019
She donated her winnings from the 2023 SEA Games to the Cambodian Red Cross and posted on Instagram, "I have always received a lot of love and support from the Cambodian people.
"I thought i could do the same by supporting them and give back to the community. I am happy I had the opportunity to do this."
Related Articles