Justice Ministry Clashes with UN Experts over COVID-19 Handling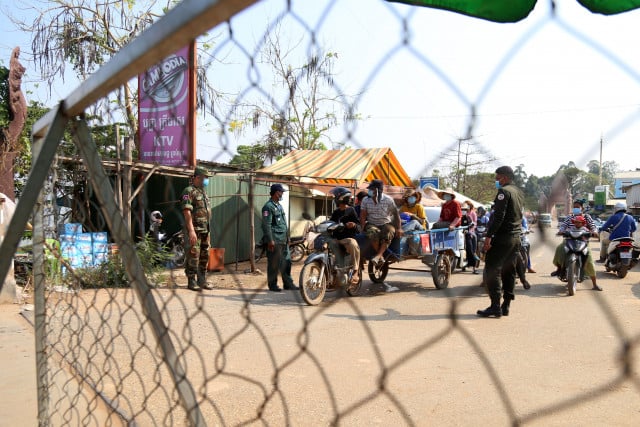 As the COVID-19 crisis continues in Cambodia, the government appears to stand by the decision to publish personal details of those who contract the disease, despite warnings from the UN.
PHNOM PENH--Spokesperson for the Ministry of Justice Chin Malin said that publishing the identities of COVID-19 patients is not a violation of privacy, as it takes place in the most urgent circumstances to find direct and indirect contacts who may have been exposed to the virus.
He added that this is a temporary measure due to the severity of the COVID-19 pandemic.
"As we used to do that for only in a short period of time in the second community outbreak, as a result, we were successful and managed to close the event completely," he said.
Malin's justifications came after UN human rights experts sounded the alarm over Cambodia's decision to publish personal information—including home addresses—of people who had tested positive for COVID-19.
The UN's experts decried this decision as "unnecessary" and "deplorable."
"The naming and shaming in public of those who have contracted the virus can lead to discrimination and stigma," the experts said in an April 12 statement. "These actions are deplorable breach of privacy."
They also warned that this may inadvertently deter people from getting tested for COVID-19, even if they develop symptoms or suspect they have come into contact with a COVID-19 patient as they will not want to be publicly shamed.
Malin retorted that the government retains the right to restrict certain freedoms such as assembly, travel, assembly, expression and the right to privacy—which he said are not absolute—if it serves the public, particularly social security and public health.
Given the Cambodian government's long and well-documented history of abusing power and restricting rights to serve their own political and business interests, the UN human rights experts warned that there is no legal provision that would allow the government to collect and publish personal data.
They also raised concerns about the lack of independent oversight that such sensitive health data was being handled with.
"It is very concerning that personal data is being collected and published without consent," they said.
The UN human rights experts added that any personal information collected in contact tracing should be limited to that which is strictly necessary and proportional to stop the spread of the disease.
They went on to urge the authorities to ensure that all Cambodians, especially the most vulnerable, have access to COVID-19 testing, treatment and support during this outbreak.
A similar set of concerns was raised in November 2020 when the authorities also published the details of COVID-19 affected Cambodians that led to online abuse.
Similarly, the National Police in October 2020 opted to publish the personal information, again including the address, of a human trafficking victim, which also prompted fears that the police either did not understand the need for privacy in such matters or did not care.
Related Articles