Malaysia Sends a Plane to Repatriate 111 of its Citizens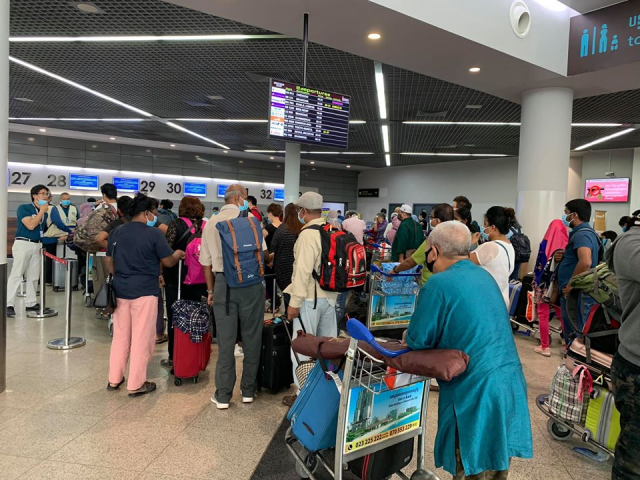 Torn Chanritheara
March 26, 2020 9:20 AM
Six Cambodians were invited to fly home on the plane
PHNOM PENH—The Malaysian government has dispatched a special plane to bring home its citizens who were unable to travel back due to its new flight policy, Cambodian Minister of Foreign Affairs Prak Sokhonn said Thursday (March 26). He added that some Cambodians in Malaysia were also given the opportunity to return to the country on that plane.
"Yesterday, officials of the Ministry of Foreign Affairs and International Cooperation facilitated the process of allowing a special charter flight from Malaysia to take 111 Malaysians back home," Sokhonn wrote on his Facebook page. Those visitors had not been able to leave Cambodia due to the recent travel restrictions imposed by the Malaysian government, he said.
Cambodia had also coordinated with Malaysia to facilitate the return of six Cambodians stranded in Malaysia via this special charter flight, Sokhonn said.

The six Cambodians were tested for the Coronavirus Disease 2019 (COVID-19) when they arrived in Phnom Penh, he said. "For safety purposes, all six individuals received medical tests at Chak Ang-re Hospital immediately upon their return."
Earlier this month, the Malaysian authorities announced that, as of March 18, Malaysians would be banned from traveling abroad, while foreign tourists and visitors would be restricted from entering the country and this, as part of measures to prevent the spread of COVID-19.
According to Sokhonn's Facebook post, he and his Malaysian counterpart Hishammudin Hussein held a phone conference during which they discussed the details of the flight and ways to combat COVID-19. Sokhonn said he took the opportunity to assure him of Cambodia's commitment to enhancing bilateral and multilateral cooperation.


Related Articles