Migrant Workers Find Themselves Jobless, Unable to Feed their Families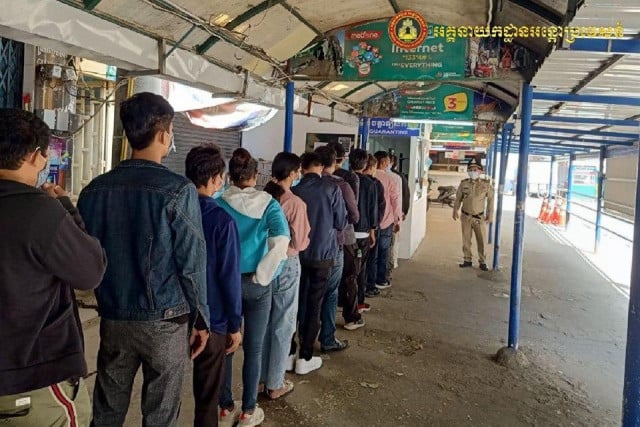 Phoung Vantha and Lay Sopheavatey
April 30, 2020 11:34 AM
Having to return to the country due to COVID-19, some of them are in dire situation

PHNOM PENH--About a month ago, Phy Sampay and his wife returned home to Varin District in Siem Reap Province. Upon hearing that Thailand would close the border as a measure against the Coronavirus Disease 2019 (COVID-19), they had headed for Cambodia.

The last time they were paid their $700 salary in Thailand, they had sent $400 to their family in Cambodia. But this money is now long gone. "[W]we are jobless," Sampay said.

"Now we have to depend on our parents and relatives until we are able to get jobs," he said. They get support from Sampay's mother-in-law who has been taking care of their 6-year-old daughter while he and his wife worked in Thailand.

"Sometimes we haven't had anything to eat," he said. "[W]e have collected vegetables around our house and bought a kilo of fish for two or three days…I am looking for a job but I have not been able to find one.

"I have to be patient because we don't have any other solution yet," Sampay said.

Many migrant workers who came back to Cambodia due COVID-19 are now facing hardship.

Pok Samnang who has worked in Thailand for around eight years has had a difficult time since his return. He and his wife, who had a baby three months ago, have small children to support, he said. "If I can get a job, I will start getting money to support my family: This is my hope of a worker from Thailand."

Samnang worked in machine engineering in Thailand. Now, he said, "my family is very scared because we don't have jobs or money. Every day, we make an effort…and spend on food no more than 10,000 riel ($2.50), out of what remains of the money from Thailand. But now, it's almost gone."

In late March and early April around 80,000 Cambodian migrant workers came home, concerned about the pandemic. The Ministry of Health ordered to test them for COVID-19 as they crossed the border. This led to more than 400 tests samples to be submitted for further tests. All tests proved negative for the disease, but the authorities told all workers to self-isolate for 14 days when they would get home.

Having to leave their jobs unexpectedly in Thailand, they returned without prospect. As Minister of Interior Sar Kheng said, most of those 80,000 workers could only support their families in the short term.
Workers seeking jobs and assistance should contact provincial authorities, a ministry statement read.

In a statement released on Wednesday (April 29), Minister of Labour and Vocational Training Ith Sam Heng said that workers who returned from Thailand should contact the local authorities if they need help during the pandemic.

"Workers who got back and are facing [hardship] have to contact the local authorities to get assistance from [government] services," Sam Heng said in the statement.

Appealing to communities to help migrant workers and their families, he said, "[p]lease help the families to farm or do farm work while [they wait] for new work or…to go back [to work in Thailand]."

The ministry's statement also mentioned that workers who had returned to Cambodia and are looking for work should contact their provincial departments of labor for information.

In a recent interview, Moeun Tola, executive director of the Center for Alliance of Labor and Human Rights (CENTRAL), said that the government must release reserve funds to help migrant workers and their families survive. Moreover, the authorities should consider reducing the price of electricity and water in the country to help all those unemployed due to COVID-19.

Regarding Cambodian workers who still are in foreign countries, the Ministry of Labor statement said that they must follow the laws, orders, and COVID-19 policies of the countries in which they are, listen to Cambodian embassies' representatives and contact them if they need help.


Related Articles