NagaCorp Announces Siem Reap Expansion 500 Meters from Angkor Park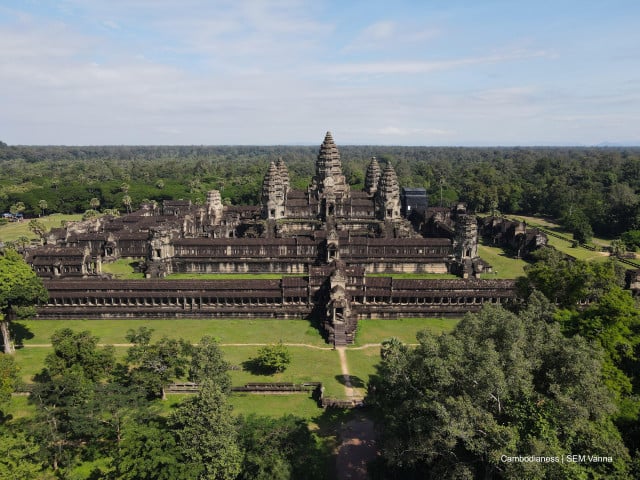 Gerald Flynn and Phoung Vantha
November 18, 2020 7:54 AM
The Hong Kong-listed company reported record profits last year and appears set to invest a portion of them into Siem Reap and possibly Sihanoukville, but not all are convinced the plans will materialize.
PHNOM PENH--NagaCorp on Nov. 15 announced that it would expand beyond its Phnom Penh operations and plans to open a new non-gaming resort, replete with a theme park, a water park, meetings facilities, as many as three hotels and a range of culinary attractions.
Having been granted a 50-year lease over a 75-hectare plot of land some 500 meters south of the Angkor Archeological Park in Siem Reap by the government in May 2020, NagaCorp's announcement stated "The vision is principally aiming at promoting Angkor Wat Siem Reap and NagaWorld Phnom Penh as the twin tourism icons of Cambodia."
Provisionally named "Angkor Lake of Wonder," NagaCorp's latest venture boasts of being bigger than both Disneyland Park and Disneyland California Adventure combined. Angkor Lake of Wonder is projected to cost $350 million, but for the first seven years NagaCorp will pay no rent to the Apsara National Authorities. This rent-free period could then be extended a further three years, according to NagaCorp's statement.
At just $0.60 per square meter, NagaCorp will rent the 75 hectares of land for $450,000 per year for the first five years after its rent-free period ends, following which it will pay an additional 5 percent per square meter every five years.
In total, the 50-year lease could cost NagaCorp as little as $21.47 million, with the "low land cost entry point" listed as one of the Hong Kong-listed casino operator and developer's key factors for the success of Angkor Lake of Wonder.
In February 2020, NagaCorp's announced record profits for 2019, pulling in $521.3 million in net profit—up 33 percent from 2018. Yet the 33-page document appears to show that the company paid just $30.3 million in income tax on these profits.
Despite last year's record-breaking profits, NagaCorp's first Cambodian venture, NagaWorld—which opened in Phnom Penh in 1995—found itself embroiled in a battle over labor rights and salaries for its employees, of which there are some 8,600 in total, including more than 4,000 union members.
NagaCorp's annual report makes no mention of the two-day staff protest that took place from Jan. 9 to Jan 10, 2020, where an estimated 3,000 NagaWorld employees walked out over pay and working conditions. Union President Chim Sithar was suspended for requesting a pay rise for hotel and casino floor workers based on the treatment they faced from customers.
While the latest announcement from NagaCorp contends that Angkor Lake of Wonder will help bolster ailing tourism visits to Angkor Wat, it makes no attempt to hide the company's intentions of funneling tourists from Siem Reap Province to its numerous gambling facilities in Phnom Penh.
"The Group intends to implement strategies of working with on-line and physical travel agents in China and elsewhere to offer tours based on more complete set of facilities based in Siem Reap and Phnom Penh," the statement reads. "The Group anticipates that tour groups shall visit Angkor Wat as an anchor attraction and then entertainment facilities being offered in NagaWorld Phnom Penh."
NagaCorp also noted in their statement their intention to "explore viable and profitable development in the Sihanoukville areas."
"With three destinations, Naga and its travel trade partners will be able to build vacation packages that shuttle visitors between all three destinations with each offering patrons a different vacation experience," said Andrew Klebanow, a veteran gaming industry consultant.
China has been Cambodia's largest source of tourists since 2017, with more than 2.3 million Chinese tourists visiting Cambodia in 2019—making up 35 percent of the 6.6 million total international visitors.
Klebanow predicted that NagaCorp's Siem Reap Province expansion would bring economic benefits to the region and the country, noting that Angkor Lake of Wonder would be the largest commercial investment ever undertaken at the world heritage site.
"In addition to traditional economic benefits, the project will reposition Siem Reap from a destination that attracts tourists who are primarily interested in visiting a world heritage site to an international destination that will attract a far wider mix of travelers including families from throughout Southeast Asia," he wrote in an email interview.
While Klebanow noted that casino gaming is prohibited in proximity to the Angkor Archeological Park, he sees Angkor Lake of Wonder as an opportunity to keep tourists within the NagaCorp brand family by creating the resort.
This, he said, coupled with infrastructure developments linking Phnom Penh to Sihanoukville would create a triangle of business for NagaCorp, should they decide to go ahead with a project in the coastal city.
"NagaCorp will be competing with some of its junket providers, who are also partners in casino developments in Sihanoukville," Klebanow explained, adding that it be will be challenge to compete with those promoters, given NagaWorld's is in part reliant on said junkets for bringing in customers.
"Nevertheless, if the Sihanoukville project is properly positioned as a mass market vacation destination that appeals to Chinese vacationers, the property will find a very comfortable niche," he added.
Tourism Ministry Spokesperson Top Sopheak said that he welcomed NagaCorp's plans and that he hopes it will help to attract more tourists and will create more jobs for the local people.
Sopheak added that the Cambodian government has devised a masterplan to bring in 7 million international tourists annually by 2030, so it will respond to the demands of an increasing number of tourists.
Likewise, David-Jaya Piot president of the Hotel Association in Siem Reap said that he hopes that the development will be a valuable addition to Siem Reap's tourism landscape.
"The development would logically respect UNESCO and the local government's zoning regulations and building codes, therefore it should not be a problem at all," he said, but added that only time will tell.
"As things are now, any high-quality investment in Siem Reap's tourism is welcome and appreciated by the many people who make a living from tourists," said Piot.
The ongoing COVID-19 pandemic has seen a 98.5 percent drop in tourists that has proven catastrophic for Siem Reap, with Angkor Archeological Park reporting a 78 percent drop in visitors compared to last year.
Long Kosal, spokesman for the Apsara Authority said that NagaCorp's plan is outside the restricted zone surrounding Angkor Wat and the location for Angkor Lake of Wonder was in part determined by the government.
"As a general view, I think that it won't have a bad effect on the heritage," he said, noting that no other commercial venture had so far damaged the world heritage site.
Kosal added that, in terms of construction and in particular the height of the building, NagaCorp will have to follow the Apsara Authority's guidelines.
However, while the lure of jobs at a time when they are most needed in Siem Reap appears to have pleased many stakeholders, one gambling industry analyst who wished to remain anonymous doubted the veracity of NagaCorp's plans.
"I think it's a land grab and nothing more," the analyst said. "They [NagaCorp] don't like competition and don't really have any competitive advantage in non-gaming—they have a history of saying they will develop this or that, but never get around to executing it outside of Phnom Penh."
The analyst cited numerous delays to NagaCorp's plans in Vietnam, Cypress and Vladivostok, Russia—the latter of which was a $350 million project originally slated to be operational by 2019. Russian authorities agreed to the deal with NagaCorp in 2013, but now Tim McNally, the company's chairman, said the project could be delayed further beyond mid-2021.
The anonymous gambling analyst suggested that NagaCorp could be buying up land it sees as valuable to hold on to it until a time where its value could increase, adding that this appeared to be the case with the Phnom Penh airport, which the company traded with the government in exchange for the first NagaWorld's location.
At the end of their Nov. 15 announcement, NagaCorp issued a disclaimer warning that the Angkor Lake of Wonder plans are essentially subject to change.
"All these statements and words should be interpreted as merely intended corporate intentions and plans which involve known and unknown risks, uncertainties and other important factors that could cause the actual results, performance or achievements of the Group to be materially different from future results, performance or achievements expressed or implied," the statement reads.
NagaCorp did not respond to requests for comments.
Related Articles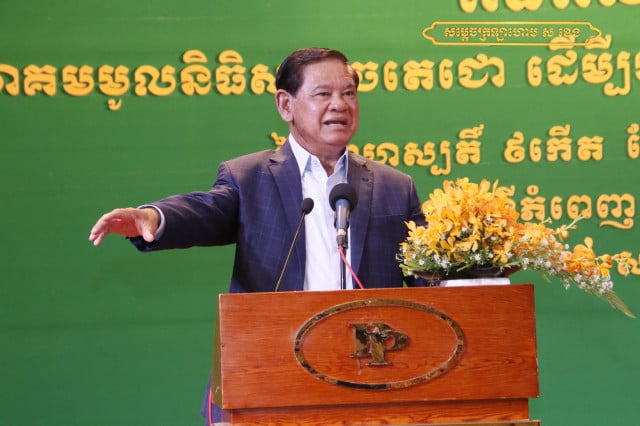 February 12, 2022 3:15 PM