NGOs Call for an Independent Investigation Four Years after Kem Ley's Killing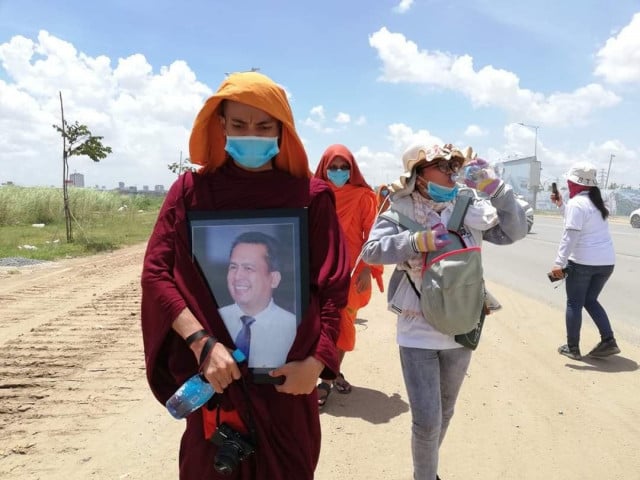 Phoung Vantha
July 9, 2020 3:00 PM
As the authorities watch and/or disperse those marking his death four years ago
Phnom Penh--Thirty human-rights and labor organizations on July 9 called on the Cambodian authorities to create an independent commission of inquiry to conduct an effective and impartial investigation into the killing of Kem Ley—an investigation that, they said, is long overdue.
"We, the 30 undersigned organizations, will continue our call for an independent, impartial, effective and thorough investigation into Kem Ley's killing [on July 10, 2016] until all those responsible are brought to justice," they said in a letter posted on the internet. "We further urge the Cambodian authorities to cease intimidation and harassment of persons peacefully commemorating his passing."
On July 9, the Takeo provincial authorities attempted to prevent monks and young people from marking the fourth anniversary of his death, according to the environmental campaign group site Not1More (N1M).
On July 8, the Phnom Penh authorities had prevented monks and young Cambodians from gathering and holding a religious ceremony at the location where the popular political commentator was killed.
According to the Cambodian League for the Promotion and Defense of Human Rights, a young activist was arrested for trying to peacefully commemorate the four-year anniversary of Kem Ley's murder while monks and activists were physically barred by district police and paramilitary security forces from praying at the site where he was shot.
The activist, who was wearing a t-shirt with Kem Ley's face on it, was seized by police as soon as he arrived at the planned memorial. He was later released after signing a "pledge" not to take part in such memorials again, the Cambodian League for the Promotion and Defense of Human Rights (Lichado) said.

On July 10, 2016, Kem Ley was shot and killed while having his morning coffee at a petrol station in central Phnom Penh, at the corner of Monivong and Mao Tse Toung boulevards.

In response to the request for an independent commission to investigate the murder, Cambodian Government spokesman Phay Siphan said that the creation of a separate body to investigate Kem Ley's case was against the Cambodian law, as the constitution indicates that only the courts have the power to judge.

"It…looks down on the justice system as well as the judge," he said in an interview on July 9. If those organizations were able to find new evidence, they could submit it to the court for reconsideration of the Kem Ley case, he added.

Regarding the authorities preventing people from holding a ceremony where he was killed, Siphan said that the authorities' action was meant to maintain public order. Anyone wishing to hold a memorial event to mark his death had to ask the authorization from the authorities, he said. In any country, including the United States, a crackdown or blockade is intended to maintain stability or public order.

"This is the duty of a democratic country," Siphan said. "If to do anything is optional, it's not a democracy: It's called anarchy," he said.
Officers disperse people who had gathered to mark the 4th anniversary of the political commentator Kem Ley. Photo: N1M Facebook page.
According to the 30 organizations' statement, after the shooting of Kem Ley in broad daylight, the authorities arrested—without conducting a prompt, thorough, and independent investigation—Oeuth Ang who identified himself as "Chuob Samlab," which means "Meet to Kill" in Khmer, and "confessed" to the killing.
Following a half-day trial on March 23, 2017, which was widely criticized for failure to meet international fair-trial standards, the court found Oeuth Ang guilty of murder and sentenced him to life imprisonment. On May 24, 2019, the Supreme Court upheld his sentence.
The 30 organizations said in their letter that the Cambodian government has so far failed to take steps toward the establishment of an independent and impartial investigative body. "The Cambodian government's continued antipathy towards Kem Ley's case raises suspicions that he was murdered in retaliation for his work as a human rights defender," they said.
Kem Ley had often spoken on political and social issues. He was killed just days after he had mentioned in an interview the investigative report "Hostile Takeover" that had been released by the international nongovernmental organization Global Witness and which claimed widespread corruption in Cambodia tied to Prime Minister Hun Sen and his family.

Soon after his death, Kem Ley's then-pregnant wife and four sons fled Cambodia. Australia granted them asylum after they were threatened as they hid without legal status for more than a year in Thailand.
"Following the killing of Kem Ley, the Cambodian authorities have continually monitored, harassed, and ultimately disrupted and prohibited planned anniversary memorials of his death," the letter read. "Moreover, the authorities forced individuals wearing t-shirts with Kem Ley's quotes or image to either remove them or cover them. These actions constitute arbitrary restrictions on the rights to freedom of expression and peaceful assembly. We condemn such attempts to stifle free speech and reiterate our call to the Cambodian government to stop such harassment."
The letter then lists people who were arrested and/or convicted in connection with marking the killings of Kem Ley.
In July 2019, a day prior to the third anniversary of Kem Ley's death, the authorities arrested youth activist Kong Raiya and three family members for selling t-shirts with images of Kem Ley and two of his famous quotes: "Wipe your tears and continue your journey" and "Although you do nothing, you would still be victimized. It's just a matter of time when it's your turn." While the police released his family members without charge after they signed "pledges" that they would desist from similar protest activities in the future, Kong Raiya remained in pre-trial detention on apparently politically motivated charges of incitement for nearly five months until the authorities released him on bail on Nov. 28, 2019.

On June 19, 2020, the Phnom Penh Municipal Court convicted Kong Raiya in absentia of "incitement to commit a felony" under articles 88, 494, and 495 of Cambodia's Penal Code, and sentenced him to two years in prison, with the remainder of his sentence suspended due to time served in pre-trial detention. Kong Raiya had been sentenced to 18 months' imprisonment in 2015 on incitement charges in relation to a Facebook post that criticized the government.

On July 10, 2019, the authorities arrested another student activist, Soung Neakpaon, for holding a sign reading "End extrajudicial killings" near the petrol station where Kem Ley was slain. The authorities charged him with incitement and placed him in pre-trial detention, where he remained until he was granted bail in November 2019.

On December 4, 2019, the Phnom Penh Municipal Court convicted him in absentia of "incitement to commit a felony" under articles 494 and 495 of Cambodia's Penal Code and sentenced him to two years in prison; he has not yet been re-arrested.

On July 10, 2019, the authorities arrested twin brothers Chhum Huot and Chhum Hou for attempting to place flowers at the same petrol station. The authorities released them on the same day.
Ahead of the four-year anniversary of Kem Ley's death this year, the letter read, the Cambodian authorities took measures to prevent commemorations of his passing. On July 8, the police blocked a Buddhist ceremony held by a group of youth activists and monks at the petrol station where the murder had happened. The authorities detained for questioning one of the activists who was wearing a t-shirt with Kem Ley's face on it. The authorities released him after having him signed a "pledge," the letter said.
"Kem Ley's work and his life stood for building respect for civil, cultural, economic, political and social rights," the letter read. "He particularly emphasized the importance of people's equal and free participation in politics, and the rights of every person to freedom of association, expression, information and peaceful public assembly."
Related Articles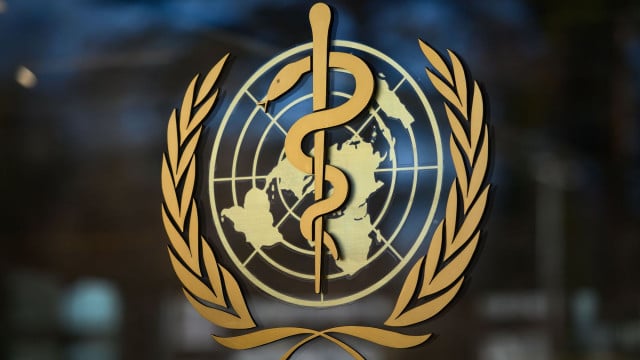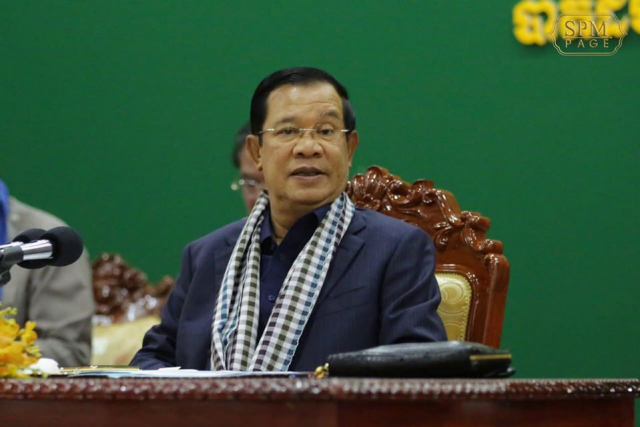 December 12, 2020 2:23 AM