NGOs Call on Multinationals to Help Cambodians Whose Land Was Seized by a Thai Firm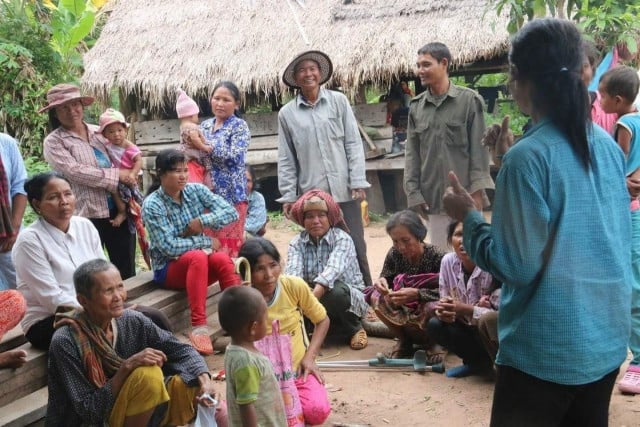 Since this firm is one of their suppliers, they should take a stand on behalf of the Cambodians, they say
PHNOM PENH -- Cambodian and International NGOs on Nov. 17 issued a joint statement during the 9th Annual United Nations Forum on Business and Human Rights, calling on companies to stop buying sugar from the Thai sugar company Mitr Phol, which illegally seized Cambodians' land in Oddar Meanchey Province in the late 2000s and never compensated them.
"To this day, more than ten years after losing their land and livelihoods, the affected communities have yet to receive any remedy and Mitr Phol has continually refused to be accountable for its actions," read the release signed by Inclusive Development International, Equitable Cambodia and the Cambodian League for the Promotion and Defense of Human Rights (LICADHO).
In July 2020, the 3,000 or so people who had been forcibly evicted from their land by the company with Cambodian military support in 2008 and 2009 were granted class-action lawsuit status in Bangkok civil court, the statement read, "marking the first transboundary human rights class action in Asian legal history. As a consequence, over 700 families will now finally have their case heard before a court of law."
In spite of evidence of Mitr Phol's human rights abuses that have been, the statement read, "investigated and confirmed by many institutions including the UN Office of the High Commissioner for Human Rights, the Thai Human Rights Commission and multiple human rights NGOs including Inclusive Development International… Mitr Phol remains a Bonsucro member in good standing."
Bonsucro is the sustainability certification body for the sugar industry, the statement read. "Bonsucro acquiesced to Mitr Phol's actions and failed to meet its own human rights responsibilities.
"We…call upon Bonsucro and the brands that continue to source sugar from Mitr Phol, including the Coca-Cola Company, Nestle, Mars and Corbion, to finally come together and use their collective leverage to demand that Mitr Phol delivers the long-overdue justice that these communities deserve," the statement said.
Due to the COVID-19 pandemic, 9th Annual United Nations Forum on Business and Human Rights, which was to take place in Geneva, was held virtually on Nov. 16 through 18.
Related Articles