"Odyssey" – an Exhibition Envisioning the Human Race's Next Planet if Earth Is no Longer Habitable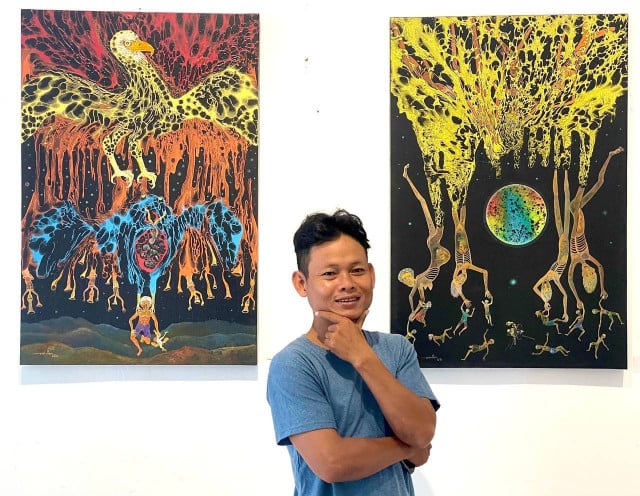 In view of the environmental issues to be addressed, one may have to look into an alternative, a Cambodian artist suggests in his work
PHNOM PENH--While wondering about the consequences that today's world problems may have for human beings, an artist has created a collection of paintings, imagining a possible solution: moving to a new planet.
"I started to be curious about outer space and galaxies," said Hour Seyha. "I imagined that I would send people into space to find a new planet for living beings on Earth as the Earth is facing serious issues."
Those issues such as global warming and climate change or simply asteroids crashing on the ground could possibly, gradually obliterate the whole planet, he said. "Therefore, humans would have to find a new planet to reside on."
In his series entitled Odyssey, Seyha, who is part of the artist group Romcheik 5 in Battambang City, has depicted natural disaster phenomena and interstellar travel in intriguing scenes that reflect his concern about the future of Planet Earth.
Currently exhibited at the Pi-Pet-Pi Gallery282 in Phnom Penh, this series of around 20 paintings was conceived and started in mid-2021. At the time, Seyha had just tested positive for COVID-19 but he refused to let this stop him from bringing his imagination into existence. So, using acrylic paint, he went on portraying the scenes he had envisioned on canvas.
When asked which painting he likes the most in the series, Seyha said he felt strongly about "Voyager" named after the space probe of the US National Aeronautics and Space Administration (NASA). Plans are for NASA to send a probe toward Alpha Centauri in a few decades. Considered close—about 25 trillion miles from Earth—some planets of that star system might be habitable for human beings.
"I painted something yellow that takes humans to Alpha Centauri as with Voyager," Seyha said.
Caught into slavery work conditions in Thailand, and then moving on to become an artist
Hour Seyha was born in 1991 at the Site Two Refugee Camp in Thailand. When he was six month old, he and his parents returned home to Siem Reap Province.
Both his parents being soldiers, the family moved back and forth between Battambang, Pailin and Siem Reap provinces, which made it difficult for Seyha to attend school. Eventually, the family settled in Siem Reap Province.
In 2005, Seyha decided to seek work in Thailand, his parents having been dismissed from their jobs. He was 14 years old at the time. "I was homesick and wanted to return home, but I didn't know how to," he said. "I was the smallest but I worked hard because I wanted to earn money." But he ended up being paid very little or not at all.
During six months, Seyha worked at three different places. At the first location, he harvested pineapple and cut the grass, and received no wage. Then he was transferred to a second place where he loaded items on trucks and harvested rubber from rubber trees. The pay was so little that he left for a third place where he worked as a cowherd and a home guard. "I don't know the Thai language, so it was hard.
"When I did something wrong, they blamed me," Seyha said. "And when I told them that I wanted to go back to Cambodia, they let me go but did not pay me the full wages. I returned to Cambodia in a cage truck."
Finding his way through painting
When he came back to the country, he was unable to reunite with his family, he said. In Poipet City, an NGO came to his rescue, and that was when he realized he had been the victim of human trafficking of minors.
The organization sent him to a child center in Battambang Province where he was introduced to Phare Ponleu Selpak, an organization in Battambang working to improve the lives of poor children, young adults, and their families through art programs, education programs, and social support.
Seyha had loved to draw since he was in primary school. "When I joined Phare and I was so happy," he said. "I studied art and drawing at Phare from 2006 to 2013. I have been a painter ever since. I chose this path because I think it gives me freedom. I never give up despite challenges."
Seyha knew that he loved to draw when he was in primary school. Growing up, he spent most of his time in the woods as he was fascinated by nature and forests, he said.
And this has also been reflected in his paintings. "I mostly paint about the life of the poor, children who cannot go to school, forest and deforestation because I love the forest," he said.
Seyha graduated in visual arts from Phare in 2013. And in 2018, one of his works was acquired to be part of the World Bank Art Collection in Washington, D.C. in United States.
He currently lives in Battambang Province where is based the artist group Romcheik 5. But he would like to go to Siem Reap Province much more often to see his parents who live in that province as he has had few opportunities to see them over the last few years. "I only go to visit them two or three times a year," he said.



In the meantime, Seyha plans to keep on painting as part of his contribution to contemporary art in the country. "I want to continue this career until the last stage of my life," he said. "I want to help promote modern Khmer art in the country.
Hour Seyha's exhibition runs through Jan. 23 at Pi-Pet-Pi Gallery282— www.facebook.com/Gallery282 —in Phnom Penh.


Related Articles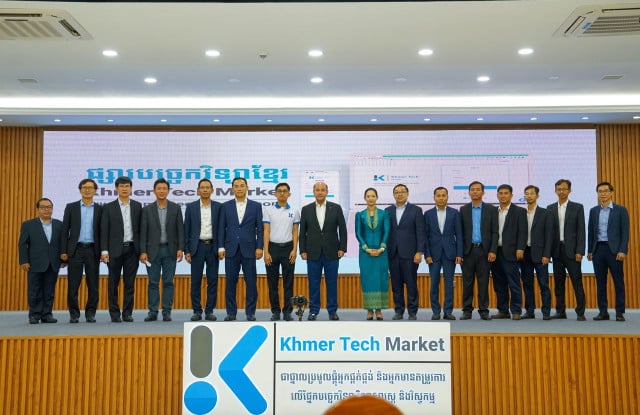 December 25, 2022 6:58 PM
December 18, 2021 12:23 PM