Opinion: Does Cambodia Really Reject the Vaccines Developed in China?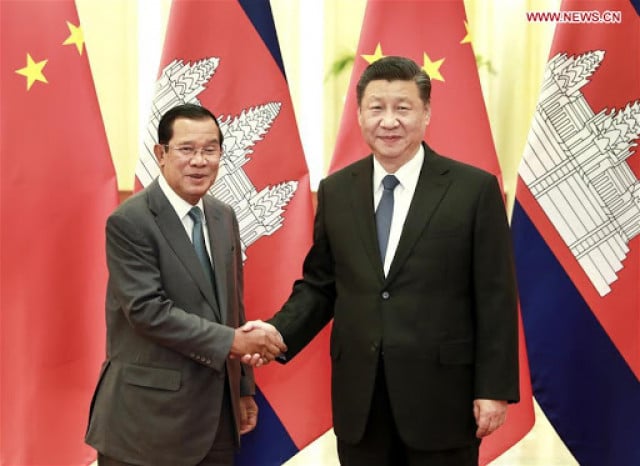 Seun Sam
December 19, 2020 7:15 AM
Novel Coronavirus (COVID-19), which first occurred in Wuhan City in the People's Republic of China in late 2019, has become one of the world's most complicated issues as it has wreaked havoc on the global economy as well as threatened the wellbeing of people in all countries.
With the emergence of Covid-19, the United States of America jumped in to accuse the World Health Organization (WHO) of being biased towards China, which, it said, tried to cover up the outbreak of the coronavirus. The pandemic has also become a driving force of the geopolitical competitions for many countries such as the US-China as well as some members of the Association of Southeast Asian Nations (ASEAN), especially those involved in the maritime dispute of the South China Sea.
However, regarding Cambodia, there remains a suspicion among western countries that the country is the client-state of China. This is due to the fact that Cambodia had shut down air travel from many countries in the world, except for China. And some foreign-based scholars predicted that Cambodia would also choose Chinese vaccines to deal with COVID-19.
And most importantly, there has been another controversial discussion and prediction by foreign scholars as to Cambodia's slowness in sending a congratulatory message to former Vice President Joe Biden on his election as the 46th US president. They suggested that the Cambodian government was waiting for China to send a congratulatory message before following suit.
But facts appear to have been contradictory to what had been predicted. After China did its part to congratulate President-Elect Joe Biden, Cambodia did not immediately do the same. It waited until Joe Biden was formally confirmed by the electoral college on Monday (Dec. 14).
Speaking of the vaccines to prevent COVID-19 infection, a new rumor arose according to which some claimed that the Government of Cambodia would be glad to accept Chinese vaccines due to the fact that in October Chinese Foreign Minister and State Councilor Wang Yi promised to the Cambodian government the country would be prioritized for the China-developed vaccine access.
But surprisingly, the prime minister of Cambodia recently announced that Cambodia would only accept the vaccines which are certified by the World Health Organization (WHO), adding that Cambodia cannot be a dustbin to some sort of vaccine experiment.
So, this raises a question: Will Cambodia's refusal of any vaccines that are not approved by WHO affect Cambodia and China relations? Before we can answer this, we may need to pay attention to the following cases:
1. When the COVID-19 pandemic first broke out in Wuhan, it was provisionally called 019-nCoV, which is a coronavirus, before it was named by WHO COVID-19.

2. WHO and China refer to the coronavirus as COVID-19, but the US and particularly President Donald Trump keeps calling it the Chinese virus.

3. Trump accused WHO of being biased toward China and threatened to stop funding WHO, alleging that WHO was not working to solve the problem but instead was supporting China.

4. The Chinese government appreciates WHO for something it describes as fair treatment.

5. Last week, a political officer at the Chinese Embassy in Cambodia posted on his Facebook page that, he wrote, "The Chinese Embassy is now in close contact with the Cambodian government for the possible use of China-made COVID-19 vaccine in the Kingdom. While there are several options, the Chinese vaccine is outstanding because of its safety, effectiveness and convenience."

6. A few days later, Prime Minister Hun Sen talked about the COVID-19 vaccine and said that Cambodia would accept or would buy it, which political observers in Cambodia regarded as a most carefully-worded speech since it related to China, the US and other countries that are working to produce vaccines to combat the pandemic.

Based on the aforementioned points, the recent speech by Prime Minister Hun Sen on the COVID-19 vaccine cannot be interpreted as the country rejecting China's vaccines and it does not affect either the relations between Cambodia and China. This is because, since China has better relations with WHO than it has with the US, it is inevitable that China normally ensures that its vaccines will work effectively with them being recognized and certified by WHO. And the procedures required will unlikely be overlooked by Beijing when it comes to developing the vaccines.
If we pay close attention to the evolution of COVID-19, we might have seen that it is a problem for the future president of the United States of America, Joe Biden. Under the incoming administration, he will need to solve [as well as] to rebuild trust with WHO and other international institutions.
And Prime Minister Hun Sen saying that Cambodia would buy COVID-19 vaccine through the multinational initiative COVAX, which works to achieve vaccine for all with equitable access, also carries a clear message, which can remind the US, China and other vaccine-developing countries to abide by the WHO's instructions.

This is because currently, many countries and especially major and developed countries just claim the effectiveness of vaccines and approve vaccines rollouts based on their safety protocols due to the fact that they are racing to immunize their citizens while disregarding advices on safety from a global health organization like WHO. Diplomatically, the Cambodian prime minister signals that the indispensable role and responsibility of WHO should not be snubbed but instead should be further promoted and acknowledged.
This appears to be a smart response from Prime Minister Hun Sen on this complicated COVID-19 vaccine issue. Because Cambodia is a very small country and also a country that needs China and the US as well as other countries on this globe, in terms of economic and political support, and maneuvering a smart diplomacy is imperative for the country's development.
Dr. Seun Sam is a researcher at the Royal Academy of Cambodia. All views in this article are his own.
Related Articles