Pakistan Seeks Cambodian Military Office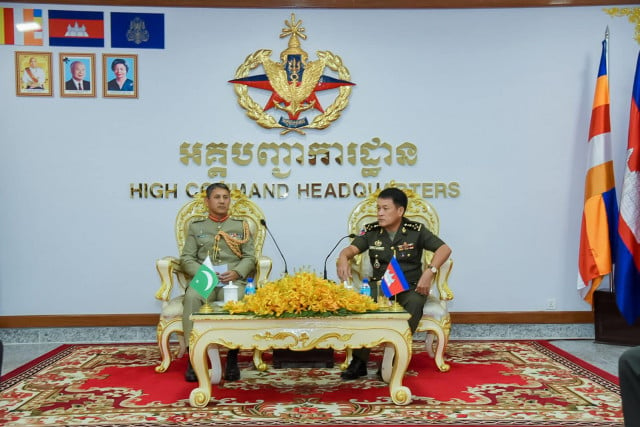 PHNOM PENH – Pakistan's military attache has asked Cambodia to open a military office in Pakistan to boost ties and share its experience with the Royal Cambodian Armed Forces (RCAF) on counterterrorism and intelligence.
Thailand-based Colonel Muhammad Tayyab made the request at a meeting with RCAF commander-in-chief General Vong Pisen on July 21 at High Command Headquarters.
"Tayyab invited the commander-in-chief to pay an official visit to Pakistan and requested the establishment of a Cambodian military attache office in Pakistan to further enhance cooperation," the RCAF said.
The attache told General Pisen that as an active force in UN peacekeeping, the Pakistan military would like to share experiences with the Cambodian military, including counter-terrorism, intelligence and other military skills.
This year marks the 70th anniversary of the establishment of diplomatic relations between Cambodia and Pakistan.
To enhance cooperation between the countries, General Pisen asked Pakistan to keep supporting the training of RCAF personnel and other military units.
The general told the Pakistani officer he would consider the request to open a Cambodian military office in Pakistan and would work with the Ministry of National Defense on the matter.
Related Articles