Pharmaceutical Factory Risks Closure Over Chemical Leak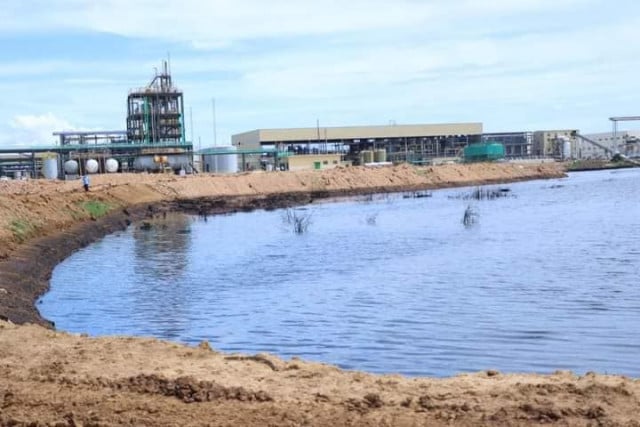 River turned red, Battambang residents say
PHNOM PENH--A Chinese pharmaceutical factory in Rattanak Mondul district will be closed if it is found to have made serious mistakes over the recent leak of industrial liquid, an environment official says.
Residents in Battambang province have expressed concern on social media that the Sangke river turned dark red, while the color of water from the Water Supply Authority also changed slightly.
The changes happened after the leak at a factory named ER Kang Bio Starch in Pcheav village in Ratanak Mondul District's Treng commune in late May.
According to the Business Registration Department of the Ministry of Commerce, ER Kang, which was registered in 2016 and mainly produces flour and other grain mill products, had its name changed to Phoenix Industrial in 2020.
Director of the Battambang Provincial Department of Environment Kot Boran said authorities will fine the company according to the impact it has caused. Warning contracts will also be drawn up.
If a serious mistake is found, the authorities will close the factory immediately.
"Their liquid leak into the river will not happen again," Boran said. "Currently, the factory has already faced closure and will be closed if we find serious mistakes. We cannot let them continue the business and we will close it immediately."
He confirmed that the technical team had diverted water in Sangke which contained the pollutant into the main river.
Boran said the water no longer had a problem.
"We discharged the remaining water into the river so that people could see a change in the color," he said.
"But we already decontaminated 90% of the water and only a little color remained. We also checked and found out it causes no health impact."
However, the official acknowledged that his officers had limited capacity and knowledge when it comes to checking chemical substances in the river.
More experts from abroad were needed to help examine in detail how these chemicals could affect people and biodiversity in the water.
"Our level of knowledge is still limited. We just had a meeting to figure out how the company has been working since its process involves the use of other chemical substances to produce fertility preservation medicine," he said.
"However, this is what we still do not understand. And there are some substances which require other countries to help."
Environment Ministry spokesman Neth Pheaktra declined to comment, saying he had no information on the case.
Related Articles