Phnom Penh Court Indicts Rainsy for Insulting King Norodom Sihamoni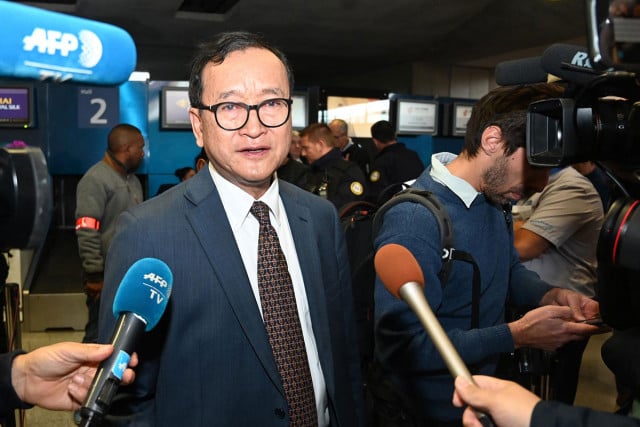 Phoung Vantha
December 28, 2020 10:15 AM
This is the third time Sam Rainsy, former president of the Cambodia National Rescue Party, has been accused of criticizing Cambodia's monarchy.
PHNOM PENH--Phnom Penh Municipal Court on Dec. 28 announced it has indicted former opposition leader Sam Rainsy on charges of insulting King Norodom Sihamoni. This was the third time Rainsy has faced lese majeste charges.
If convicted, Rainsy could face up to five years in prison. In 2019, the Phnom Penh Municipal Court announced the verdict and sentenced Rainsy to four years in prison for insulting the King. In September 2019, he insulted the King again while living in exile.
On Dec. 25, Justice Minister Keut Rith personally requested a Phnom Penh Municipal Court prosecutor take legal action against the former opposition leadership figure, citing Article 7 of the Cambodian Constitution and Article 437 of the Criminal Code.
The debacle began on Dec. 20, when Rainsy posted criticism of the government's COVID-19 vaccine plan on Facebook.
"Now Hun Sen is staying quiet in this matter (the appeal to the population to buy anti-COVID-19 vaccines) and is preparing to repay the generous donors who have been cheated in this affair, including the puppet king," Rainsy wrote online.
By Dec. 25, Rainsy once again took to Facebook, this time to defend his actions and further add to his criticism of Cambodia's leadership and monarchy.
"I have the right to express my opinion that the current king is a puppet who does exactly what Hun Sen tells him. A puppet has no soul of its own and moves only as a result of strings pulled by a hidden master," he wrote.
Chin Malin, a spokesman for the Ministry of Justice, said that insulting the King does not fall under the right to freedom of expression, but is instead a criminal offense under the law.
By contrast to Rainsy's criticism, former opposition party Kem Sokha today sent a message to the King wishing him well.
Related Articles