Opinion: Pick the Right Major for Tertiary Education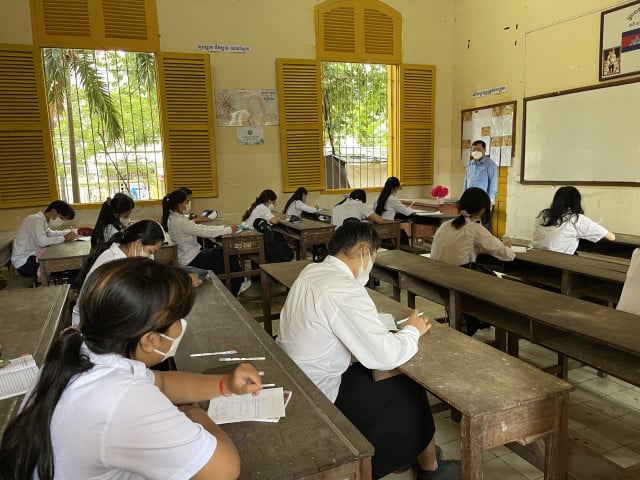 Build on your strengths and choose carefully
Deciding what to study at university can be an important starting point for your career goals and success in life. After high school, you may have a major in mind at your dream university or you may still be considering what to pursue.
Taing Kimhok, a lecturer at Royal University of Phnom Penh, says choosing a right major with a right university can ensure success on the academic path.
From what I have seen, some students choose majors because of their parents, family members, friends or peers. Others follow their choice without adequate information and clear purposes. Enrolling a field of study based on these factors does not ensure academic satisfaction at college or afterwards.
To avoid regrets, you should pick a major based on three main factors - academic abilities, fields of interest and prospective jobs.
Academic abilities
You should choose the major that fits your academic abilities. Students have varied academic strengths in high school and you will be no exception unless you are a superb student. Some students excel in social science subjects whereas other perform much better in pure science.
You must recognize your strengths and weaknesses in the subjects you are taught in high school. If you do well in social science subjects including history, geography, Khmer studies, and general English, you should enroll in related majors such as sociology, history, public administration, law, international relations, education, Khmer or English literature.
On the other hand, if you are good at science and mathematics, you should pick a major such as engineering, architecture, agriculture or environment studies. Or you can pick from fields of medicine, nursing, midwifery, or pharmacy as these skills are connected with natural science subjects in high school.
Since you know a lot about these subjects, you will not find them boring or hard to study and will tend to enjoy and undertake your studies with confidence.
Fields of interest
Knowing your passion is crucial for your academic goals. If you are taught a particular subject in relation to your fields of interest, you are more likely to focus strongly on it. You should figure out your interest by asking simple questions such as what you like to pay attention to most in your daily life and what subjects you like best to explore in depth. By knowing what you are passionate about, you will be willing to put more effort into your college majors to produce an excellent academic outcome.
On top of that, you should research universities with their specialized skills and reputations. You have a variety of choices since there are more than 100 public and private universities in Cambodia.
Some students may research the top-ranking universities to list their priorities. However, this is to some extent not workable as some prestigious universities are only well-known for specific courses.
It would be better to do a campus tour and get detailed information directly from the university you are interested in. You should also seek advice from the school alumni before enrollment. Checking the availability of your interested courses based on the expertise that university is specializing in can help you to succeed.
Prospective jobs
As an undergraduate, you would expect a decent job after graduation. George Chigas, a professor of World Languages and Cultures at the University of Massachusetts Lowell, says, "In general, Cambodian youth do not have a very clear or accurate perception about the job market or job availability."
In this sense, you are supposed to know what type of job you wish to have after college. Do you want to work in the public sector, private sector, non-governmental organizations, foreign embassies or be self-employed? Are there many jobs in the field you like and what are the requirements?
It is not hard to find answers on the internet. Some popular online job-seeking websites such as Pelprek, Bong Thom, and CamHR can help you. You can access websites of companies or organizations you want to work for.
If you wish to work in the public sector, you can search the website of the Ministry of Civil Service. Alternatively, you can directly look for the websites of ministries or state institutions where you wish to work in. Generally, the government announces the recruitment of new civil servants with limited quotas to ministries or state institutions via competitive exams annually.
As the saying goes, "If you fail to prepare, you will prepare to fail." Hence, knowing the requirements of prospective jobs will help you to get ready for them.
Experience is a prerequisite for most jobs, so you should spend time doing volunteer work in the community. Though it is not paid, you will get social credit in addition to what you learn in school. An internship can help you gain occupational experience, networking and communication skills. This will help bring together the academic theories and professional practices of your major.
Most importantly, to be more competitive in the Fourth Industrial Revolution job market, students need skills such as complex problem solving, critical thinking, creativity, people management, coordinating with others, emotional intelligence, judgment and decision making, service orientation, negotiation as well as cognitive flexibility.
If these skills are not part of your undergraduate programs, you should find chances to attend relevant conferences or short courses to absorb them. As a matter of choice, you can learn from the internet, particularly via YouTube with its extensive library.
It is worth noting that, in light of the fast-evolving world along with the Industrial 4.0, the future job market will be full of tough competition, requiring job applicants to be highly competent. Thus, it is necessary for you to keep learning so as to upgrade your skills to meet the increasing demand of the job market.
Yen Samnang holds a BA of Education in English as well as BA and MA in International Relations. He is currently a guest editor for Cambodian Education Forum.
Related Articles